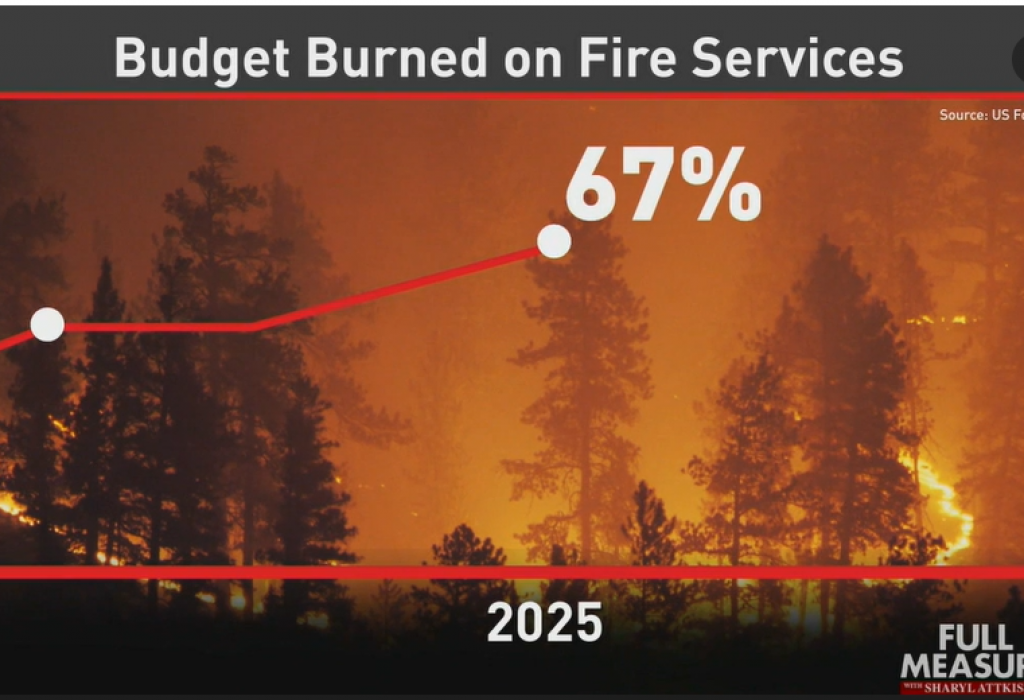 (Original air date: 2/9/20)
The following is a transcript of a report from "Full Measure with Sharyl Attkisson." Watch the video by clicking the link at the end of the page.
80 *billion* dollars.. Is one one estimated cost of last year's wildfires in California. Some have long argued these huge expenses could be lessened if we spent more tax money upfront preventing fires in the first place. Lisa Fletcher reports...a fix is finally kicking in.
This fire season, we followed the US Forest Service to see their daily race to stop disaster.
Lisa: What's the best prevention tool?
Jason Sieg: There's not one tool, it's a variety of tools
Jason Sieg is a district ranger at the Eldorado National Forest - an hour east of Sacramento. He showed us a site where crews do this - intentionally set a controlled burn to eliminate brush and vegetation that could fuel a wildfire.
Jason Sieg: The fire could still move through here, but if it did, the goal is that it would be an intensity and rate of spread to where suppression resources could be in here and work effectively
A different effort a mile up the road, where what looks like logging is actually fire prevention.
Jason Sieg: There's a lot of acres on the landscape that need to be treated, need to be managed.
Protecting all that land is a massive, expensive endeavor, and too often, those efforts are shortchanged when money shifts from prevention projects to emergency firefighting. Four years ago, we decided to follow the money. Here's then-head of the Forest Service Robert Bonnie in 2016.
Robert Bonnie: Last year in a bad year, we spent North of 60% on fire related expenses. You can see that the agency is being more and more, less a forest service, and more a fire service.
At the time, the US Forest Service was spending so much of your tax dollars on emergency firefighting, it said it was forced to borrow money from other important budget areas, robbing from efforts to prevent fires in the first place. There's evidence of that beyond this line of green trees in Eldorado. This is where the King fire burned in 2014, scorching an area bigger than Atlanta, and forcing the evacuation of almost 3,000 people. Fighting that fire cost $117 million, putting budget pressure on the already strained Forest Service.
In 1995, 16 percent of the Forest Service's annual budget went to fires.
In 2015, that was up to 52 percent. And without change, by 2025, it was projected to be near 70 percent of the budget spent on wildfires. But that change may have arrived in 2020. This year, the fire funding approach is different.
Tony Scardina: This is going to be the first year that we're going to be able to explore a new tool that Congress has provided with the fire funding fix.
President Trump signed a spending bill last spring including a "fire funding fix." The fix allows the forest service to use federal disaster relief funds, treating fires more like other disasters like floods and earthquakes. It also raises the funding for firefighting by more than 2 billion dollars. Deputy regional Forester Tony Scardina calls it a good first step.
Tony Scardina: So at least in this situation, we'll have that increased level of funding and not have to borrow from the prevention and mitigation side and see if that provides a new type of balance
Though, there's a lot to figure out.
Lisa: It's sort of akin to - we've stopped the bleeding, but the patient is still in the ER. Does that sound about right?
Scardina: We are a long way away from trying to turn the corner. We have to keep making steps forward and the fire funding approach and some of the help from Congress is going to help us take that step. But there's a lot more to it than that.
Lisa: California's fire season is starting earlier and ending later, posing a threat to communities all over the state. The hope is new federal funding will allow the Forest Service to put the focus back on prevention.
Last fall, President Trump tweeted that California's Governor had done a "terrible job" of forest management - and threatened to stop providing federal money for fires. There is a lot of back and forth on these complicated questions in California.
https://fullmeasure.news/news/follow-the-money/firefighting-funds