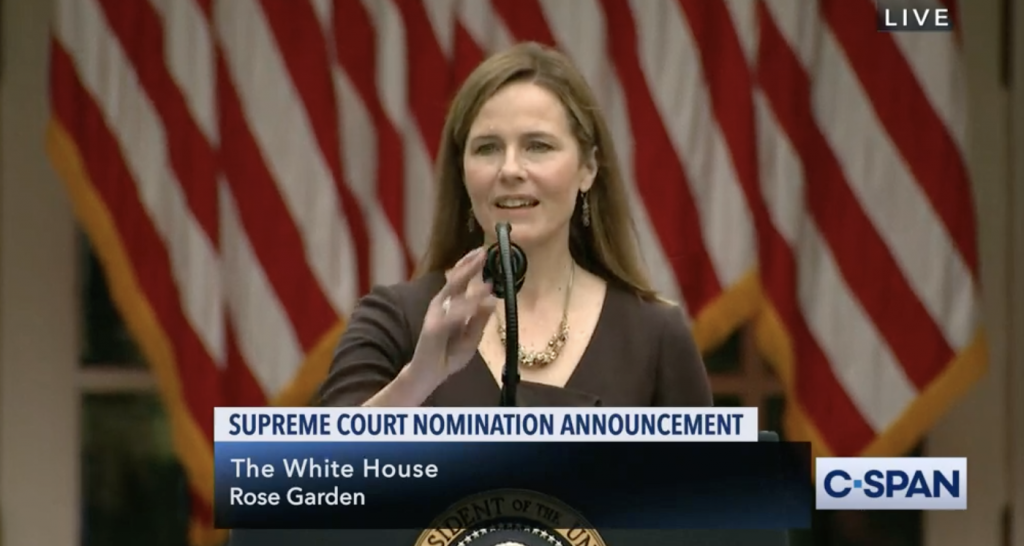 The head of the Senate Judiciary Committee, Sen. Lindsey Graham (R-SC) has announced a three or four day hearing to consider the Supreme Court nomination of Judge Amy Coney Barrett will begin October 12.
Read the announcement below:
WASHINGTON – Senate Judiciary Committee Chairman Lindsey Graham (R-South Carolina) this evening announced that the hearing to consider the nomination of Judge Amy Coney Barrett to serve as an Associate Justice on the Supreme Court of the United States will begin October 12, 2020.
The hearing will last three to four days, using the format the committee has followed for recent Supreme Court nominees. Opening statements by Judiciary Committee members and the nominee will occur on Monday, October 12. The questioning of Judge Barrett will begin on Tuesday, October 13. Testimony by those who know Judge Barrett the best and legal experts is expected to follow.
Members of the media seeking to cover the hearing should contact their respective Senate Press Galleries. Chairman Graham's statement about Judge Barrett can be found here.
Background
Judge Barrett was nominated by President Trump and confirmed with a bipartisan vote to the U.S. Circuit Court of Appeals for the Seventh Circuit in 2017.
Judge Barrett has a sterling academic and legal background, having clerked for Judge Laurence Silberman on the DC Circuit Court of Appeals and Justice Antonin Scalia on the U.S. Supreme Court, later becoming a distinguished professor at Notre Dame Law School where she taught from 2002 to 2017. Her 2017 confirmation was supported by every member of her Supreme Court clerk class, including the clerks of Justices Stevens, Ginsburg, O'Connor, Souter and others.
Judge Barrett is a native of South Bend, Indiana, and a mother of seven children.