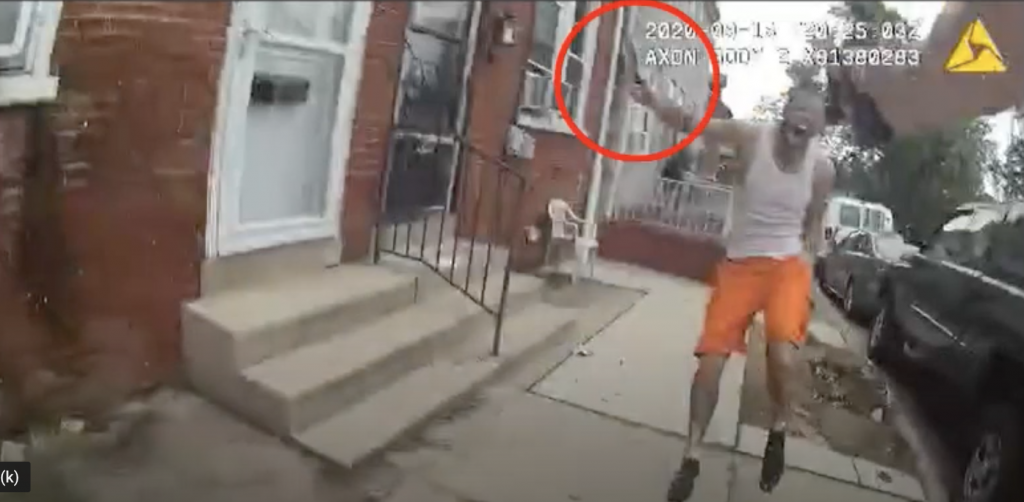 Below is the report released by Lancaster Bureau of Police followed by the body cam video.
On September 13, 2020, at approximately 4:13 PM, Lancaster County-Wide Communications received a 911 call for a domestic in the 300 block of Laurel Street in Lancaster City.   The caller related that her brother was reportedly becoming aggressive with his mother and was attempting to break into her house.   Several officers from the Lancaster City Bureau of Police responded to the call and the first officer arrived at 4:24 pm.   The first officer on the scene walked to the front of the residence and made contact with a woman, who was identified as a family member.   A male subject then exited the front door of the residence and began chasing the officer.   Preliminary information and body worn camera footage indicates that the male subject had a knife in his right hand as he was chasing the officer.   The officer fired several shots from his firearm, striking the subject. 
Watch the video below:
The subject, identified as 27 year old Lancaster man, did not survive his injuries and was pronounced dead at the scene.   The officer was the only police officer on the scene at the time of the shooting and his body worn camera was activated and recorded the encounter.    Additional officers arrived a short time later. The following footage was recorded on the officer's body worn camera.   The images contained in this video are graphic and may be disturbing. 
Sourced via CRIMEWATCH®: https://lancaster.crimewatchpa.com/lbop/19659/post/officer-involved-shooting-300-blk-laurel-st-body-camera-video-9132020