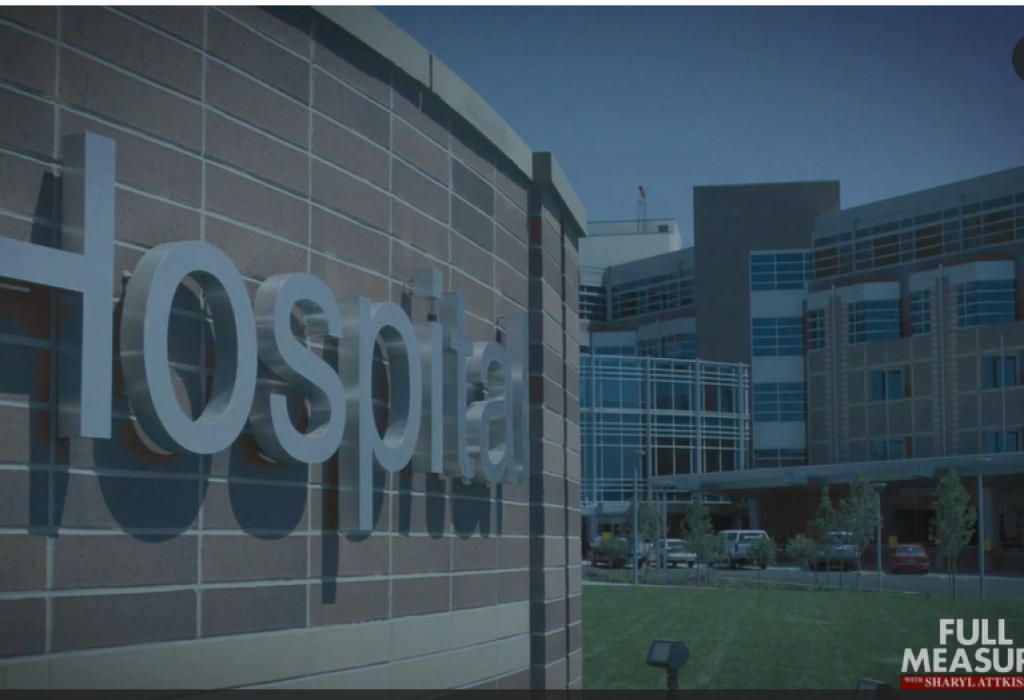 (Original air date: 3/1/20)
The following is a transcript of a report from "Full Measure with Sharyl Attkisson." Watch the video by clicking the link at the end of the page.
The Trump administration has passed a brand new rule: Starting next year, hospitals will have to finally reveal how much they really charge for medical services we buy - prices secretly negotiated with insurance companies that make it nearly impossible for us to to shop around. Some states are already tackling their own version of price transparency as part of an attempt to cut unmanageable health care costs. They're having mixed success. Today the North Carolina project.
Accountant Dale Folwell was elected treasurer of North Carolina on the promise of fixing the state's deep health cost crisis.
Sharyl Attkisson: In very simple terms, sort of an overview, what was the idea behind your plan?
Dale Folwell: To get rid of secret contracts to push the power to the consumer.
North Carolina's insurance plan covers 720,000 state workers, family and retirees.
It costs $3 billion a year.
80% of that money comes from taxpayers.
The whole plan is projected to go belly up by 2023.
Folwell's Clear Pricing Project aimed to save billions by exposing and standardizing the mysterious cost of medical treatments.
A state association used TV ads to support it.
TV Ad: State Treasurer Dale Folwell's Clear Pricing Project ends secret contracts. Dale Folwell's Clear Pricing Project makes hospital bills transparent and fair.
The big idea for North Carolina was modeled in part after one devised more than two thousand miles away in Montana; where state insurance administrator Marilyn Bartlett began by noting the wildly different hospital costs for knee replacements. We spoke with her last year.
Marilyn Bartlett: And one came in around $30,000 in the other at $105,000.
Sharyl Attkisson: Huge difference.
Marilyn Bartlett: I just kept asking why, why? Well, the implant was much more expensive. Well, can I see the invoice? Can I see what you paid? No, that's private. You can't see that.
Bartlett, a former insurance official, played hardball with insurers and hospitals. She installed a new plan that set the fees Montana hospitals get for each medical service; way less than they'd been charging, but still a healthy profit.
Inside of two years, that took Montana's health care plan from a $9 million-dollar deficit to a $100 million-dollar surplus.
North Carolina hoped to duplicate Montana's success.
But North Carolina's Clear Pricing Project got bogged down in a murky debate with the powerful hospital industry rejecting the idea of selling medical services based on consistent, published prices.
Folwell started out much like Bartlett in Montana with a simple question to one of the state-owned hospital systems.
Sharyl: So you asked the hospital system how much do procedures cost, how much do services cost?
Folwell: Correct
Sharyl: And they told you what?
Folwell: And what they sent back from that simple request. This is the master price list of UNC health care ..
Sharyl: They blacked it out.
Folwell: Every single word was blacked out.
Sharyl: What reason did they give for that?
Folwell: They said we were not entitled to that because that's proprietary information.
The way our health system works, people who pay the bills aren't allowed to see what things really cost. Not the patients, taxpayers or even the state which hires an insurance company to negotiate deals with hospitals, doctors and insurance companies. Folwell's Clear Pricing Project sought to upend that.
It would start with the price hospitals and doctors receive for treating patients on Medicare, federal insurance for the elderly.
The state offered to pay a set amount 66% above the Medicare rate for hospitals and doctors that treat state workers.
So if Medicare pays $1,000 for a surgery on the elderly, the state would pay $1,660 for the same surgery on North Carolina employees, family and retirees.
Much less than the hospitals were getting, but still a healthy profit.
But North Carolina's hospitals didn't see it that way. They fought with a multi-million-dollar campaign.
TV ad: The State Treasurer is floating a risky scheme to cut health care benefits for state employees, teachers and retirees.
Facing opposition and lobbying from the powerful and well-connected hospital industry, Folwell started negotiating. He upped what the Clear Pricing Project would pay hospitals from 66% more than Medicare to 77% more. Then 82% more. Then 96% more. But the hospitals and their professional association held firm.
Sharyl: How did it end up? What's sort of the summary of where you are versus where you hoped to be?
Folwell: Where it ended up is that we were negotiating against ourselves. The association has never ever offered a counter proposal to anything that we've done with clear pricing.
Stephen Lawler heads up the North Carolina healthcare association representing 130 hospitals and health systems.
He says one big reason hospitals need to charge state employees more than what Folwell wanted to pay is to make up for other patients who can't pay their bills.
Stephen Lawler: I mean, if we just had hospitals that were committed to taking care of state employees, you know, that may work. But every hospital in North Carolina has a moral and legal obligation to take care of everyone. He's asking us to, to pick a reimbursement model for state employees that doesn't take care of the rest of North Carolinians that need help.
Still a look at the books shows a lot of hospital money isn't going for poor patients or even medical care.
Sharyl: Duke university health system reported operating profit $560 million over the last two years. Atrium health CEO received more than $6 million in compensation last year. And Novant operating profit $445 million over two years. That just sounds like an incredible amount of money, like the hospitals aren't really struggling to take care of patients.
Lawler: So, I would say, to put that in perspective though, you know, for every dollar that they take in from a revenue perspective, once the expenses are paid, I mean there's somewhere between 2 cents and 18 cents left at the end of the day. So, they're not going to line the pockets of individuals.
Sharyl: Well, $6 million in compensation for a CEO is pretty good.
Lawler But I would say, but every, every hospital in the state, just like every other corporation has a corporate board. So I can tell you that every hospital and health system in the state uses a third party, an outside party that is not affiliated with the organization, you know, to look at the size, the scope and the scale of that organization and determine what's fair and reasonable for that individual.
For their part, Lawler says hospitals favor a better model called "value-based pricing."
Lawler: It's focusing on helping those individuals with chronic problems better manage their problems. It's, it's focused on reducing unnecessary admissions to hospitals. And what it does, is it takes, you know, that body of work and when they're savings it reinvests their savings, you know, into programs and services, capital or margin for the managed care companies. It reinvests those dollars so we can kind of create a cycle of good in the future.
So how did it all end? Last fall, a handful of small independent hospitals and 25,000 doctors did accept North Carolina's Clear Pricing Project. But none of the big hospital systems. Still looming is a $32 billion shortfall in future health benefits for retired employees.
Sharyl: Is this partial deal that you were able to make with some providers and physicians, has it been enough to make a dent in the projections for what the deficit is going to be? The bills that you needed to pay in the future?
Folwell: It's probably not going to make a dent, but it doesn't mean it's not, we're not doing the right thing and going in the right direction.
Folwell's new big idea is "bundling"paying one negotiated price for surgery, hospital stay, rehab and office visits. As for that Trump administration initiative forcing hospitals to disclose their secret rates starting next year hospital groups are suing to stop it saying it violates the First Amendment.
http://fullmeasure.news/news/cover-story/the-north-carolina-project