The following is a transcript of a report from "Full Measure with Sharyl Attkisson." Watch the video by clicking the link at the end of the page.
An important update to our follow the money investigation on $91 billion tax dollars intended for Puerto Rico's hurricane recovery. Since then, there have been some criminal convictions and even more arrests involving fraud. We begin with our original investigation in Puerto Rico last year.
(video begins with aerial view of damaged homes by hurricane Maria)
Sharyl: In 2019, we found that two years after Puerto Rico's double hurricane disaster, money getting to the U.S. territory still remained a problem. And even today, all the aid money is slow in coming to the island.
It's estimated the recovery effort in Puerto Rico will amount to $91 billion U.S. tax dollars. Of that amount, the island has only received about $17 billion so far.
It turns out a morass of rules designed to make sure the aid isn't lost to waste and fraud on an island in bankruptcy management and with a long history of corruption has made the biggest disaster relief effort in American history also the most complicated.
While we were there, we spoke to Omar Marrero, one of Puerto Rico's top hurricane recovery officials.
Omar Marrero: When you talk about how much money has been allocated, earmarked or obligated for Puerto Rico, you're talking about billions. And then you're like, "Well, they're well off." No. that money, even though it has been obligated, there's not still available for the people.
(video shows footage of protests)
Sharyl: Also while we were in Puerto Rico, there was civil unrest, making matters more difficult.
Sharyl standup (July 2019): Fueling discontent in Puerto Rico is news that a number of government officials and contractors are under FBI investigation over allegations involving misuse of all the taxpayer money sent in after hurricane Maria.
Sharyl: Shortly before our visit, the FBI arrested Julia Keleher, Puerto Rico's former education secretary, and five other Puerto Rican officials and consultants. They were charged with stealing millions of dollars in federal funds thru fraudulently obtained contracts.
Here's an update of what's happened since:
Keleher, the former education secretary, and three others have pleaded not guilty and are awaiting trial. Another official was charged in August, Aníbal Jover who headed Puerto Rico's Association of Certified Public Accountants. He too denies wrongdoing. The other two charged in the case have pleaded guilty.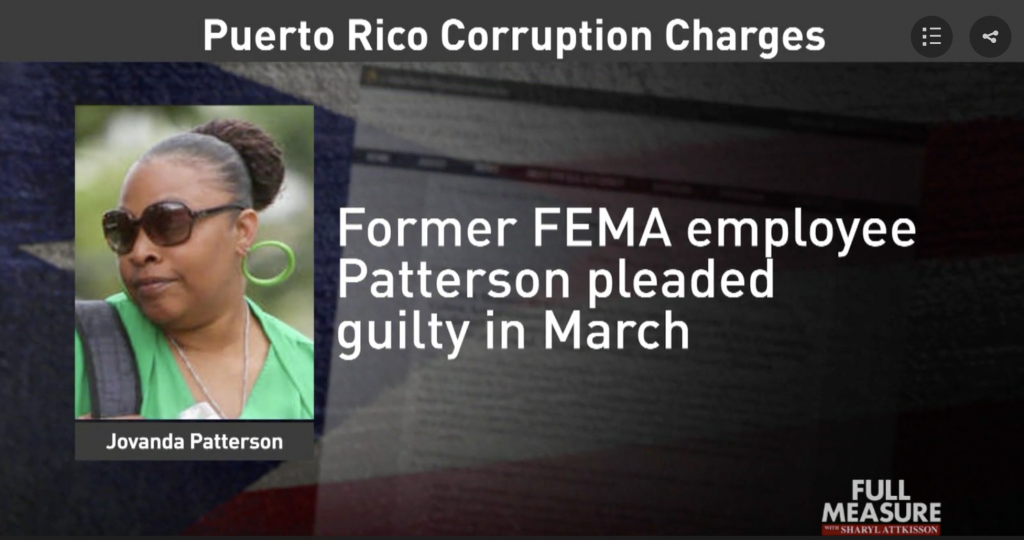 A federal emergency management agency FEMA official at the time, Ahsha Tribble was also arrested and charged. She was a former Obama administration homeland security adviser. Tribble was the lead on getting Puerto Rico's electric grid fixed, the single largest expenditure of taxpayer aid money. She's accused of taking bribes to steer a $1.8 billion dollar contract to a company called Cobra. Cobra's CEO at the time Donald Keith Ellison was also arrested. So was a FEMA colleague of Tribble's, Jovanda Patterson, who went to work for Cobra.
Prosecutors say Ellison lavished Tribble with bribes ranging from a helicopter ride over Puerto Rico to airplane tickets, hotels where they stayed together, and help getting her an apartment in New York.
Since then, Tribble and Ellison have pleaded not guilty and are awaiting trial. But the other former FEMA employee, Patterson, pleaded guilty in March.
And last November, Puerto Rican Senator Abel Nazario-Quiñones and seven others were indicted and arrested. They are charged with illegally using public funds to pay people working for Nazario-Quiñones's senate campaign. They have all pleaded not guilty and are awaiting trial. It was Nazario-Quinones' second corruption related arrest and charge in 14 months. He was found guilty in his first case.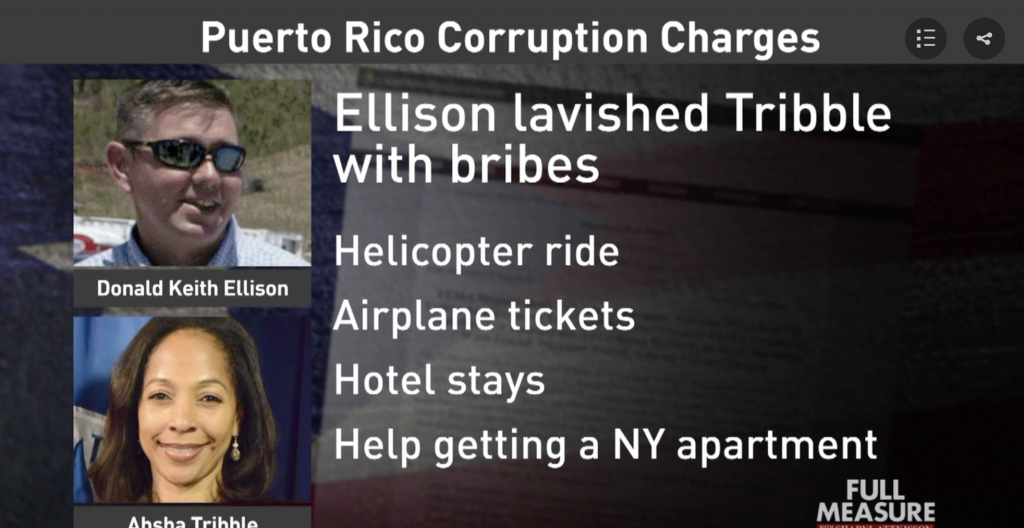 And in August, two members of the Puerto Rico House of Representatives were charged in separate cases of theft, bribery and kickback conspiracies. Both have pleaded not guilty.
Sharyl (on camera): One more note, Puerto Rico's governor Wanda Vasquez and other officials are now targets of a special independent prosecutor's probe over allegations that they mismanaged supplies following the Puerto Rican earthquake in January. The governor has said publicly she has "nothing to fear".