The following is a news analysis.
Once again another "fake" Facebook "fact check" that is nothing more than disinformation and propaganda.
This "fact check" takes on a peer-reviewed, published scientific study about the effectiveness of masks when it comes to virus spread. The Facebook "fact checker" gave his or her opinion that the information in the study is "false."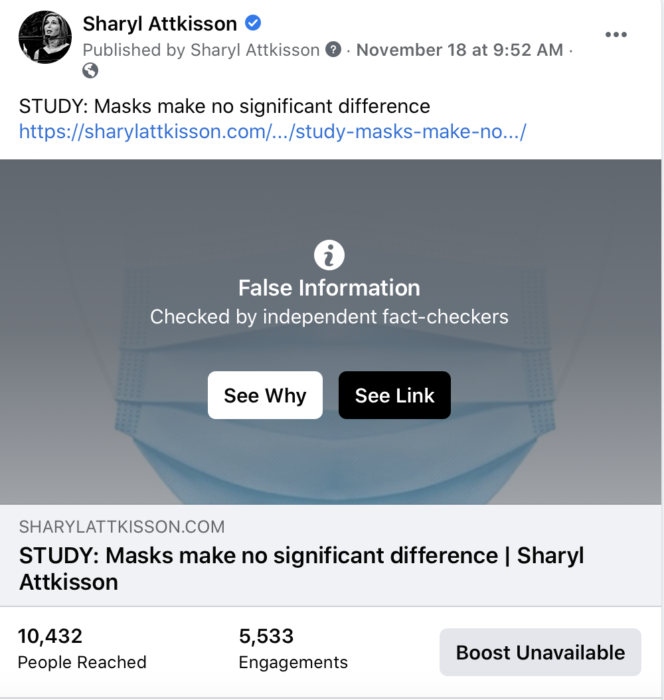 This sort of information manipulation by Facebook, Twitter, Google and other Big Tech companies is increasingly intrusive and dangerous, in my view. That means they are no longer merely platforms; they are editorial publishers. They comprise a group of political activists disseminating false information and trying to censor and shape public opinion. As such, they aren't entitled to lawsuit protections under section 230.
Previously, Facebook fake "fact checked" a documentary about the origins of coronavirus. Facebook falsely claimed the information in the documentary was untrue. In reality, the "fact checkers" were in no position to know. Furthermore, the documentary did not make any claims about the origins, it simply looked at various discussions and evidence.
When digging around and looking for context about the "fact checkers" in that instance, I learned that Facebook was relying, in part, on a U.S. scientist who worked at the Wuhan, China lab in question to disparage any notion of the virus coming from that facility, though she admitted she had no information on the matter! That conflict of interest was not disclosed in the fake "fact check."
Circulate the link and the study that Big Tech is trying to censor:
https://sharylattkisson.com/2020/11/study-masks-make-no-significant-difference/
Fight information control.
Make up your own mind. Think for yourself.