It is easy to find one side of the story when it comes to allegations of 2020 election fraud, but not so easy to get details regarding the other side of the story.
Below, you will find a variety of links to stories and information that is not being widely reported in some press circles. Too often, reporters and analysts are making incorrect claims and conclusions in their reporting, and are weighing in as if advocates rather than presenting factual information and differing views.
As you peruse the links below, it's left to you, as always, to assess the information and decide for yourself what to think. The goal here is simply to make accessible material that powerful interests are trying to censor.
Please note that depending on when you read this, some of the news links or material may be outdated so be sure and continue searching for your own information to stay current.
Most significant claims of problems and fraud in 2020 election
Watch: President Trump's news conference Dec. 2
Lin Wood, Sidney Powell news conference in Georgia Dec. 1
Watch: Arizona GOP hearing on election fraud, Dec. 1
Read: Penn. Sen. Mastriano pushes for legislation to vacate state its certification of the election 11/27
Listen: President Trump's 11/25 comments to Pennsylvania hearing
Full Pennsylvania hearing (mentioned above) 11/25
Nevada judge allows Trump to present evidence of fraud 11/25
Read: Penn. judge blocks state from finalizing election results until. hearing Friday 11/27 on Republican claims
Read: Federal judge authorizes subpoena to collect evidence and reported video in Georgia
Declaration alleging improprieties in Georgia
REPORT: Alleged example of vote switch in real time on TV
Affidavit from mathematician Steven Miller
Statistical analysis of NYT data shows Biden gains lead in increments of 4,300
Nov. 19, 2020 Giuliani-Powell news conference
JustTheNews.com: Math professor flags up to 100,000 ballots
The Epoch Times: Dominion Voting Systems is a no show at Pennsylvania hearing
Newstalk1130: Disability service coordinator blows whistle on vote fraud in group homes
Epoch Times: Wisconsin elections commission agrees to order partial recount
Epoch Times: Arizona governor won't accept election results yet
Read below Affidavit: "500 ballots in a row for Biden in Georgia"
https://www.courtlistener.com/docket/18632787/6/9/wood-v-raffensperger/
Epoch Times: Georgia monitor catches 9626 vote error
Watch Tweet below: Floyd County, Georgia video doesn't inspire confidence": Missing batches 1-10
https://twitter.com/realDonaldTrump/status/1329097946776940559?s=20
Both GOP board members said their concerns included there were discrepancies in nearly three quarters of Detroit's precincts poll books where ballots are supposed to be matched to qualified voters.

Full story at Just The News links below
JustTheNews.com: Michigan election board republicans say they were bullied
Epoch Times: Georgia recounts fitnesses saw Trump votes counted for Biden
Gateway Pundit: Detroit voter fraud witness describes election night chaos
Epoch Times: Two charged with voter fraud allegedly submitted 8,000 fraudulent registration applications
Epoch Times: Hundreds of Republican voters say they returned mail-in ballots that data says don't exist
Link to Vendor Guide showing how Dominion voting machine tabulation works
Guide showing how election files are loaded
Epoch Times: Third Georgia county finds memory card with uncounted votes two weeks after election
American Thinker: DATA ANALYSIS: Biden's Great Leap Forward: A split second in Wisconsin
Link to NYT elections database below:
https://static01.nyt.com/elections-assets/2020/data/api/2020-11-03/race-page/wisconsin/president.json
WATCH: Interview with whistleblower re: alleged election fraud in Detroit
Trump gets twice as many votes as Biden in "found" Georgia votes
Second Georgia county "discovers" hundreds of uncounted votes
JusttheNews.com: Michigan residents swear to what they witnessed
Watch: Undercover Georgia recount video alleging fraud
While we're at it:
Anti-lockdown protests across Europe
Liverpool protests against lockdowns
Britons objection to mandatory vaccination and here
INTERVIEW WITH Plandemic's David Martin with RFK Junior
Preorder "Slanted," and request free signed bookplate (sticker) here!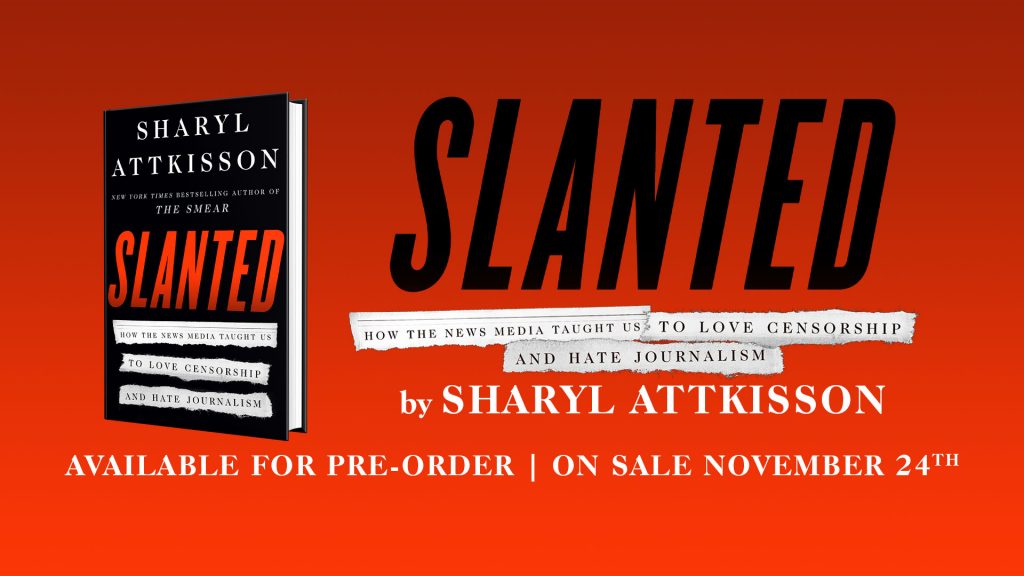 Fight improper government surveillance. Support Attkisson v. DOJ and FBI over the government computer intrusions of Attkisson's work while she was a CBS News investigative correspondent. Visit the Attkisson Fourth Amendment Litigation Fund. Click here.