The following is an excerpt from an article in Central City News.
Note: Many officials deny any improprieties in the 2020 election, or say it was not enough to make a difference.
New York Times Election Report Reveals 104,984 Stolen Votes in Ga, 347,768 in PA
While the mainstream media has crowned former Vice President Joe Biden as "President-elect," the facts on the ground are quite different, at least in two swing states that have been called for Vice President Biden — Georgia and Pennsylvania.
In those two states, a careful analysis of the data shows that both states voted for President Trump and the election was stolen.
It was fraud by computer.
Since Dominion and Smartmatic have control of the voting machines, the software, and the reporting of the results, it should be up to the owners and officials of those two entities to explain how it was done. But it was done, as will be shown.
Unraveling this mystery begins with The New York Times. After polls closed on Election Day, The Times begin to report the results hour after hour. The coding for that data is still online, and we have down- loaded it in case it is taken down.
Thirty of those states and more than 2,000 counties have something in common. The citizens of those areas vote on voting machines pro- vided by Dominion Voting Systems with software from Smartmatic Vote Counting System.
The data from The Times shows the time, expressed as UTC, or Uni- versal time, which is Greenwich mean time in England.
It also shows the totals for Trump and Biden, Trump's lead, and then new votes for Trump and Biden as each change in the results was up- loaded.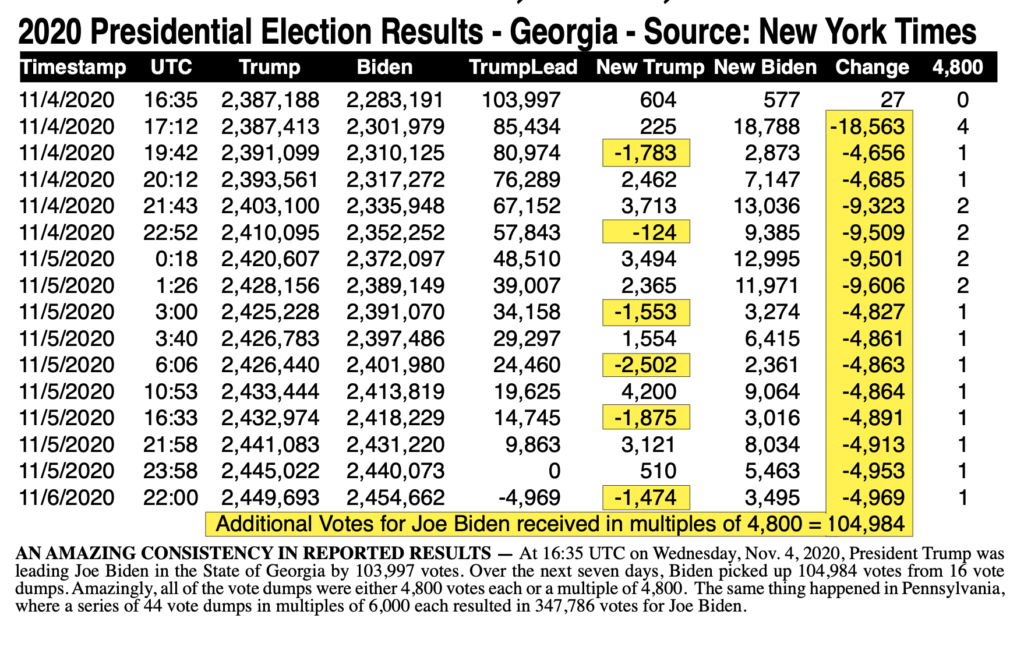 Read the full article at the link below:
https://centralcitynews.us/wp-content/uploads/2020/11/Central-City-News-11-19-20-Small.pdf