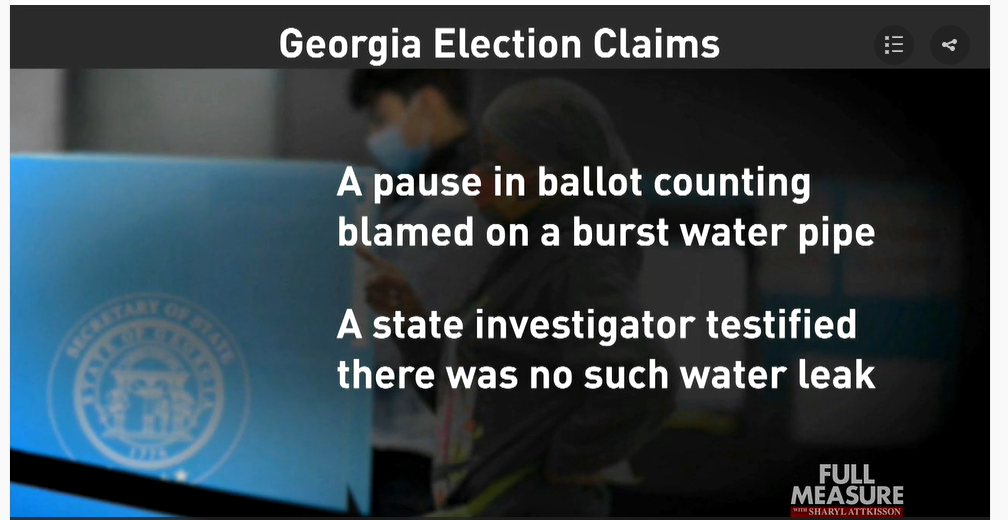 The following is a transcript of an investigative report on Full Measure News. Click on the link at the end of the transcript to watch the video story.
Georgia is a battleground for complaints about the presidential election.
President Trump was leading handily before an overnight vote count put Joe Biden ahead. Trump's side claims fraud, Democrats and election officials insist Biden won fair and square.
Critics flagged: A mystery pause in ballot counting blamed on a burst water pipe. but a state investigator later testified there was no such water leak.
Two weeks after the election, thousands of uncounted votes were discovered on memory cards in three counties. Most were for Trump.
Multiple observers gave sworn statements alleging they weren't allowed to see up close and listened as poll workers called ballots for Biden 500 times in a row.
All 900 military ballots in Fulton County reportedly went to Biden.
And one recount monitor caught a 10,000 vote error in Biden's favor that two official counters had missed.
Sharyl (on-camera): Georgia's Republican Secretary of State Brad Raffensperger defends his oversight and says, 'dishonest actors' are 'exploiting the emotions of Trump supporters.'
We never waste your time rehashing the same news you've heard all week. Find out how to watch on TV, online or on demand by clicking this link: How to Watch Full Measure
http://fullmeasure.news/news/politics/election-mischief