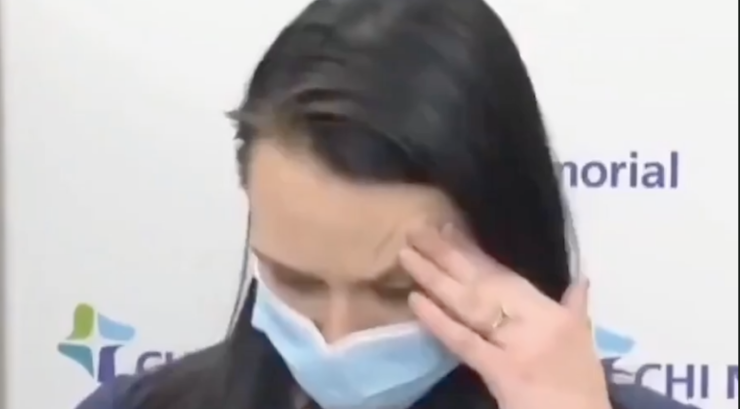 A Tennessee nurse fainted in the middle of giving a news conference after she received the coronavirus vaccine.
Nurse manager Tiffany Dover had just received the Pfizer-BioNTech vaccine.
She later told reporters she was fine.
Watch a report on this and see the video here.
"I had a syncopal episode. I have a history of having an overactive vagal response, and so with that if I have pain from anything — hangnail or if I stub my toe — I can just pass out," Dover told WRCB.
According to USA Today, "In another clip, she said she has 'passed out probably six times in the past six weeks...It's common for me'."
It's unclear why medical professionals would allow someone with such a medical condition to receive the vaccine and then stand before a crowd minutes later unassisted.
A few days later, the hospital where Dover works tweeted this:
https://twitter.com/CHI_Memorial/status/1340349473491476483?s=20
Fainting after vaccination is not uncommon, according to medical experts. See additional information below.
https://www.healthline.com/health/flu-shot-side-effects
https://www.healthline.com/health/flu-shot-side-effects#common-side-effects
https://www.radio.com/news/nurse-faints-minutes-after-receiving-covid-19-vaccine
https://www.facebook.com/521455356/videos/10164686038385357/