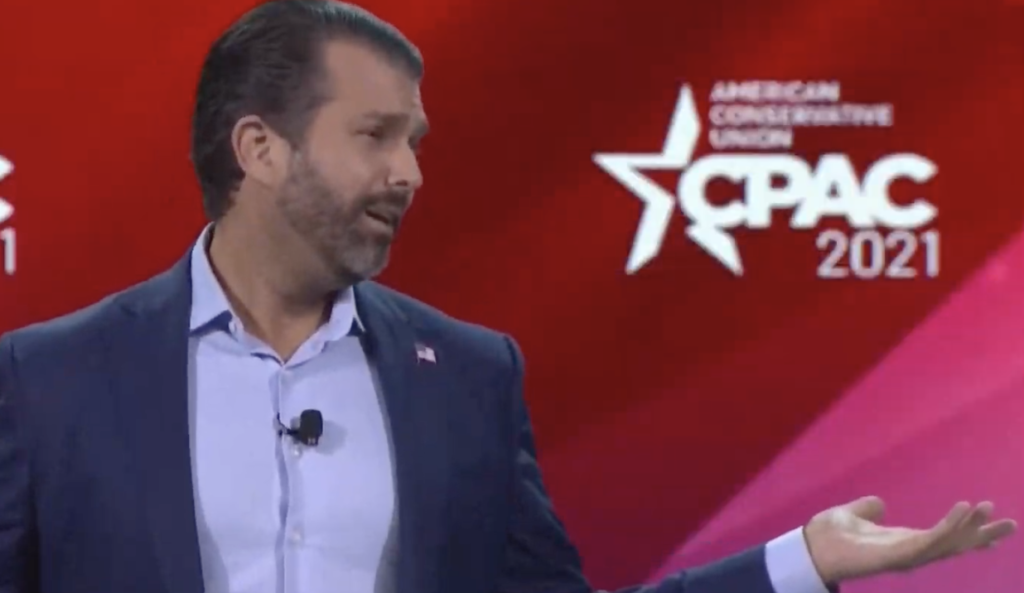 The son of Donald Trump closed out the day at the Conservative Political Action Conference (CPAC) with a speech that lasted about ten minutes.
This year's conference is being held in Orlando, Florida rather than in the Washington D.C. area.
Florida is largely "open" for business amid the Covid-19 scare, while Washington D.C. is not.
Don, Jr. started the speech by mentioning how some states and schools are closed, in his view, unnecessarily.
He said President Biden has "caved" to China, and evoked Hunter Biden's links to China.
Who would have thought within 33 days we'd be bombing the Middle East again?" said Don, Junior. He added he is "surprised they waited 33 days" considering the power of the "military industrial complex."
Don, Jr. also hit Republican "Lincoln Project" Liz Cheney, who has opposed Donald Trump and voted for his impeachment. He hammered Big Tech censorship, CNN, New York Governor Andrew Cuomo, and the Russia collusion conspiracy theory.
And he targeted establishment Republicans saying they're good at "Snatching defeat from the jaws of victory."
[The Republican establishment has] caved to every special interest...corporate America...the radical left that hates their guts, hates their values, and hates their freedom.

Donald Trump, Junior, CPAC, February 26
Don, Jr.'s father, former President Trump, speaks at the conference Sunday.
"I imagine it will not be a low energy speech," remarked Don, Jr. as he called his dad "the future of the Republican party.
CPAC is hosted by the American Conservative Union.
To watch Don, Jr. speak, go to 6:26:00 at the video below.