142,000+ illegal aliens were intercepted by or known to "get away" from officials at the Southwest border in February.
So far, March is even busier.
The Rio Grande Valley Sector in Texas is the most overwhelmed among 9 sectors. It had 12,641 apprehensions in the most recent, single week.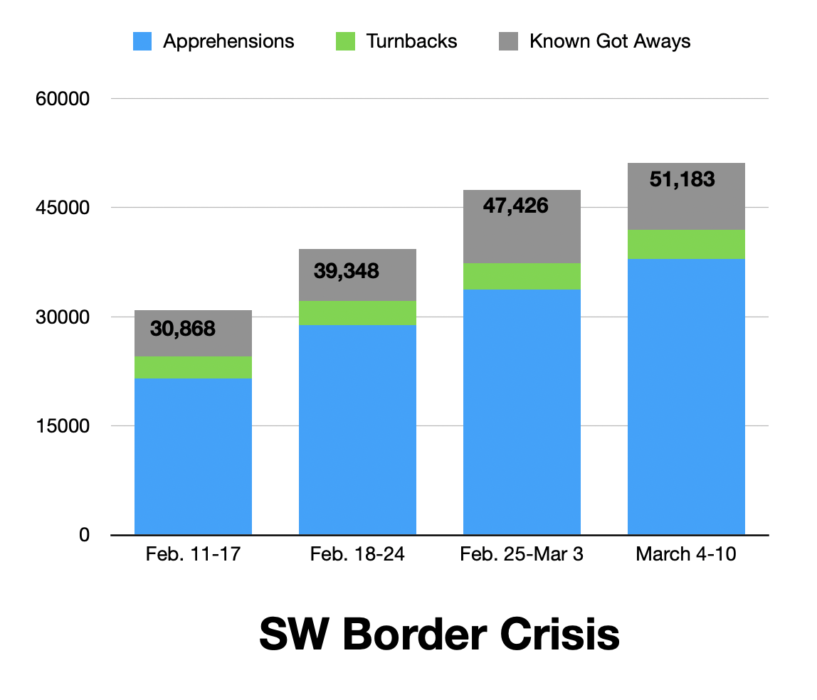 Detailed statistics are below.
The total SW Border numbers for February were at least:
Apprehensions: 101,535
Turnbacks: 13,550
Known "Got Aways": 26,825
Deceased: 37
Non-violation: 5,996
Outstanding: 180
March 4, 2021- March 10, 2021:
President Biden Week #7
Apprehensions: 37,974
Turnbacks: 4,001
Known "Got Aways": 9,208
Deceased: 9
Non-violation: 1,918
Outstanding: 262
Watch my investigation from the Border here and here.
Feb. 25, 2021- March 3, 2021
President Biden Week #6
Apprehensions: 33,768
Turnbacks: 3,579
Known "Got Aways": 10,079
Deceased: 12
Non-violation: 1,893
Outstanding: 300
Feb. 18, 2021- Feb. 24, 2021
President Biden Week #5
Apprehensions: 28,863
Turnbacks: 3,320
Known "Got Aways": 7,165
Deceased: 11
Non-violation: 1,595
Outstanding: 145
Feb. 11, 2021- Feb. 17, 2021 (Arctic Blast)
President Biden Week #4
Apprehensions: 21,473
Turnbacks: 3,091
Known "Got Aways": 6,304
Deceased: 5
Non-violation: 1,155
Outstanding: 280