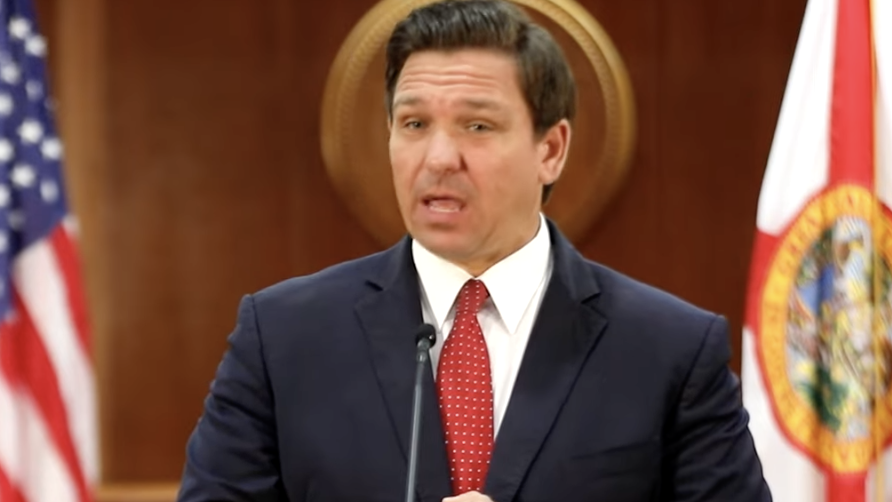 To learn about more censored people and topics, click the CENSORED tab at the top of this page.
YouTube removed a video of Gov. Ron DeSantis (R-Florida) and a panel of scientific experts discussing Covid-19 issues.
The video was of a March 18 roundtable discussion with DeSantis and experts. The discussion included what many health experts contend: that it's unnecessary for children to wear masks. DeSantis reconvened the expert panel on April 12 for a further discussion on why lockdowns had negative consequences.
"What we're really witnessing is Orwellian," DeSantis said of the censorship.
Under the leadership of DeSantis, Florida has managed to stay less locked down and more open than other states, and has suffered fewer serious Covid-19 issues than many.
Experts taking part in the discussion included:
Dr. Scott W. Atlas, MD, Robert Wesson Senior Fellow in health care policy at the Hoover Institution of Stanford University
Dr. Jay Bhattacharya, professor of medicine at Stanford University and research associate at the National Bureau of Economic Research
Dr. Martin Kulldorff, PhD, biostatistician, epidemiologist, and professor of medicine at Harvard Medical School
"There's nothing more dangerous than being able to censor what is said in a country, because then you are simply not ever going to even hear the truth. And you are entering into a phase of countries that we used to criticize severely like the USSR, like communist China…I mean, this is almost the end of our civilization if we have this sort of censorship, I'm afraid," said Dr. Scott Atlas.
"For science to work, you have to have an open exchange of ideas…If you're going to make an argument that something is misinformation, you should provide an actual argument. You can't just take it down and say, 'Oh, it's misinformation' without actually giving a reason…Let's hear the argument, let's see the evidence that YouTube used to decide it was misinformation. Let's have a debate. Science works best when we have an open debate," said Dr. Jay Bhattacharya.
"We need to have debates, rather than censoring…When we do censoring and slandering, even if we are willing to continue to speak out, there are many other scientists that I know, including junior scientists, who do not want to speak out because they see what's happening to us. They don't want to have to go through the same thing. So, we really need a debate," said Dr. Martin Kulldorff.
According to YouTube: "We removed this video because it included content that contradicts the consensus of local and global health authorities regarding the efficacy of masks to prevent the spread of COVID-19."
The March 18 video can still be found on YouTube via other entities that uploaded it. You can watch it below. You can also watch the April 12 discussion.
April 12: https://www.youtube.com/watch?v=tBjstx_IhoM
March 18: https://www.youtube.com/watch?v=3KHBjGANJQU