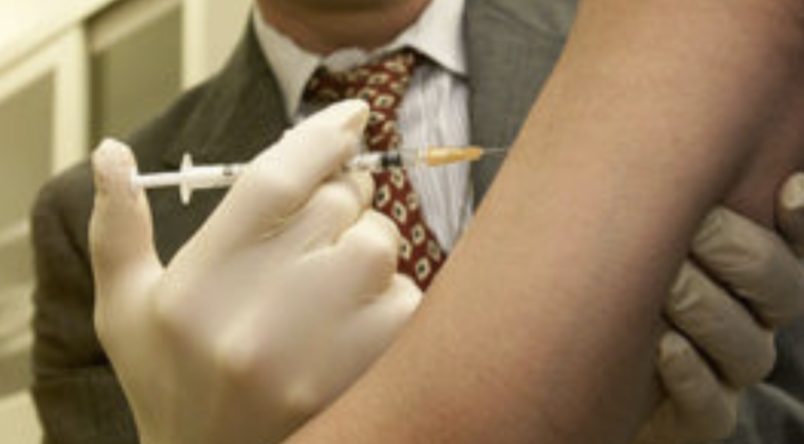 As of the end of the work week, Maine had the greatest percentage of its population vaccinated for Covid-19, according to CDC. Their figure is about 33% or about 1 in 3 people
Georgia has the least of its population fully vaccinated: about 18%, about 1 in 5 people.
After Maine, other top states for vaccinated population are: New Mexico (31%), Alaska (31%), Rhode Island (31%) and Connecticut (30%).
The bottom states are: Mississippi (21%), Tennessee (19%), Alabama (19%), Utah (18%) and Georgia (18%).
Nationally, an average of about 25% of the U.S. population is fully vaccinated.
Here is the state breakdown, courtesy of Becker Hospital Review.
1. Maine
Number of people fully vaccinated: 423,789
Percentage of population fully vaccinated: 31.53
2. New Mexico
Number of people fully vaccinated: 655,962
Percentage of population fully vaccinated: 31.28
3. Alaska
Number of people fully vaccinated: 228,333
Percentage of population fully vaccinated: 31.21
4. Rhode Island
Number of people fully vaccinated: 326,821
Percentage of population fully vaccinated: 30.85
5. Connecticut
Number of people fully vaccinated: 1,083,206
Percentage of population fully vaccinated: 30.38
6. South Dakota
Number of people fully vaccinated: 265,903
Percentage of population fully vaccinated: 30.06
7. Vermont
Number of people fully vaccinated: 186,187
Percentage of population fully vaccinated: 29.84
8. New Jersey
Number of people fully vaccinated: 2,542,293
Percentage of population fully vaccinated: 28.62
9. North Dakota
Number of people fully vaccinated: 216,079
Percentage of population fully vaccinated: 28.35
10. Massachusetts
Number of people fully vaccinated: 1,934,940
Percentage of population fully vaccinated: 28.07
11. Minnesota
Number of people fully vaccinated: 1,556,048
Percentage of population fully vaccinated: 27.59
12. New York State
Number of people fully vaccinated: 5,348,409
Percentage of population fully vaccinated: 27.49
13. Hawaii
Number of people fully vaccinated: 387,882
Percentage of population fully vaccinated: 27.4
14. New Hampshire
Number of people fully vaccinated: 372,094
Percentage of population fully vaccinated: 27.37
15. Wisconsin
Number of people fully vaccinated: 1,588,828
Percentage of population fully vaccinated: 27.29
16. Iowa
Number of people fully vaccinated: 857,061
Percentage of population fully vaccinated: 27.16
17. Nebraska
Number of people fully vaccinated: 524,782
Percentage of population fully vaccinated: 27.13
18. Maryland
Number of people fully vaccinated: 1,609,564
Percentage of population fully vaccinated: 26.62
19. Montana
Number of people fully vaccinated: 282,968
Percentage of population fully vaccinated: 26.48
20. Kentucky
Number of people fully vaccinated: 1,172,523
Percentage of population fully vaccinated: 26.24
21. Washington
Number of people fully vaccinated: 1,967,611
Percentage of population fully vaccinated: 25.84
22. West Virginia
Number of people fully vaccinated: 459,631
Percentage of population fully vaccinated: 25.65
23. Virginia
Number of people fully vaccinated: 2,157,020
Percentage of population fully vaccinated: 25.27
24. Oklahoma
Number of people fully vaccinated: 994,536
Percentage of population fully vaccinated: 25.13
25. Kansas
Number of people fully vaccinated: 731,678
Percentage of population fully vaccinated: 25.11
26. Pennsylvania
Number of people fully vaccinated: 3,214,140
Percentage of population fully vaccinated: 25.11
27. Ohio
Number of people fully vaccinated: 2,912,782
Percentage of population fully vaccinated: 24.92
28. Michigan
Number of people fully vaccinated: 2,475,149
Percentage of population fully vaccinated: 24.78
29. Colorado
Number of people fully vaccinated: 1,405,861
Percentage of population fully vaccinated: 24.41
30. Delaware
Number of people fully vaccinated: 236,291
Percentage of population fully vaccinated: 24.27
31. Wyoming
Number of people fully vaccinated: 139,498
Percentage of population fully vaccinated: 24.1
32. Oregon
Number of people fully vaccinated: 1,010,493
Percentage of population fully vaccinated: 23.96
33. California
Number of people fully vaccinated: 9,439,183
Percentage of population fully vaccinated: 23.89
34. Illinois
Number of people fully vaccinated: 3,012,658
Percentage of population fully vaccinated: 23.77
35. North Carolina
Number of people fully vaccinated: 2,483,100
Percentage of population fully vaccinated: 23.68
36. Arizona
Number of people fully vaccinated: 1,702,622
Percentage of population fully vaccinated: 23.39
37. Nevada
Number of people fully vaccinated: 708,126
Percentage of population fully vaccinated: 22.99
38. Florida
Number of people fully vaccinated: 4,920,302
Percentage of population fully vaccinated: 22.91
39. Louisiana
Number of people fully vaccinated: 1,041,033
Percentage of population fully vaccinated: 22.39
40. District of Columbia
Number of people fully vaccinated: 157,353
Percentage of population fully vaccinated: 22.3
41. Idaho
Number of people fully vaccinated: 394,528
Percentage of population fully vaccinated: 22.08
42. South Carolina
Number of people fully vaccinated: 1,136,479
Percentage of population fully vaccinated: 22.07
43. Indiana
Number of people fully vaccinated: 1,480,851
Percentage of population fully vaccinated: 22
44. Missouri
Number of people fully vaccinated: 1,348,313
Percentage of population fully vaccinated: 21.97
45. Texas
Number of people fully vaccinated: 6,298,033
Percentage of population fully vaccinated: 21.72
46. Arkansas
Number of people fully vaccinated: 621,708
Percentage of population fully vaccinated: 20.6
47. Mississippi
Number of people fully vaccinated: 610,460
Percentage of population fully vaccinated: 20.51
48. Tennessee
Number of people fully vaccinated: 1,327,292
Percentage of population fully vaccinated: 19.44
49. Alabama
Number of people fully vaccinated: 915,654
Percentage of population fully vaccinated: 18.67
50. Utah
Number of people fully vaccinated: 591,806
Percentage of population fully vaccinated: 18.46
51. Georgia
Number of people fully vaccinated: 1,899,992
Percentage of population fully vaccinated: 17.9