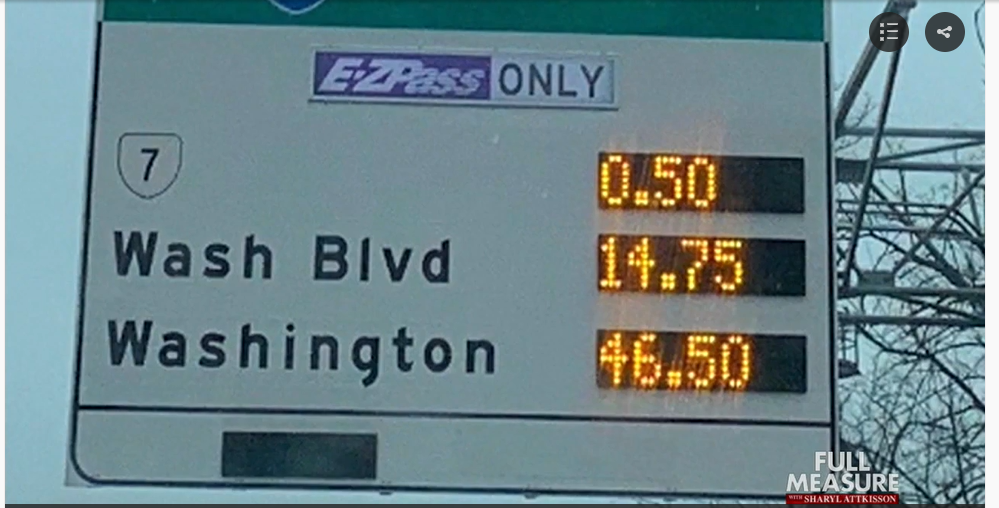 The following is a transcript of a report from "Full Measure with Sharyl Attkisson." Watch the video by clicking the link at the end of the page.
As more Americans get back to work after the Covid-19 shutdowns, traffic gridlock threatens to make a return. It's been a longstanding problem in nearly every major city. When we're fully up and running, highway congestion costs more than a hundred billion dollars a year in terms of lost productivity, wasted gas and added pollution. So how much would you be willing to pay to sail past a line of rush hour traffic in your own car? Ten dollars? Twenty? How about forty dollars? Today we investigate the high cost of the fast lane.
For decades, the American commute has been an agonizing daily exercise for millions of travelers navigating congested roads. Perhaps the most controversial— and expensive— among them in recent times this stretch of highway in Northern Virginia just west of Washington D.C., Interstate 66 Eastbound.
Sharyl: What's the highest do you remember seeing that toll go?
Greg Scott: $54.
Greg Scott headed up a commuter group that unsuccessfully fought to stop the Express toll lanes on I-66, operated by the state of Virginia.
Sharyl: Was anybody paying $54?
Greg Scott: Yes, absolutely. You see Mercedes and Lexuses and that sort of thing just go. And I don't know if they've got their bosses paying them back, if they can claim it as a business expense or something like that. But for somebody like me, $50 is a lot of money.
Aubrey Layne: I fully admit sometimes particularly in Northern Virginia, the tolls do get pretty high.
Aubrey Layne is Virginia's Finance Secretary and was instrumental in expanding the concept of "dynamic tolls" in the state to raise funds for badly needed transportation improvements without raising taxes.
Reversing gears for a moment, it helps to understand how "dynamic tolling" or "price managed lanes" work. The toll charged to drive on special Express Lanes adjusts every few minutes, depending on traffic. When traffic gets worse, the price goes up. In other words, the more you need the fast lanes, the less you can afford to use them, by design.
Patrick Jones represents owners and operators of toll facilities as head of the International Bridge, Tunnel, and Turnpike Association.
Patrick Jones: What priced managed lanes do, it's basically three things: it's providing choice to the consumer, a choice of a reliable way to get to work or wherever you're going, it provides better throughput and speed in the transportation corridor, and it also helps with the environment by reducing greenhouse gases.
He says the high price of the Express Lanes when traffic is the worst means not too many people will use them, guaranteeing a fast trip for those who do. And Express Lanes are usually free if there's more than one person in the car, so it also takes some of the load off the regular lanes.
Driver: It is easier to get to work that way, it is a lot shorter.
Driver: Honestly, I think it's a good thing because I would like to see fewer people on the roads.
Across the U.S., there are now more than 850 miles of price-managed toll lanes along 59 sections of highway in 11 states. But the cost of driving in the fast lane can be so jaw dropping, it's drawn bipartisan critics who call it "price gouging."
Here are some of the tolls that greeted commuters in the span of a few days last year on I-66 heading into Washington DC:
$32.50
$42.25
And $46.50 to travel ten miles or less.
Sharyl: It seems to make it where it benefits the people whose companies can reimburse them for the cost, or who are rich enough to bear the cost. And the people who can't afford it, which is probably most people when it's that high— say $40 for 10 miles— they sit there in traffic and they're late to work and they can't use the benefit.
Layne : The only answer I would suggest is that most people don't use it every day. So it is there when they can use it if they have something particularly they want to get to. And quite frankly, that is the way America is. It is based on a value proposition.
Layne says dynamic tolling is a better option than raising taxes or doing nothing. And supporters insist polls show commuters are very satisfied with dynamic tolling. Even if it may not always seem like it.
Driver: I don't think having someone being able to pay more to have less traffic is fair.
Driver: $40, I think that's astronomically large for a toll.
So we wanted to know where the idea for dynamic tolling came from. It wasn't commuters or the states that approve the Express Lanes but for-profit companies that lobby to build and operate them.
Layne: This concept was brought by an Australian company called Transurban, came to the, Governor McDonnell was the governor then and presented it. I think that was the first administration who really said, "Let's take a look at if this concept works."
Transurban paid Virginia hundreds of millions of dollars for an agreement to operate Express Lanes on Interstates 495, 395, and 95. The state uses the money for transportation improvements. Transurban's deal allowed it to keep any tolls until near the end of this century.
Sharyl: Have you looked into the companies that promote this and lobby the states?
Scott: Absolutely. I know that Transurban, which is the largest public-private partnership tolling company in the world, they are an Australian company. When I researched it, they had contributed over $600,000, to members of the Virginia General Assembly, probably all legal.
SHARYL: What does that tell you?
Greg Scott: It tells me the Transurban is greasing palms, is becoming very active in the business community. Transurban is not a bad company. They have shareholders who are trying to serve, but they don't have the interest of Northern Virginia commuters at stake.
Jennifer Aument was President of Transurban North America at the time of our interview after the pandemic broke out. We asked her about Greg Scott's research.
Sharyl: Close to a million dollars over the last 15 years may have been contributed to the Virginia General Assembly by your company?
Jennifer Aument: So, Transurban participates in the communities in which we operate in lots of different ways. So yes, we participate in the political process, but what we do is strengthen communities through transport. And that means, yes, talking in the political arena and the policy arena about great transportation ideas, making sure that we're doing what we can to support our communities, both through grant programs and through creating transport solutions that provide economic and community opportunities for them.
Then the pandemic shutdowns struck, traffic on the Transurban Express Lanes in Virginia hit a new low, down 80% in April 2020. Now, traffic is picking back up and company officials have indicated they're confident that gridlock, which means revenue, will return
One way or another, Express Lanes do help raise money used to improve roads. But do they really help stop traffic jams?
After Virginia installed its I-66 Express Lanes in December 2017, a study by The Northern Virginia Transportation Commission said the project resulted in helping move 700 more people during morning rush hour in 750 fewer cars compared to four years earlier. Critics say that improvement is marginal at best.
Greg Scott: The fact of the matter is that dynamic pricing has been an absolute disaster.
In the end, dynamic toll Express Lanes are big business and more are on the way. Transurban leads a consortium that's now working on plans to develop Maryland's Express Lanes program, one of the largest of its kind in the U.S.
Sharyl (on-camera): Transurban says before coronavirus, its dynamic tolling strategy on 495 in Virginia increased carpooling more than 500% and saves each commuter an average 80 minutes of time on a day with typical congestion.
https://fullmeasure.news/news/cover-story/the-fast-lane