The following is from RealClearInvestigations.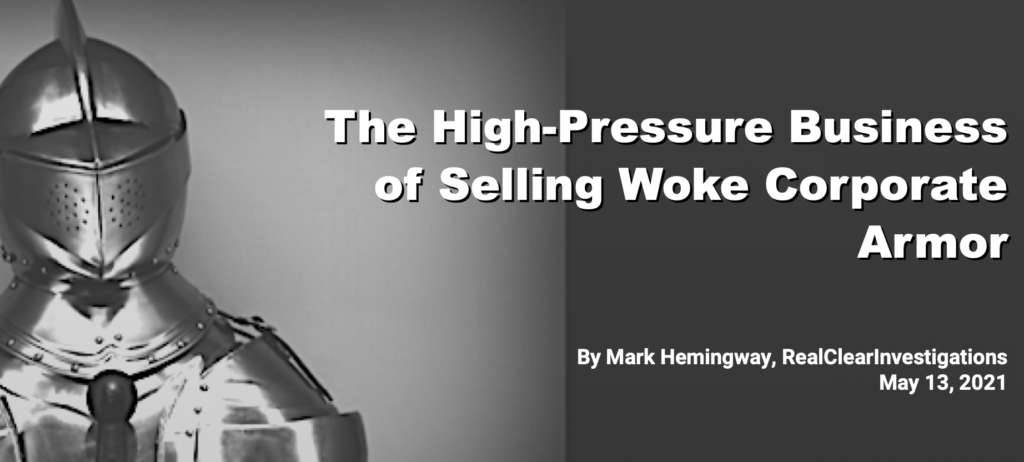 The High-Pressure Business of Selling Woke Corporate Armor
By Mark Hemingway, RealClearInvestigations
May 13, 2021
In 2017, Nandini Jammi helped launch a company called Sleeping Giants to pressure corporate advertisers into boycotting conservative media. With little more than a Twitter account, a Facebook group and a gift for incendiary rhetoric, the company reportedly prompted a range of corporations, from Pfizer to Walmart, to pull advertising from Fox News and other right-leaning outlets.
Nandini Jammi, Sleeping Giants co-founder: Corporate antagonist turned ally.Check My Ads
Now, with boycotts becoming a fixed tactic, including secondary boycotts targeting states with new Republican-backed voting laws, Jammi has transitioned from aggressor to protector: advising companies on how to avoid becoming targets. Her new enterprise, "Check My Ads," says it provides "brand safety training that empowers marketers to protect their brands … We help you identify where your ad dollars are going and to align your media buy with your values."
Jammi is part of what some see as a sensible evolution in which corporations behave in a socially responsible manner while shoring up their businesses against market disruptions in a bewildering time of cultural conflict. But critics see the shift as a pure protection racket: a growing field of progressive groups and personalities exploiting cancel culture for both political gain and personal profit.
Disney, under its "Stories Matter" initiative, has convened a council of nearly a dozen such groups to advise its executives and content managers in monthly videoconferences on how to handle racially insensitive material from its vast archive.
Academic and author Ibram X. Kendi and other leading proponents of Marxist-inspired "critical race theory," have received millions of dollars from corporations looking to stay in the good graces of progressive activists. Such check-writing echoes what's long been seen in academia, as, for example, when Twitter CEO Jack Dorsey personally donated $10 million to Kendi's "Center for Antiracist Research" at Boston University, and Purdue University paid "whiteness studies" scholar Robin DiAngelo $7,000 for a two-hour virtual event.
Dan Granger: Ad agency executive says the punitive approach of left-wing media monitors is making political polarization worse.LinkedIn/Daniel Granger
In the business world, the political pressure and corporate defensiveness have no shortage of critics. Dan Granger, CEO of Oxford Road, an ad agency that launched Hulu, Lyft, Dollar Shave Club and other notable brands, faults the approach of left-wing media monitors like Media Matters and Sleeping Giants as partisan and "all stick, no carrot."
"And I think that they're making the problem of polarization in this country worse, whether or not there is merit behind the claims that they make," he adds.
With many consumers opposed to corporations becoming political, some companies are starting to push back against the woke agenda. The CEO of the software company Basecamp recently announced it would no longer push political messaging on customers, prompting a number of resignations among employees. Even Disney, home of amusement parks billed as the "happiest place on Earth," has become deeply politicized over the company's embrace of racial politics, City Journal reportedlast week, drawing on a trove of whistleblower documents.
Basecamp sparked a mixed reaction as one of the few companies to call for political neutrality.Wall Street Journal
But many major corporations seem increasingly willing to be goaded by activists to participate in boycotts.
Last year, after Sleeping Giants, the NAACP, Color Of Change and other left-leaning advocacy groups urged a boycott of Facebook ads, over 1,000 companies, including Verizon and Coca-Cola, joined the effort. The boycott campaign came shortly after CEO Mark Zuckerberg defended the social media company's decision not to censor posts from President Trump criticizing the violent riots sweeping the country in response to the police killing of George Floyd. Later the president would find himself banished from the platform entirely.
Sharyl Attkisson, media critic: "I think we're in an information war and people want to be sure to control what others say and think and do."sharylattkisson.com
"Advertising boycotts can be very effective," says Sharyl Attkisson, a former investigative reporter for CBS News who is now a Sinclair Broadcasting correspondent and media critic. "We've seen where the news has become an almost entirely managed commodity, that the special interests and propagandists have successfully been able to co-opt in the past 15, 20 years -- and particularly using the internet in the past four to five years in a way that that has not been done before.
"I think we're in an information war and people want to be sure to control what others say and think and do," she adds.
In that information war, woke corporate consulting is a more recent tactic. Jammi, a 32-year-old graduate of the University of Maryland business school, sells her "Check My Ads" service under the rubric of "values," but seems to equate ethics with partisan politics. Last year, Jammi released a "whitelist" – a spreadsheet of 51 media outlets she deemed safe to advertise on. The list is composed of liberal publications, such as The Atlantic, Vox.com, and The New Yorker. Not a single conservative news organization made the cut -- not even the Wall Street Journal, the newspaper with the largest print circulation in the country, and a well-regarded independent news operation, complemented by its influential conservative editorial pages.
So far, Check My Ads hasn't publicly touted its work with any major corporate clients, though one of Jammi's newsletters last year discussed advising the CEO of an ecommerce company, Headphones.com, to make sure he didn't advertise with outlets she found politically untenable.
Jammi did not respond to a request for comment.
The Business of Boycotts
Boycotts are not a new phenomenon, but political and technological changes have recast them, giving them more immediacy and a sharper edge. Decades ago, serious boycott threats were often the domain of the religious right; starting in the 1990s, the Southern Baptist Convention encouraged a years-long boycott of Disney over the company's stance on homosexuality. Some issue-oriented organizations, such as People for the Ethical Treatment of Animals, often urged boycotts of large organizations to draw attention to their causes.
Jammi and Sleeping Giants reflect how boycotts are increasingly used by the left to pressure targets to accept, if not actively promote, controversial progressive views and policies related to everything from transgenderism to defunding the police. Social media technology has empowered such progressive boycott efforts, by making it easy for consumers to communicate directly with companies and brands. Any perceived misstep by a company can become a national news story by the mere fact the issue is trending on social media.
Prof. Julian Villanueva: The intensity of the current boycott climate, amplified by social media, makes it tough for any company to go unscathed.LinkedIn/Julian Villanueva
Social media also allows activists to identify and target companies whose business models offend them. Julián Villanueva, a professor who teaches digital marketing at IESE Business School in Spain, has written that the website ethicalconsumer.org often targets mammoth companies for specific practices. "The site contains a list of initiatives to persuade 'ethical consumers' to stop purchasing from brands like Air France for shipping monkeys to laboratories; Amazon, for avoiding taxes; Bluefin Tuna, for fishing endangered species; or Caterpillar, for selling bulldozers to Israel, as these will be used to destroy Palestinian houses," Villanueva wrote in Forbes last year. "All of these are accusations that might have to be proven, but that many people believe instantly."
Read the rest of the article at the link below:
https://www.realclearinvestigations.com/articles/2021/05/13/the_high-pressure_business_of_selling_woke_corporate_armor_776879.html