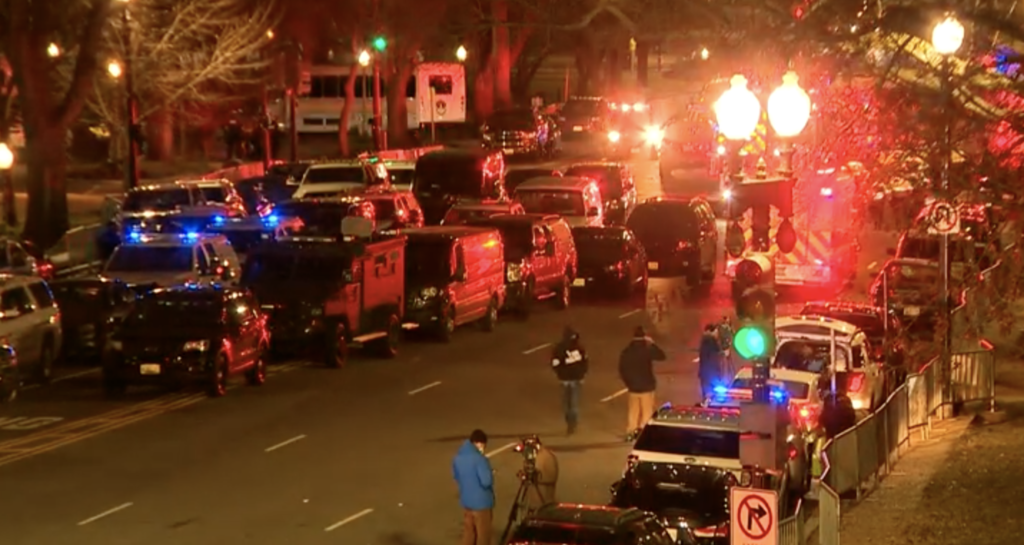 Many inmates in a District of Colombia jail awaiting trial for alleged crimes in the Jan. 6 Capitol riot have been placed in "restrictive housing," a maximum-security designation. The designation amounts to solitary confinement, with the inmates in their cells 22-23 hours a day. That's according to JustTheNews.com.
The following is an excerpt of the report:
A short drive from the U.S. Capitol, 1,500 inmates are stuck in their jail cells 22 hours a day. Until last month it was 23, and they were also barred from going outside.
A smaller group of inmates may have it even worse: those awaiting trial for alleged crimes in the Jan. 6 Capitol riot. They've been placed in "restrictive housing," a maximum-security designation.
The plight of nearby inmates has received surprisingly little attention on Capitol Hill for the better part of a year, since the District of Columbia Department of Corrections issued its "medical stay-in-place" policies for COVID-19 mitigation.
That only changed in late April, and it flipped the partisan script. Rep. James Comer, ranking Republican on the House Oversight Committee, demanded better treatment for the inmate population at large, while Democratic Sens. Elizabeth Warren and Dick Durbin spoke up for inmates accused of insurrection to keep Donald Trump in office.
The issue could complicate D.C.'s bid for statehood. "D.C.'s house is not in order, and the solution is not to grant it even more authority through statehood," Comer said April 19 in response to a Washington Post report that characterized the jail's COVID-19 order as "mass solitary confinement."
Rep. Clay Higgins (R-La.) also cited the Post report in an April 22 floor speech against D.C. statehood. Alleging the city has been "essentially torturing inmates" for more than a year, Higgins said: "That is ultimately a violation of the 8th Amendment ... Is this what we can expect from a D.C. state?"
Comer requested but has not received a briefing with Mayor Muriel Bowser about jail conditions, prompting him to demand Oversight Chair Carolyn Maloney hold an emergency hearing on "these gross abuses that are happening right at our doorstep."
The Jan. 6 defendants are being held in pretrial detention on charges ranging from knowingly entering or remaining in restricted grounds without authority to conspiracy, assault and obstruction of an official proceeding.
Asked about Jan. 6 defendants specifically, Comer's office provided Just the News a statement Friday night. "Reports that January 6 defendants, who have been charged but not yet convicted of a crime, [are] receiving even harsher treatment is equally appalling," he said.
Both Bowser and Maloney "have refused the requests asked of them," according to Comer. A spokesperson for Maloney connected Just the News with an Oversight staffer, who has not responded, while Bowser's spokesperson has not responded.
A Department of Corrections spokesperson did not answer email questions and declined to speak on the record in a phone interview.
A lawyer for Jan. 6 defendants told Politico that lawmakers should contact him if they were concerned about the inmates' treatment. Marty Tankleff, himself exonerated after decades in prison for a wrongful murder conviction, told Just the News no one has contacted him nearly three weeks later.
His clients include Ryan Samsel, who alleges a prison guard beat him so badly he suffered permanent eye damage, and Edward Jacob Lang, an observant Jew who claims guards disparaged him as a "false prophet" as he prayed for other inmates.
Singled out to 'punish' or 'break them so that they will cooperate'
In a March order denying a defendant's removal from restrictive housing, U.S. District Judge Royce Lamberth said the D.C. attorney general had placed all Jan. 6 defendants in such housing "for their own safety and the safety of the jail," Politico reported.
"Solitary confinement is a form of punishment that is cruel and psychologically damaging," Warren told Politico a month later. The Massachusetts Democrat fears the Jan. 6 defendants are being singled out to "punish" them or "break them so that they will cooperate" with federal prosecutors.
Click on the link below to read the rest of the report:
https://justthenews.com/government/local/dc-jail-treatment-capitol-riot-defendants-draws-bipartisan-outrage?utm_source=daily&utm_medium=email&utm_campaign=newsletter