UPDATE: The false tweet by Peter Hotez has been removed from Twitter.
Below is my response to MSNBC, which asked me about the false information Dr. Peter Hotez tweeted out today.
Here is the Hotez tweet, which remains published as of 2:02pm EST: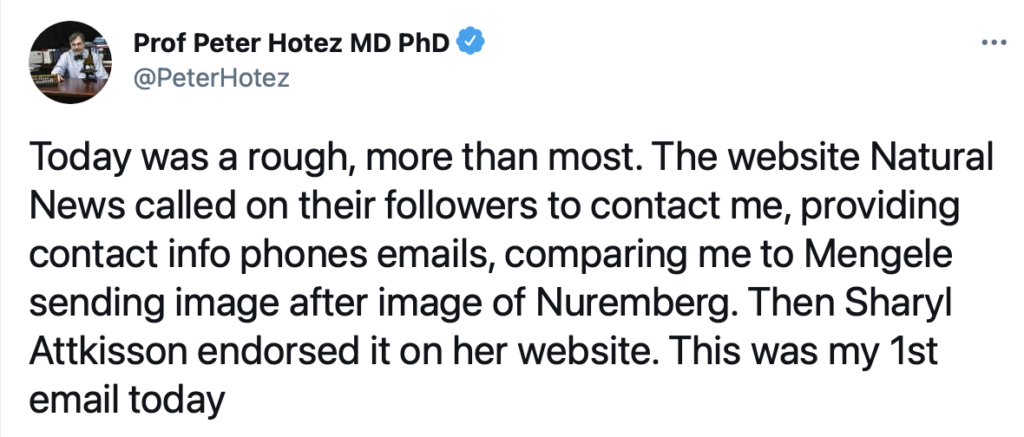 (To MSNBC):
Thank you for reaching out.
First, please be extremely cautious in reporting the malicious, damaging and false accusations about me that's contained in Hotez's tweet. I have contacted my attorney about it in the past hour.
The only Hotez tweet I'm aware of falsely claims: "The website Natural News called on their followers to contact me, providing contact info phones emails, comparing me to Mengele sending image after image of Nuremberg. Then Sharyl Attkisson endorsed it on her website."
First, no endorsement of any such thing exists on my website (or anywhere else).
Second, I have neither read/seen nor endorsed Natural News a) calling on their followers to contact Hotez; b) providing contact info phones emails; or c) comparing to Mengele sending after image of Nuremberg (whatever that means).
Third, Hotez's tweet is the first I became aware of Natural News' call to action (if, indeed, that characterization is true).
If you think there is evidence or proof that any of Hotez's claims about me are true, please send me the information immediately, as I am unaware of it and am concerned that any such article or proof would be fabricated in nature.
If you see there is no evidence or proof for Hotez's claims, and you intend to report them anyway, it would be irresponsible and unethical for you not to point out that no such article or endorsement exists on my website, and that he appears to be promulgating false and defamatory information about me.
In publishing his false information, Hotez has targeted me (and it's not the first time), and ensured I am the recipient of angry attacks based on his untrue claims.
Please let me know if you intend to proceed with reporting Hotez's false accusation against me, and if you have any follow up questions.
Thank you,Sharyl Attkisson