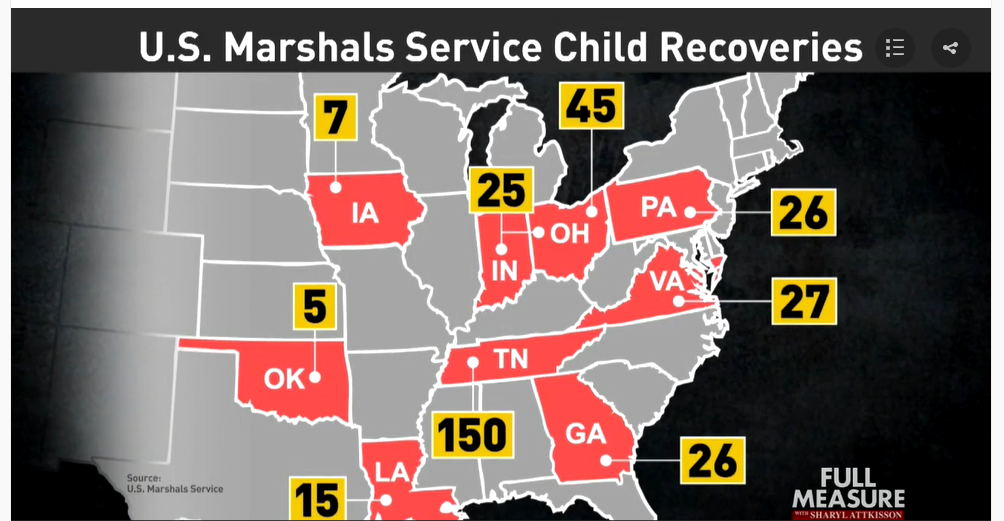 The following is a transcript of a report from "Full Measure with Sharyl Attkisson." Watch the video by clicking the link at the end of the page.
With kids spending more time at home and on the internet during the Covid-19 shutdowns, something unexpected happened. Authorities say sex trafficking that begins online— doubled. And with that, there's been an uptick in reports of children sold for sex by their own parents and relatives. Today, we take a frank look at a dark American scandal stretching from the poorest neighborhoods to the rich and famous.
September 2020, international controversy over a Netflix film called "Cuties."
Critics questioned whether Cuties drew awareness to the problem of sexual exploitation of children, or sexually exploited the 11-year old actors.
The controversy amplified the discussion about abuse and trafficking of children in the U.S.
A recent operation led by authorities in San Joaquin, California, resulted in 57 arrests of men and women caught in a child-trafficking-sex-predator sting
Chief Inspector Floriano Whitwell heads up Sex Offender Investigations for the U.S. Marshals Service.
Sharyl Attkisson: What do we mean when we talk about a child being trafficked?
Floriano Whitwell: It's trading or selling a child to perform sexual acts for monetary gain or services.
The numbers are staggering. According to the FBI, in 2019 and 2020, 786,742 children were reported missing in the U.S. Most are considered "endangered runaways."
Last year, U.S. Marshals led a rescue operation in Atlanta where they are aware that several kids end up trafficked, not always by large, organized rings, but by people they know and trust.
Sharyl Attkisson: Do parents sometimes traffic or sell their own children?
Floriano Whitwell: It absolutely exists.
Sharyl: How young are some of the cases?
Floriano Whitwell: The youngest children we've recovered were as young as seven years old.
Inspector Whitwell says the real story is that it's happening to so many American kids, but isn't getting more attention.
Floriano Whitwell: I personally was extremely concerned by the lack of spotlight, the lack of resources, and just simply the lack of children being recovered across our country, knowing now how big of an epidemic it was. And so I decided to make that my focus.
Which is one reason why you may have heard about a series of rescues by the U.S. Marshals Service.
In Georgia, "Operation Not Forgotten" recovered 26 children and 27 were found in Virginia in "Operation Find Our Children."
Beyond the U.S. Marshals operations in Georgia and Virginia, five kids were rescued in Oklahoma's "Operation Triple Beam" with 262 arrests, more than 30 arrests in operations "Boo Dat" and "Summer Rescue" in New Orleans. Further operations in Iowa, Ohio, Indianapolis, Pennsylvania and Tennessee resulted in the safe return of more than 200 children and doesn't count all the rescues by other law enforcement.
Floriano Whitwell: Last year we recovered 387 missing children, and that was the most we've ever recovered, almost 100 more than the previous year. But I would also emphasize that in my opinion, we're barely scratching the surface.
Which takes us back to the Cuties controversy.
Some consider child exploitation and trafficking to be Hollywood's elephant in the room— long the subject of rumors and rambling accusations.
Actor Issac Kappy, who had a bit part in the Marvel Studio's film "Thor," posted a series of explosive allegations online. "If I'm lying, sue me," he said in August of 2018. "A lot of showbiz parents will knowingly give their kids to be abused because they'll be like 'oh we'll get your kids roles and money' and they take the money and then they just sell their kids."
Nine months after that video, police say Kappy committed suicide by "forcing himself off a bridge" in Arizona onto an interstate.
Beyond the conspiracies, there's hard evidence of horrifying sexual exploitation of children by those in the entertainment industry.
In Great Britain, the monstrous case of Jimmy Savile, one of the BBC's biggest stars. After he died in 2011, criminal investigations found he'd allegedly victimized up to a thousand children as young as age two. One recently spoke of being trafficked by her own mother, at age eight, to be drugged and raped by Savile.
Independent film producer John Paul Rice says child abuse in Hollywood is also very real.
John Paul Rice: There was a legitimate film that I had been asked to audition for by a director. And when I told my manager that his immediate response is, "Oh, he wants to F*** you," like, no hesitation whatsoever.
Sharyl Attkisson: You thought you were getting an audition because
John Paul Rice: Because of sex, it was expected. And it was, it was, you know, that this is the world.
Former child actor Corey Feldman recently spoke out, saying he was preyed on by men in the industry. And he said his friend, Corey Haim, was raped on a movie set at age 11. Haim died in 2010 after years of drug addiction.
After movie producer Harvey Weinstein was sentenced to prison for sexual assault and rape last year, Rice says he thought more actors might step up to expose child abuse. But they didn't.
Sharyl Attkisson: Why do you think it is that people can't or won't address that more directly? 7:31
John Paul Rice: Fear. They're afraid of losing work. Their entire livelihood is tied into making a product for an industry that does this to children.
It may be no surprise that Weinstein connects to Jeffrey Epstein, the child predator tied to the rich and famous.
Epstein was invited to major red carpet events even after his 2008 conviction.
In 2019, he was arrested again for sex trafficking children before reportedly committing suicide in prison.
John Paul Rice: Once the human trafficking and the Epstein and the Maxwell and the Weinstein came out more and more questions were raised more and more questions were asked. And then the silence of Hollywood is what told them that it was really, really bad.
In the end, the recent case against Epstein links back to the U.S. Marshals.
Sharyl Attkisson: A tip to the Marshal Service turned into the FBI case, is that accurate?
Floriano Whitwell: That is correct. Several years before Epstein was arrested by the FBI, our investigators from the Sex Offender Investigations Branch received information that Epstein was, with great frequency, seen at a tarmac in Florida with young girls. Our investigators began this investigation and also worked with the FBI, providing what was uncovered in our investigation to the FBI. And that's the FBI initiated their criminal investigation, and obviously followed through which culminated in his arrest.
Rice has decided to express his concerns through a film he produced called "A Child's Voice," depicting a child trafficking ring.
As for Cuties, the backlash turned out to be temporary. Maïmouna Doucouré, the director, defended her movie and won an award at the Sundance Film Festival.
In an interview accompanying Cuties on Netflix, Doucouré said, "We must all together figure out what is best for our children. As a director, as an artist, I do my part with this film."
Sharyl Attkisson: The people who made the film "Cuties" say that the whole purpose of that film is to draw attention to the exploitation of children, not to do anything harmful.
John Paul Rice: This is a human issue. This is a child issue. And Hollywood calling this art? You've sexualized children. You market it as a product, a film, you're going to normalize pedophilia. And that's, that's essentially what this all means is that it's going to become more normal that we see this.
Sharyl (on-camera): Authorities say children being trafficked across our southern border with Mexico is a growing concern.
https://fullmeasure.news/news/cover-story/sex-trafficking-05-13-2021