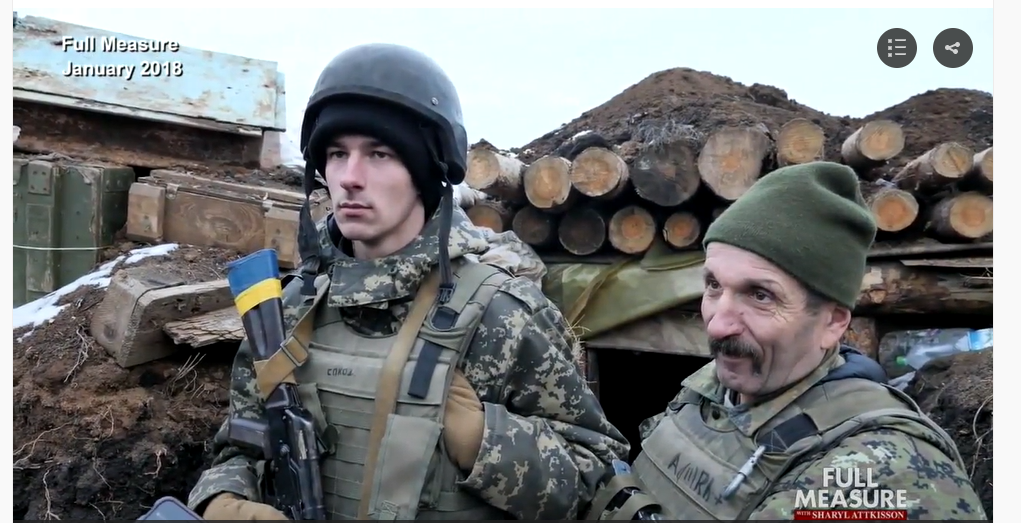 The following is a transcript of a report from "Full Measure with Sharyl Attkisson." Watch the video by clicking the link at the end of the page.
The U.S. has sent a message of support for Ukraine as Russia continues what much of the world sees as provocative action toward its former Soviet partner. The U.S., and other nations, are wondering if they should step in. Scott Thuman who's reported from those front lines before, has the update.
These satellite images, first published last month, served as an ominous warning: escalating tensions between Russia and Ukraine.
Russian fighter jets and other military equipment positioned near Ukraine's border, where just a month earlier, there was nothing. Tens of thousands of extra troops were also reported in the region as Russia flexed its military muscle, conducting war games.
It is, some worry, a precursor of things to come or, at the very least, an attempt to put the western world on alert.
Angela Stent: Vladimir Putin's main aim is that the rest of the world should treat Russia as if it were the Soviet Union.
Angela Stent, has handled Russian affairs at both the State Department and the National Intelligence Council. She's now a professor at Georgetown University, and author of the book 'Putin's World'.
Stent: His worldview is increasingly, and that is similar to the Soviet times, that the West is out to undermine him. That the West is the adversary. And that he has to make sure that the West doesn't weaken, and as he sometimes likes to say, bite off a chunk of Russia.
Ever since Russia invaded and annexed the Crimean Peninsula, essentially taking over that portion of Ukraine in 2014, their reach has grown significantly. Separatists, and Russian-backed forces, now control large swaths of the eastern Donbas region rich with coal and metal resources.
Some 14,000 people have been killed, mostly Ukrainians, as Russia potentially eyes taking even more territory.
Three winters ago, we went to the front lines to see for ourselves, the battle being waged. On the Ukrainian side, the trenches, and much of the firepower, more World War 2 than 2021.
Weaving our way through a freshly bombed-out neighborhood in eastern Ukraine, we're told to move quickly and stay low.
Lt. Col. Dida: They have mounted their fire position there. They observe.
Scott: Enemy positions right there?
And after a few minutes, we push forward into the trenches and seemingly backwards in time.
Scott: You can see that there are some soldiers positioned behind me in this particular trench. They've got little foxholes along the way, gunner positions that we've passed as well. We're going to keep moving up as close to the frontline as we can.
Even as we interview this father and son duo defending this part of the line, more gunfire breaks out.
Scott: So, we just heard a series of shots not 100 yards away perhaps. We got down a little bit but they say they're not terribly worried because they've become so used to it, it happens all the time.
Soldier: We have small arm fire almost every day here. But from time to time, they also used BMP, BTR, they used their high-caliber weapons.
This is life in the forgotten war.
Stent: I do not believe that Russia wants to take over Ukraine. I do believe that it probably wants to keep this frozen conflict festering in South Eastern Ukraine, which will make it very difficult for whatever government is in Kyiv to rule the country, and would make it impossible to join NATO or the European Union.
President Biden and leaders of Europe's NATO military alliance have called on Russia to stand down and pull back.
President Biden: I affirmed U.S. support for the sovereignty and territorial integrity of Ukraine. And I strongly urged him to refrain from any military action. Now is the time to de-escalate. The way forward is through thoughtful dialogue and diplomatic process.
Moscow claimed it scaled back but the U.S. Secretary of State Antony Blinken argued not enough and sent this message to Vladimir Putin.
Secretary Blinken: We'll continue to strengthen our security partnership in close collaboration with you to make sure that Ukraine can defend itself against aggression. We're aware that Russia has withdrawn some forces from the border of Ukraine, but we also see that significant forces remain there, significant equipment remains there. We're monitoring the situation very very closely.
Experts say Russia's actions demonstrate it can ignite an even larger conflict, at will.
These new developments, a reminder that Russia, isn't relenting, and in fact, seems intent on intensifying, this long-lasting siege.
I'm Scott Thuman for Full Measure.
https://fullmeasure.news/news/shows/russiaukraine