The following is a news analysis.
President Biden waited longer to make his first foreign trip than any other president in 58 years.
He's covering less ground and visiting fewer countries than did Trump and Obama on their first big foreign trips.
The double standards in media reporting continue to be on display daily under the Biden Administration.
As President Biden embarks upon his first foreign trip, it's quite a different news story than when President Trump made his.
The media criticized Trump as being late in making his first international journey as president. Even though Biden has waited longer, he's faced no such widespread criticism.
Here's what ABC had to say in 2017 about Trump waiting until May in to make his debut trip abroad:
Trump has not yet traveled outside the United States since taking office...Trump will have been in office the longest number of days, without a foreign trip, since Lyndon B. Johnson... Nov. 22, 1963.

ABC News, April 29, 2017
Even though Biden waited until June to go abroad, I couldn't find an ABC report-- or any report through an internet search-- that points out Biden has now "been in office the longest number of days, without a foreign trip, since Lyndon B. Johnson... Nov. 22, 1963."
The White House and many in the media are describing Biden's trip as "jam-packed" and "intense." If that's the case, then Trump's trip was super jam-packed and uber ambitious.
According to reports about Biden's planned schedule, eight days of meetings will take place starting Wednesday. He'll visit three countries in a relatively small geographic area of Europe. (See the shaded triangle on the map below.)
Trump's first foreign trip was also about eight days long. He visited five countries in the Middle East and Europe, plus the Vatican and the West Bank. (See the unshaded route on the map below.)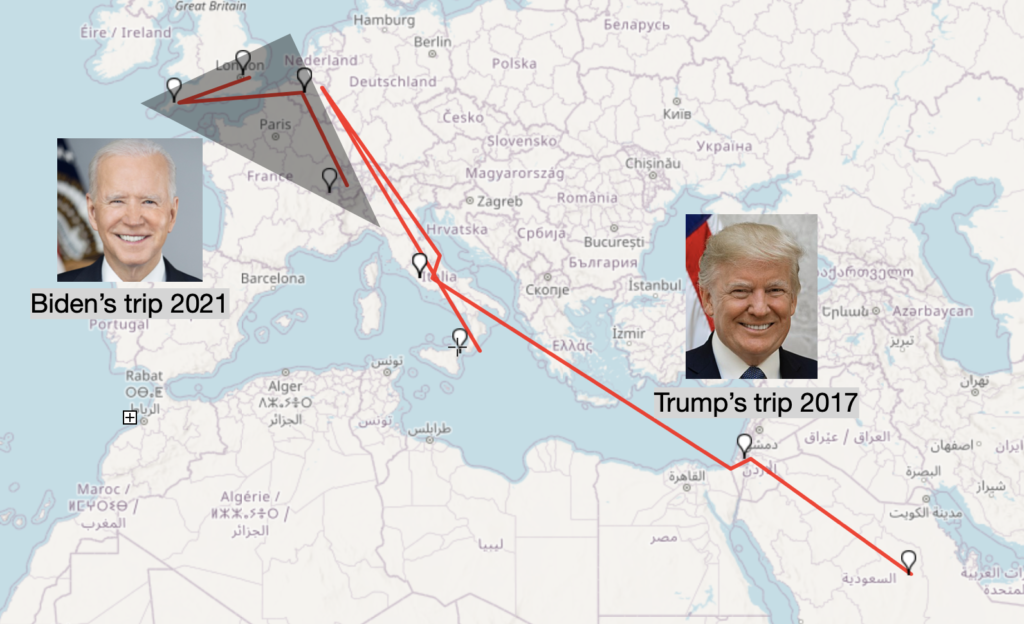 President Obama's first big overseas foreign trip was earlier in his presidency than Trump's or Biden's, and he had six countries on his schedule.
As for the Covid-19 excuse that some in the media offered for Biden's long wait before traveling overseas, his Secretary of State and Defense Secretary have been traveling extensively to foreign countries for months.
On Trump's first trip in 2017, he spent three nights in Saudi Arabia, spent a night in Israel, visited the West Bank, spent a night in Rome, stopped by the Vatican, spent a night in Brussels, and spent his final two nights in Italy.
Biden lands in the United Kingdom and will stay there for about five days before heading a short flight away to Brussels, Belgium. His third and final stop is a short hop away in Geneva, Switzerland.
"It's a very packed schedule," said White House adviser Anita Dunn.