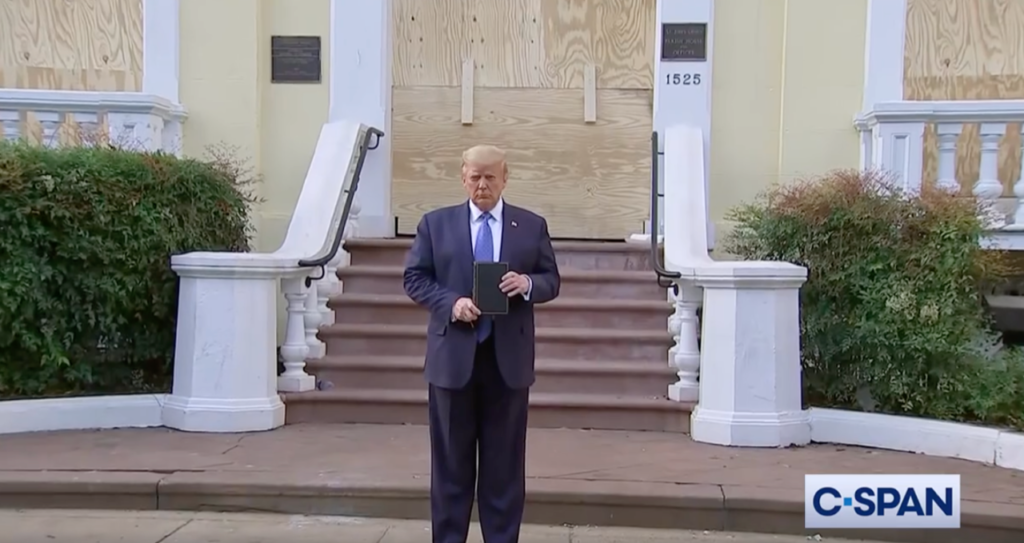 President Trump did not order U.S. Park Police to disperse protesters in and around Lafayette Park in Washington DC on June 1, 2020. That's the finding by a recent Inspector General report.
After several days of violent and destructive rioting in late May 2020 following black suspect George Floyd's arrest and death in police custody, law enforcement officials said they decided to de-escalate the situation by temporarily restricting access to the park near the White House. The plan included clearing the demonstrators and rioters from the park and installing a fence around the perimeter of the park that sits adjacent to the White House.
[T]he installation of the no-scale fence on the north side of Lafayette Park was a key tactic that served to greatly reduce the violent behavior of bad actors. The Park Police takes seriously its commitment to protect the public and our Nation's parklands and cultural assets, and the decision to install the fencing was in furtherance of that commitment. Fortunately, that decision had the intended effect – violence dropped dramatically on June 2 and afterward in that area and First Amendment activities continued.

Gregory T. Monahan, Acting Chief of U.S. Park Police, July 28, 2020
The less-than-thirty-minute operation was widely criticized as excessive use of force by law enforcement and suppression of free speech.
It was widely reported that President Trump ordered law enforcement to clear the park so he could hold a photo opportunity by a church, appearing with a Bible in hand.
The IG found that was incorrect.
Some of the report's conclusions were:
Park Police had the authority and discretion to clear Lafayette Park under the circumstances.
Park Police cleared the park to allow the contractor to safely install the antiscale fencing in response to destruction of property and injury to officers occurring on May 30 and 31.
Park Police did not know about the President's potential movement until mid- to late afternoon on June 1—hours after it had begun developing its operational plan and the fencing contractor had arrived in the park.
There were some deficiencies in communication and implementation of the dispersal plan that led to some confusion among cooperating law enforcement agencies.
The review did not investigate individual uses of force by Park Police officers; these actions are the subject of separate inquiries or ongoing lawsuits.
The Inspector General report recommended that Park Police develop a detailed policy for protests and other events of the type that occurred on June 1, and improve its field communication procedures to better manage multiagency operations.
Click the link below to read the Department of the Interior's summary of the report:
https://www.doioig.gov/reports/review-us-park-police-actions-lafayette-park
Click the link below to read the full Inspector General report:
https://sharylattkisson.com/wp-content/uploads/2021/06/SpecialReview_USPPActionsAtLafayettePark_Public_0.pdf
Click below to watch video of Trump in Lafayette Park:
https://www.facebook.com/watch/?v=249564436371909