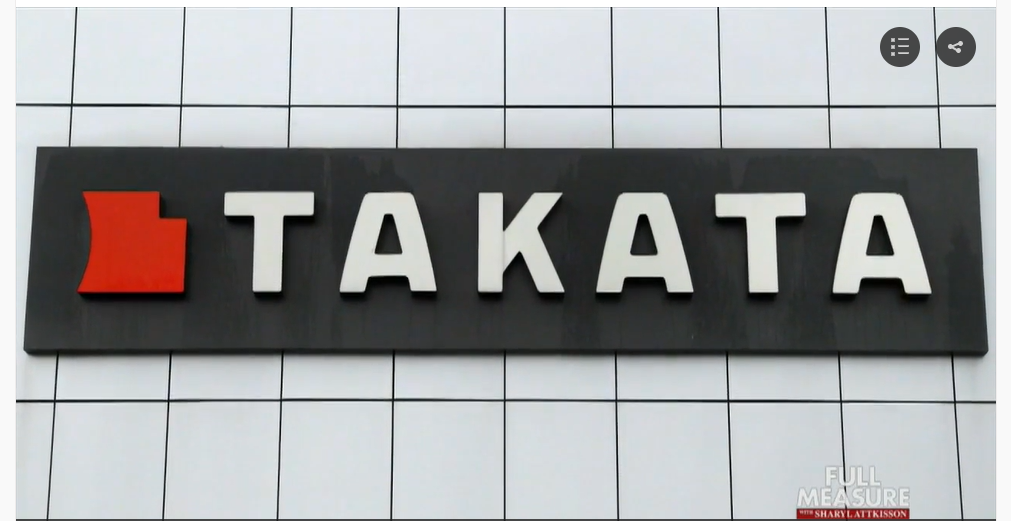 (Original air date 11/15/20)
The following is a transcript of a report from "Full Measure with Sharyl Attkisson." Watch the video by clicking the link at the end of the page.
As many as 30 million cars could still have a defective airbag, despite a giant recall that has been going on for years. Lisa Fletcher talks to a former advisor to the Japanese company Takata that made the airbags. He's written a book about what he knows.
The massive explosion that leveled part of the Lebanese capital Beirut in early August showed the immense destructive power of ammonium nitrate, a highly explosive chemical that is also used in millions of vehicles. It's the power behind airbags that have saved countless people from serious injury, even death.
But there's a problem with millions of them made by the Japanese company Takata.
Lawyer Jerry Cox has spent years working on Capitol Hill, often involved in automotive safety legislation.
Jerry Cox: Takata decided that they wanted a bigger share of the market and that they could get that by making cheaper airbags. The way they did that was to switch to something called ammonium nitrate, which is a very cheap explosive.
That decision did save money and raised profits, but it was also disastrous. The chemical can degrade over time, especially when exposed to high heat and humidity, making it burn too fast and blow apart the metal canister designed to contain the explosion.
When Takata's north American executives realized the scale of the problem, they hired Cox to work with them. He says he tried to convince company leaders in Japan that it was time to come clean.
Cox: So they hired me to help try to persuade the owners of the company in Japan to be honest about it and to stop making airbags with ammonium nitrate in them and to recall and replace all the millions of units they had already put out in people's cars.
Lisa: What was the reaction from Japanese executives when you suggested that they take an aggressive approach toward public safety and recall of the inflators?
Cox: The Japanese theory for any kind of a problem like this is, "If it stinks, keep a lid on it." As 2014 went on, it became more and more apparent that, at least to the American executives, it became more and more apparent they were not going to be able to keep a lid on it.
And while executives in Japan fought to keep the problem secret according to Cox, drivers in the United States continued to be injured and killed.
Drivers like Corey Burdick whose 2001 Honda Civic stalled at an intersection and was hit a low speed by another car. The impact triggered the airbag and sent a three inch piece of metal into his skull.
Corey Burdick: It was like a millimeter away from my brain. So it definitly could've killed me.
Worldwide, at least 25 deaths and almost 300 injuries have been linked to Takata air bag inflators.
Cox has now written a book about what he knows. In it, he describes how Takata, got what he calls a 'sweetheart' deal from the government at the time, allowing the company to replace defective inflators with new ones using the same chemicals, but with an added ingredient.
Cox: They are claiming that a desiccant, a drying agent that was added to those inflators is going to keep them from blowing up.
Lisa: We're talking about the replacement airbags. You've had a bad Takata airbag, you took it and you got it replaced.
Cox: Well, it was like you had a ticking time bomb in your car, and you took it in and they replaced it with another ticking time bomb, but it was a newer ticking time bomb on the theory that it will take longer for it to blow up and kill you, and I don't call that a fix.
One the people who helped negotiate the deal on behalf of Takata, was American lawyer Steven Bradbury. In 2017, he was nominated by President Trump to serve in the department of transportation and late last year, he became the acting deputy secretary of transportation.
Lisa: So the attorney who did the deal for Takata is now the number two at the Department of Transportation?
Cox: Right, that means that the person who negotiated the sweetheart deal is in charge of deciding whether to enforce even that deal or not, and so far the answer has been not.
Bradbury declined to be interviewed for this story, in a statement, the National Highway Transportation Safety Administration says he has recused himself completely from any Takata related matters.
As for the newer Takata inflators that still contain ammonium nitrate but with an added drying agent, the government earlier this year announced it wouldn't recall them. A decision Cox says was taken without consulting the engineers who designed the devices.
Cox: If you want to know whether those are safe or not, whether they're really any different from the ones that are now far enough along that they're clear and present danger to people, if you want to know whether those are safe or not, you should ask the people who designed them.
NHTSA says to date, it hasn't received a single report of a field incident associated with a desiccated inflator due to propellant degradation. It goes on to say "if these inflators show signs of degradation such that they present an unreasonable risk to public safety, NHTSA will not hesitate to act."
Takata the company at the center of this filed for bankruptcy in 2017. The following year it was sold and rebranded as Joyson Safety Systems.
Lisa: We're years down the road now with Takata, it triggered the largest recall in US history. Why is it important to keep blowing the whistle now?
Jerry: Because people will die, it's really simple. You're going to see, and there are official estimates, between 1,000 and 2,000, I think it's probably going to be more like 3,000 people who are going to get blasted by these things in the next few years. And that depends entirely on whether people take their cars in and get these repairs done.
Sharyl (on camera): You can check if your own vehicle has a recalled airbag by going to NHTSA dot gov slash recalls.
https://fullmeasure.news/news/shows/takata-airbags