The following is an excerpt from an article and report by the conservative Media Research Center (MRC).
Big Tech's Online Freedom grade actually got worse in the second quarter of 2021, despite an appalling first quarter report card with a grade of "F." Facebook led the plunge to yet another "F" for the industry intent on censoring conservative content. Twitter, Amazon, Apple, Google and YouTube joined Facebook in their authoritarian crackdown on conservative speech and anyone who questioned the lockstep leftist narrative. For the latest incidents of censorship, check CensorTrack.org.
The two biggest censorship stories of this quarter involved further censoring former President Donald Trump, and restricting content related to COVID-19. The first quarter ended with Facebook in the midst of its appeals process to determine whether Trump would be allowed back on. The site's response to the Oversight Board's ruling was abysmal. Facebook had to eat crow this quarter when the Wuhan laboratory leak theory began gaining traction. The platform said it would stop censoring content concerning the origins of COVID-19 "in light of ongoing investigations."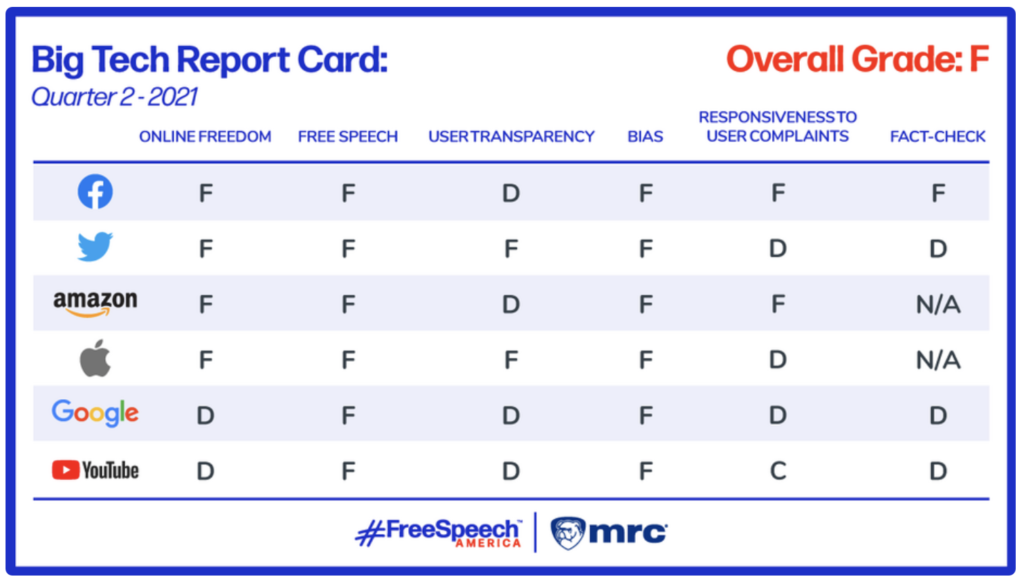 Twitter, on the other hand, initially refused to say if it would stop censoring laboratory leak content. Amazon reportedly banned America's Frontline Doctors from using its Amazon Web Services (AWS) product over the group's views on COVID-19. Google continued to manipulate search results to discredit the Wuhan laboratory theory even after the White House announced an investigation into it. Additionally, it expanded its censorship efforts this quarter, moving into censoring Google Docs that contained COVID-19 related information.
Big Tech's censorship efforts did not stop with silencing users over COVID-19, however. Among Twitter's worst incidents, it not only permanently banned Project Veritas founder James O'Keefe, it also suspended multiple accounts just for tweeting Trump's statements. Apple may have reinstated Parler to its App Store, but Parler claimed Apple forced it to start censoring content to Apple's standards. That is not a win for free speech. Some of YouTube's lowlights include censoring Christian author and radio host Eric Metaxas, a speech by a sitting U.S. Senator, and no quarter would be complete without another swipe at conservative commentator Steven Crowder.
The Media Research Center's Free Speech America once again graded Big Tech using five categories, culminating in an overall grade for each company's Online Freedom. The five areas included: Free Speech, User Transparency, Bias, Responsiveness to User Complaints and Fact-Checking. (Continued...)
Read the rest of the report here.