The following is a news analysis.
When Covid-19 vaccines were being introduced to the market, it was more important than ever for safety monitors to be vigilant in looking for adverse events.
After all, since the vaccines were approved quickly for emergency use, they bypassed the normal system of approvals and studies.
On September 22, 2020, the FDA held a meeting and listed the potential serious adverse events their experts would be paying close attention to when monitoring the Vaccine Adverse Event Reporting System (VAERS), where patients and physicians can file all problems encountered after a vaccine is administered; and through the Vaccine Safety Datalink (VSD), a special active system of monitoring Covid-19 vaccine patients.
Read: Exclusive summary of Covid-19 vaccine concerns
The list includes Guillain-Barre syndrome, an autoimmune disorder which can be deadly, causing irrecoverable paralysis. The FDA recently warned that the Johnson and Johnson Covid-19 vaccine may be linked to numerous cases of Guillain-Barre syndrome. The early list also included blood clots, also the subject of a warning added later to the Johnson and Johnson vaccine; and thrombocytopenia (low blood platelets), a condition reported after Covid-19 vaccination.
Prior to the U.S. warning about Johnson and Johnson, cases of Guillain-Barre syndrome were already reported in other countries after Pfizer's Covid-19 vaccine, as well as Astra Zeneca's (which is not given in the U.S.).
The FDA says the list represents "possible, not known, adverse event outcomes that the FDA will be monitoring for as the vaccine is deployed."
FDA's Preliminary List of Vaccine Adverse Event Reporting System (VAERS) Adverse Events of Special Interest
September 2020
Covid-19 disease
Death
Vaccination during pregnancy and adverse pregnancy outcomes
Guillain-Barre syndrome: autoimmune nerve disorder that can cause paralysis and death
Acute disseminated encephalomyelitis: inflammation and damage of the brain and spinal cord that can cause seizures and coma
Transverse myelitis (TM): inflammation of both sides of the spinal cord that can be associated with multiple sclerosis (MS) and cause severe pain and total paralysis
Multiple Sclerosis (MS): an immune system disease of the brain and spinal cord
Optic Neuritis (NS): inflammation of the optic nerve, possibly leading to blindness
Acute disseminated encephalomyelitis (ADEM): attack of inflammation in the brain and spinal cord that damages the protective covering of nerve fibers, sometimes following vaccination for measles, mumps, or rubella
Chronic inflammatory demyelinating polyneuropathy (CIDP): inflammation of nerves closely related to Guillain-Barre paralysis
Encephalitis: brain damage caused by inflammation, sometimes autoimmune-induced
Meningoencephalitis: encephalitis involving the three membranes that line the skull and vertebral canal, and enclose the brain and spinal cord
Meningitis: inflammation (swelling) of the protective membranes covering the brain and spinal cord
Encephalopathy: brain damage and/or disease
Ataxia: degenerative disease marked by loss of control of muscles and voluntary movement
Seizures/convulsions
Stroke
Narcolepsy and cataplexy: sleepiness and muscle weakness triggered by strong emotions
Autoimmune disease such as: Addison, celiac, Graves, skin rashes and disorders, arthritis, diabetes, lupus, POTS, and MS
Anaphylaxis: a severe allergic reaction
Non-anaphylactic allergic reactions
Acute myocardial infarction: heart attack
Thrombocytopenia: abnormally low levels of platelets in the blood
Disseminated intravascular coagulation (DIC): abnormal blood clotting often caused by inflammation
Venous thromboembolism: blood clots that start in veins
Arthritis and arthralgia/joint pain
Kawasaki disease: a serious immune disorder also known as mucocutaneous lymph node syndrome, which causes inflammation, high fever and peeling skin
Included on a draft slide but not seen in the final presentation:
Multisystem inflammatory Syndrome in Children: potentially deadly inflammation of heart, lungs, kidneys, brain, skin, eyes, or gastrointestinal organs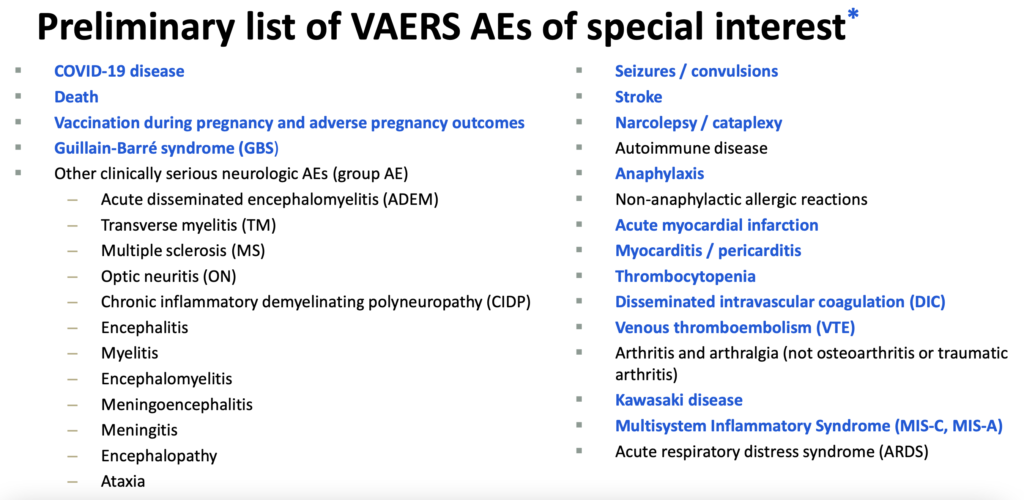 The adverse event slide and other information from the Sept. 22 meeting can be found in the presentation at the link below:
https://www.cdc.gov/vaccines/acip/meetings/downloads/slides-2020-09/COVID-03-Shimabukuro-508.pdf
The U.S. and world governments have issued numerous warnings and advisories regarding Covid-19 vaccines. However, the FDA and CDC say the vaccines being given in the U.S. are safe and effective for emergency use.