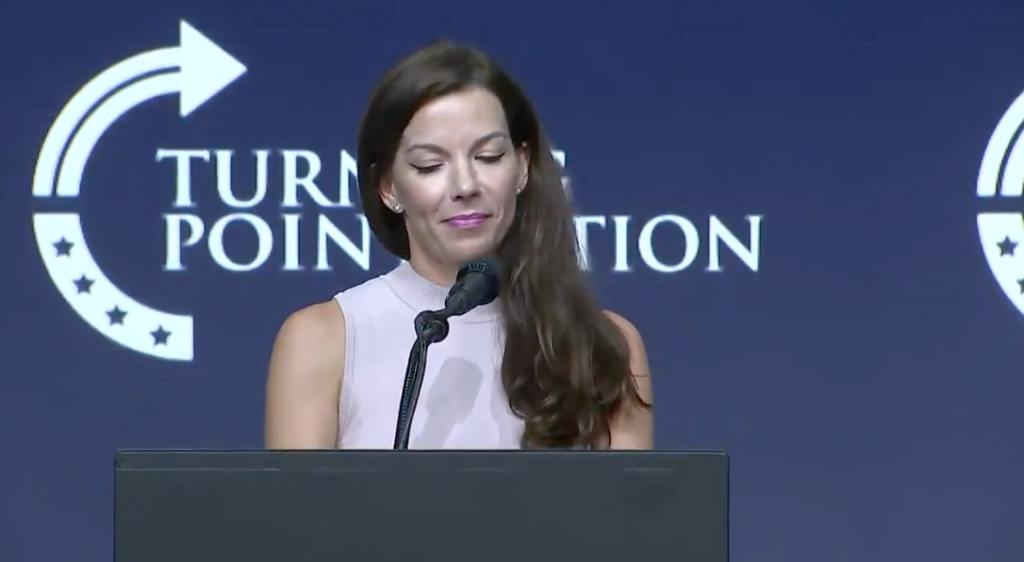 A Republican candidate for Arizona Secretary of State, Michelle Ugenti-Rita, got boo'd off the stage at a meeting of Turning Point USA, a nonprofit that promotes conservative values among students.
The crowd was apparently unhappy that Sen. Ugenti-Rita, the chair of the Senate Government Committee in Arizona, did not support several election integrity measures before the legislature.
One measure would have required that voters who register in Arizona cancel their registration in the state from which they moved. Another would have established a process to involve prosecutors when a voter's signature on an early ballot differs with what is on record. 
Ugenti-Rita has also criticized the ongoing audit of the 2020 election in Arizona.
Former President Donald Trump spoke at the Turning Point USA event to an enthusiastic crowd.
After the foiled appearance, Ugenti-Rita tweeted that she has been "on the frontlines of the battle for election integrity for the last 10 years." She added that she is willing to put her election integrity record up against anybody's.
You can read her tweets below:
I've been on the frontlines of the battle for election integrity for the last 10 years. I wrote the law banning ballot harvesting, cleaned-up our mail-in voter rolls, strengthened ID requirements just to name a few of my accomplishments, (1of5) something every candidate on that stage praised. I'll put my record of fighting for election integrity up against anyone. What I won't do is vote for "show" legislation that does nothing to strengthen election integrity and introduced for self serving reasons. (2of5) There's too much at stake. Our election system is under constant assault by the left, and I won't support bills that fail to strengthen our election system. The same holds true for the audit. I supported the audit, but I do not support the Trump audit any longer. (3of5) I wanted to review our election processes and see what, if anything, could be improved. Sadly, it's now become clear that the audit has been botched. The total lack of competence by @FannKfann over the last 5 months has deprived the voters of Arizona a comprehensive…(4of5) accounting of the 2020 election. That's inexcusable, but it shows what can happen when Republicans do not take election integrity deadly serious. (5of5)

Michelle Ugenti-Rita, Arizona state senate, via Twitter
After a lengthy round of boos and jeers, Ugenti-Rita declared: "I am running to be your next Secretary of State, I am going to win the primary, thank you very much," and easily exited the stage.
Watch the videos below:
https://twitter.com/DrewHLive/status/1419039118663634945?ref_src=twsrc%5Etfw%7Ctwcamp%5Etweetembed%7Ctwterm%5E1419039118663634945%7Ctwgr%5E%7Ctwcon%5Es1_c10&ref_url=https%3A%2F%2Fnationalfile.com%2Farizona-secretary-of-state-candidate-who-killed-election-integrity-bill-gets-booed-off-stage-escorted-out-by-police%2F
https://twitter.com/RN_Destiny/status/1419172557123723266?s=20