After many public health officials and media outlets dismissed hundreds of thousands of reports of changes in menstrual cycle among women who got Covid-19 vaccine, a study out of the United Kingdom say the phenomenon deserves attention.
The study, published in the British Medical Journal says that "a link is plausible and should be investigated."
As many women, including physicians, reported changes in their periods after they got vaccinated, a propaganda campaign was launched to dismiss the notion even though it hadn't been studied.
"No evidence," was the typical phrase used to discount concerns.
A Q-and-A on the website of UC Davis Health suggested it was "stress" that was causing women to notice changes.
The website, quoting Clara Palk, incorrectly stated that there was no "physiologic reason why the vaccine itself would affect a women's menstrual cycle."
But according to the study, there are several physiologic reasons that could be in play.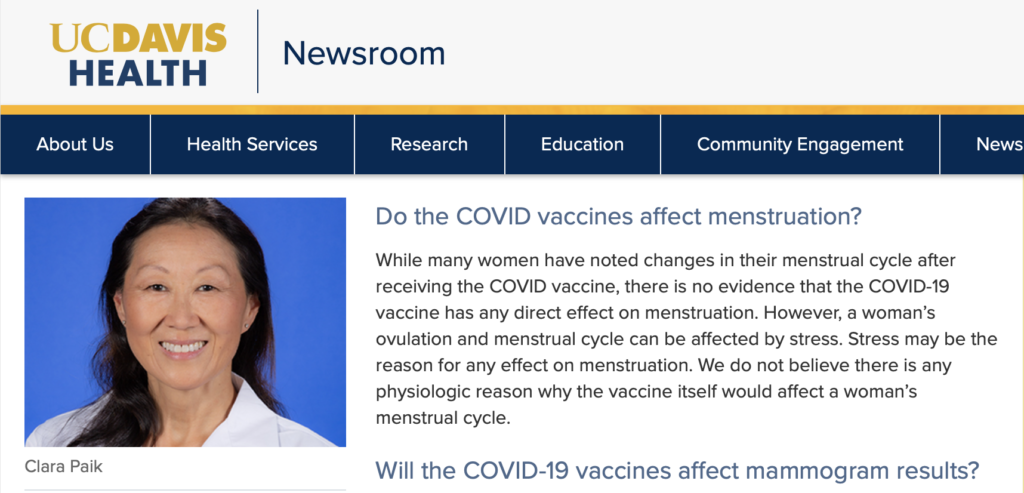 The journal article points out that the controversial HPV vaccine for cervical cancer has also been linked to menstrual cycle changes.
[Menstrual cycle changes after Covid-19 vaccine, if linked to vaccine] is likely to be a result of the immune response to vaccination rather than a specific vaccine component. Vaccination against human papillomavirus (HPV) has also been associated with menstrual changes...Biologically plausible mechanisms linking immune stimulation with menstrual changes include immunological influences on the hormones driving the menstrual cycle or effects mediated by immune cells in the lining of the uterus, which are involved in the cyclical build-up and breakdown of this tissue Research exploring a possible association between covid-19 vaccines and menstrual changes may also help understand the mechanism.

Menstrual changes after covid-19 vaccination https://www.bmj.com/content/374/bmj.n2211