Caution: Graphic content
Singer-songwriter John Ondrasik has just released "the White House" version of his Afghanistan withdrawal song "Blood on My Hands." You can watch it at the link below the photo. More information follows.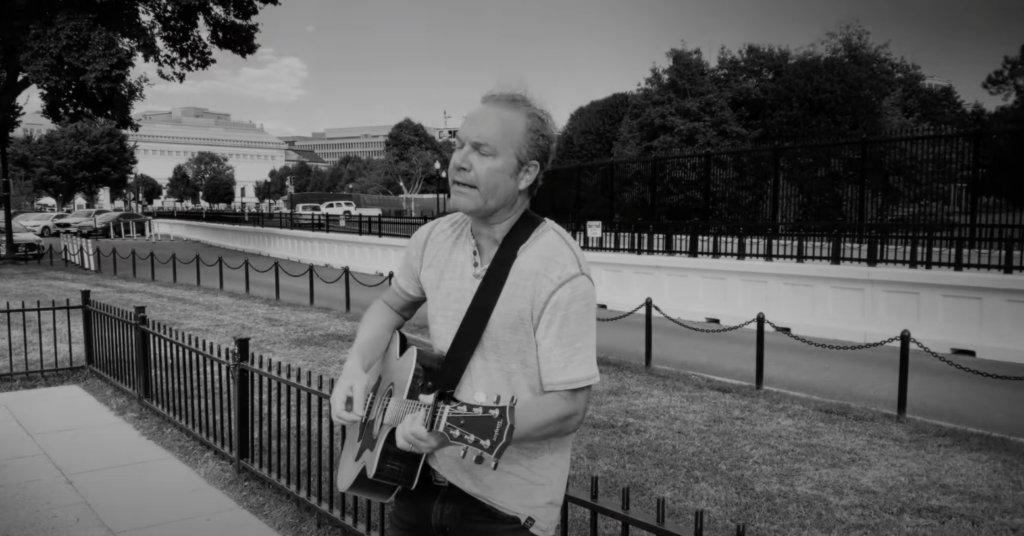 Watch the Full Measure story here
More information:
Los Angeles, CA (January 3, 2022)—Grammy nominated Five For Fighting's John Ondrasik dropped a new docu-music video today of the acoustic version of his viral anthem song, "Blood On My Hands." The song, titled "Blood On My Hands (White House Version)," is available on Spotify, iTunes and Apple Music, and speaks out about the U.S. withdrawal strategy from Afghanistan. The video features John performing in front of the White House and contains excerpts of an interview he recently conducted with former Vice President of Afghanistan, Amrullah Saleh. It also includes a donation link to Ondrasik's charity site, WhatKindOfWorldDoYouWant.com, where people can donate to the "Americans for Afghanistan Cause." Check out video for "Blood On My Hands (White House Version)" HERE (YouTube) and HERE (Twitter).
Written as a non-politically motivated track, Ondrasik's original version of "Blood On My Hands" has eclipsed more than half a million YouTube views. All proceeds from the sale of the "Blood On My Hands (White House Version)," and the original version, "Blood On My Hands," will go to various organizations doing the evacs and rescues in Afghanistan, in addition to theAfghanistan National Institute of Music and the Gary Sinise Foundation.
Says Ondrasik: "After experiencing the reaction to 'Blood On My Hands,' particularly from veterans, I felt a calling to document with images, music and commentary, America's catastrophic withdrawal from Afghanistan, and its ongoing ramifications.
This music video is not a yesteryear documentary. Contrarily, it is call to action in the days, months and years ahead, to demand accountability where there has been none; to fiercely fight for Afghan women and children facing the greatest human rights setback of our generation; to support freedom of expression for artists in hiding; and to recognize and assist said heroic organizations rescuing American Citizens, SIV Holders, and Afghan allies, who still, to this day, are abandoned to Taliban atrocity.
Heartfelt thanks to the brave journalists, photojournalists and private citizens who risk their lives documenting ongoing Taliban atrocities. Thank you former Vice President Saleh, for your clarity and eloquence. It was important to me that an Afghan leader spoke the last word. I'd also recognize those in the state department who, under challenging circumstances, are assisting evacuation efforts. And to the vets, patriots and orgs around the world keeping the promise of 'no man left behind' -- you humble and inspire me. You are the shining light of this dark time. You are the definition of the word 'honor.'
The passing of time will not ease the great shame festering in our collective gut. In fact, America turning the page on Afghanistan would only accelerate the erosion of our moral conscience. I take heart in bi-partisan measures currently being undertaken in Congress that recognize this truth. Until we admit our complicity and implement policy to atone for our actions, I believe that only then, will we begin to regain our stature as a nation."
Ondrasik's passion for supporting the U.S. military has been a longstanding commitment for the artist. His Grammy nominated song, "Superman (It's Not Easy)," the worldwide hit single that went Platinum, became an anthem for the heroes of 9-11; and Ondrasik performed the song at The Concert for New York City. He has given countless performances for the USO, and participated in keynote speaking engagements across the globe. Over the years, Ondrasik has given away five volumes of his compilation, "CD for the Troops," to our U.S. Armed Forces, and more than one million copies have been distributed to soldiers worldwide.
Ondrasik was recently recognized on the House Floor when Rep. Fitzpatrick said: "(John) has spent the last two decades writing deeply personal songs that include social messages that make an emotional connection and invoke the human spirit…we will never forget 911, and in the same vein, we can never forget the heroes that fought in the subsequent 20-year war in Afghanistan, and thanks to brave storytellers like John Ondrasik, we won't forget these heroes…John is a true patriot."
Ondrasik's charity site www.whatkindofworlddoyouwant.com, inspired by his song, "World," has seen fans uploading videos showing their respective interpretations of a better world. That initiative has raised more than $250,000 for five designated charities – Augie's Quest, Austism Speaks, Fisher House Foundation, Save the Children and Operation Homefront.
For more information on John Ondrasik and Five for Fighting visit: https://fiveforfighting.com/.