Fifty-eight percent (58%) of Americans are dissatisfied with the level of immigration into the U.S. today, while 34% are satisfied. That marks an eight-percentage-point increase in dissatisfaction since last year.
This data was collected in from Gallup's Jan. 3-16 "Mood of the Nation" poll, which has tracked this immigration measure since 2001, excluding 2009-2011.
Among the 58% dissatisfied:
35% of all Americans who prefer that immigration be decreased
9% prefer an increase in immigration
14% prefer levels to be kept the same
Last year, the dissatisfied were almost equally likely to favor an increase, as a decrease in immigration levels.
Now the predominant view among the dissatisfied is for less immigration.
The proportion who want less immigration has nearly doubled from 19% in 2021 and is above where it was in 2019 (23%) and 2020 (25%).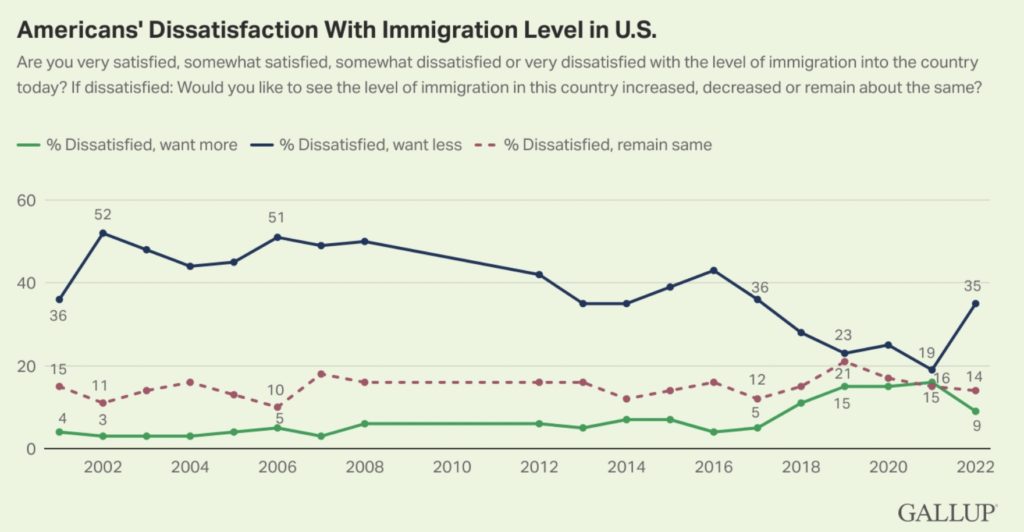 President Joe Biden, who reversed some of former President Donald Trump's measures limiting immigration into the U.S. has failed to get any significant immigration reform legislation passed through Congress.
Biden has also drawn criticism from both political parties for his border policy. His approval ratings for handling immigration have been more negative than positive, with declining approval from Democrats.
Read more Gallup poll results here