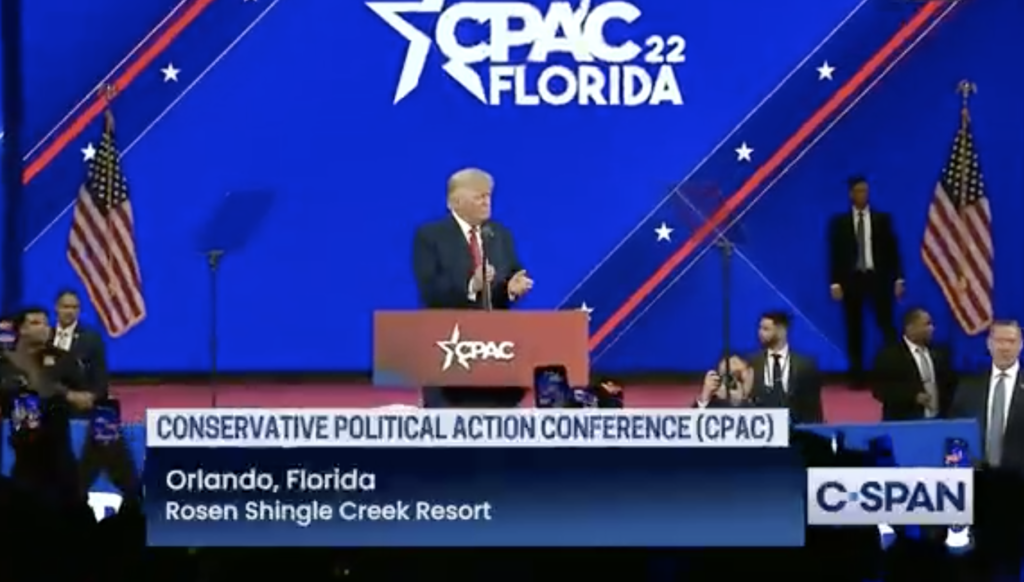 Donald Trump is one of the most important political figures of the day and, arguably, the most important Republican in national politics. But many in the media have taken the historic step of censoring him. For that reason, one of our goals is to publish information about Trump that is otherwise difficult-to-find.
"We did it twice and we'll do it again, we're going to be doing it again, a third time," said Donald Trump, seeming to allude to a third run for the White House in 2024.
The former president Trump wowed a large, cheering crowd at the Conservative Political Action Conference in Orlando, Florida.
"We'll get voter ID, we'll never defund the police, ridiculous cancel culture will be wipe out entirely, the wall will be quickly completed... in three weeks," pledged Trump.
He criticized the "radical left," "weak, pathetic policies," "Socialists, globalists, Marxists and Communists who are attacking our civilization," and said they had awakened a "sleeping giant."
He also said that, in November 2024, they will "find out like never before" what they had awakened.
Biden's approval numbers have cratered amid mishandling of and misinformation regarding the Covid pandemic, vaccine mandates and firings of the unvaccinated-- even those with better immunity than the vaccinated, inflation, rising gas prices, a turnaround in energy independence, worker and product shortages, persistent supply chain issues, rising crime, record illegal immigration, the smearing of peaceful protesters on January 6, targeting school parents as potential terrorists, the botched Afghanistan withdrawal, and more.
"A radical left zealot has been nominated to the Supreme Court," said Trump. He said the U.S. military was "humiliated" with the Afghanistan withdrawal and cautioned "a major war in Europe" could be coming due to the "incompetence" of the Biden administration regarding Russia's attack on Ukraine. "If I was the president [it] wouldn't have happened," he said.
"I stand as the only president of the 21st century on whose watch Russia did not invade another country," Trump said. The crowd answered with chants of, "USA! USA!"
"We are praying for the proud people of Ukraine," said Trump. "God bless them all."
Trump called the Biden administration "bad, weak, and grossly incompetent" and said "the world hasn't been this chaotic since World War II."
Also while Trump was on stage, the audience broke into chants of "Four more years!"
"The election was rigged," said Trump, referring to Biden's overnight come-from-behind 2020 win. He said the country "has lost our self-confidence," but promised "We will get it back."