"A strong no!" is how 98% of those polled, answered the question, "Should Lia Thomas, a man, be allowed to compete in women's competitions?"
That's according to the latest unscientific poll of 2,802 people at SharylAttkisson.com.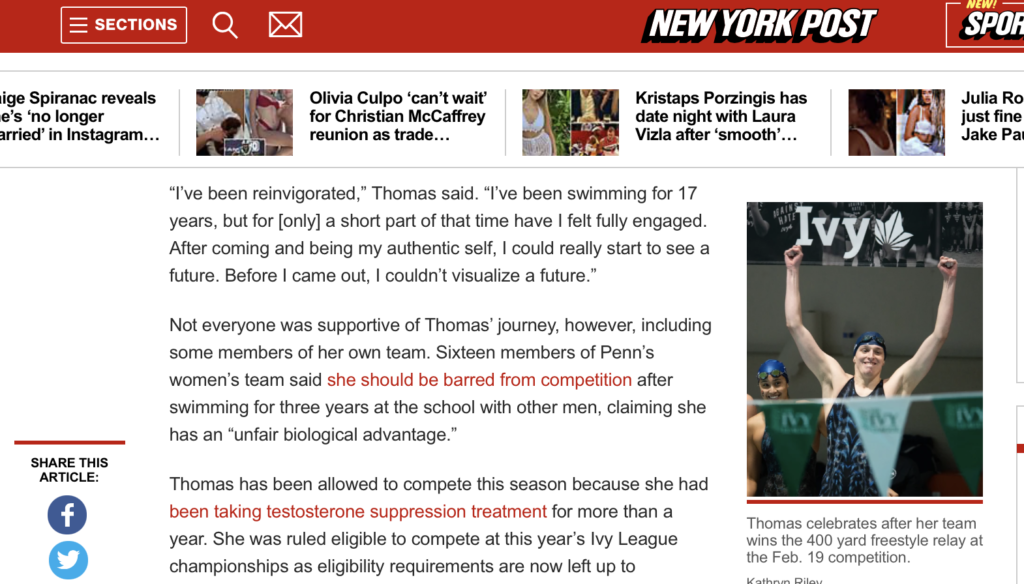 Less than one percent (1%) said Lia Thomas should be able to compete as a woman "if he feels like a woman."
Lia Thomas was on the University of Pennsylvania men's swim team for three years before switching to the women's team this season as a transgender athlete.
After completing hormone therapy and a year off from school in 2020-21, he was found eligible, under the National Collegiate Athletic Association (NCAA) rules, to swim in women's collegiate events.
In the women's competitions, Thomas has set Penn records for the 200-meter freestyle, 500-meter freestyle and 1650-meter freestyle.
There has been much public debate as to whether men or women should be able to compete alongside athletes of the opposite sex.
Thomas has said he belongs on the women's team. There are many advocates fighting for what they say is the right of transgender athletes to choose which team they compete on.
Some feminists, such as Martina Navratilova, who is gay; and trans-rights advocates, such as Olympic decathlete star Bruce Jenner, who became Caitlyn Jenner after a sex change operation; have sided with conservative advocates in saying that allowing men to compete as if they are women infringes upon the hard-fought rights of female athletes, and takes away from women's opportunities.
Full results are below. Be sure to answer the newest poll at SharylAttkisson.com. Look for the black box on the right sidebar on your computer or scroll way down on your mobile device.
Poll Question: Should Lia Thomas, a man, be allowed to compete in women's competitions?
<1% Yes, if he feels like a woman
<1% Possibly
2% I don't think so
98% That's a strong no!