The following is an excerpt from Gallup News.
Initial public support for judge Ketanji Brown Jackson's confirmation to the Supreme Court ties as the highest Gallup has measured for any recent nominee. Fifty-eight percent of Americans say the Senate should vote in favor of Jackson serving on the Supreme Court.
Only current Chief Justice John Roberts, at 59% in 2005, had a level of support on par with that for Jackson. Most other nominees had support in the low 50% range, with five below that mark.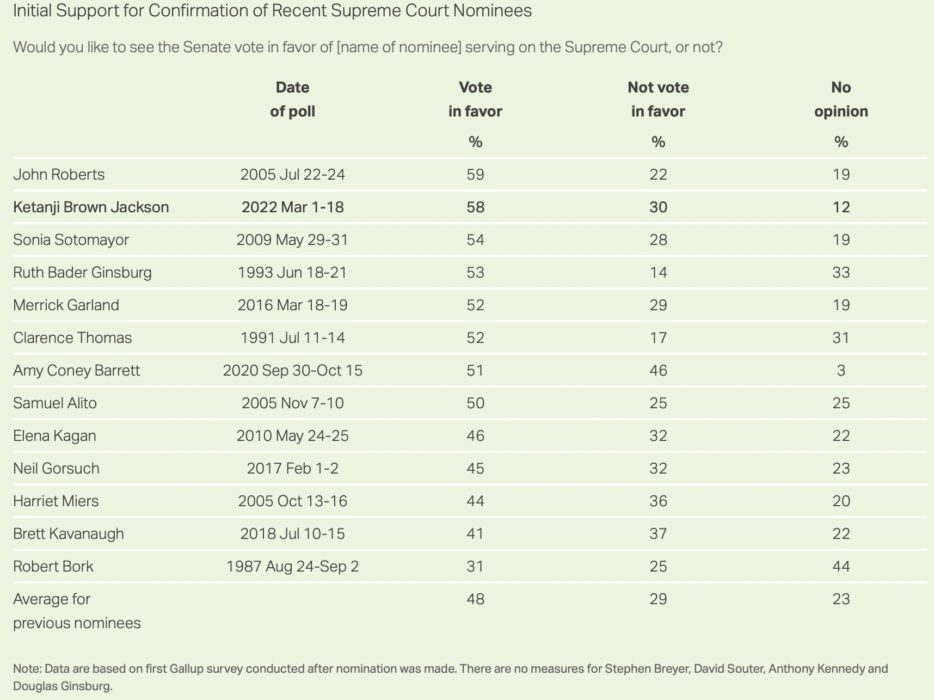 Democrats Overwhelmingly Support Jackson; Majority of Republicans Opposed
The new poll finds 88% of Democrats, 55% of independents and 31% of Republicans saying the Senate should vote to confirm Jackson. The majority of Republicans, 55%, are opposed.

Jackson's support among Democrats essentially ties Barrett's 89% support among Republicans in 2020 as the highest a nominee has received among a party group in Gallup's initial poll on Supreme Court nominees.
Partisans' opinions of Supreme Court nominees have become much more polarized in recent years. (Continued)
Read more here.