Groups of New York City workers are calling on Mayor Eric Adams to stop discriminating on the basis of vaccination status by applying the same rules for all city employees, and to rehire those who were fired from their jobs because they declined Covid vaccination.
Bravest for Choice-- a group of NYC firefighters, medics, and EMTs who oppose vaccine mandates-- produced a video featuring city workers who have been or will soon be fired for refusing the Covid-19 vaccine.
The Centers for Disease Control (CDC) has acknowledged what many scientists have been saying since near the beginning of the vaccination program: Covid-19 vaccines prevent neither infection nor spread of Covid. Those opposed to mandatory vaccination have argued it makes no sense to require a medical procedure that has possibly serious side effects, especially when the procedure is ineffective.
As the ineffectiveness of the vaccines has become more widely known, proponents have said that at least they may prevent some people from getting as sick as they might otherwise get, or prevent death. On the other hand, CDC says the vast majority of the public outside the "high risk group" has a small or near zero chance of serious illness or death from Covid even when unvaccinated.
Adams signed an Executive Order March 24 allowing all professional athletes and performers to work in the city, regardless of vaccination status. However, the order did not include municipal workers, who have not been granted approval for reasonable accommodations, such as a medical or religious vaccine exemptions.
Tramell Thompson, a union activist who runs the Transport Workers Union Local 100 resistance group Progressive Action, recently appeared on Fox and Friends. He said that Adams is failing to consider people who were coerced into getting the vaccine in order to "pay their bills, to take care of their families, to make sure they don't lose their homes, their cars, to make sure their kids can go to school."
New York City Council Minority Leader Joe Borelli posted the following to his Twitter account on April 14: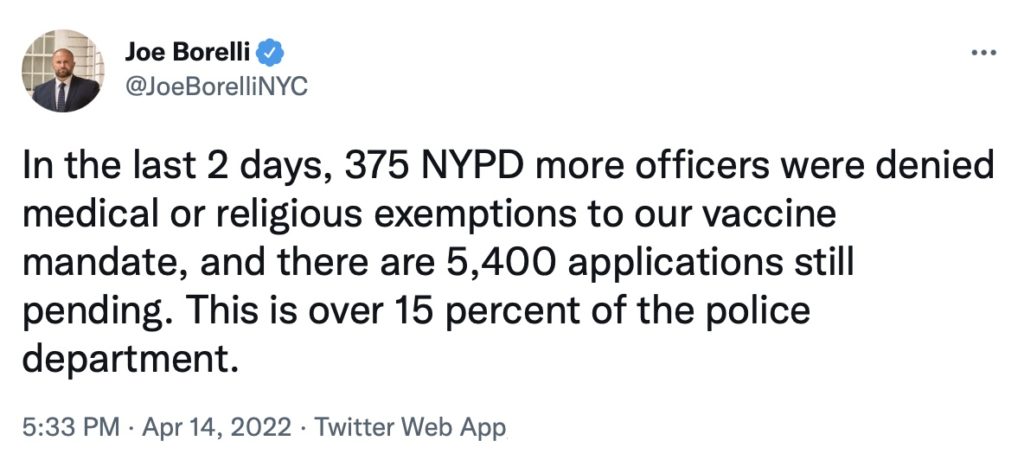 Borelli introduced a resolution on April 14 calling on Adams to rehire city workers as well as ordering the rehiring of employees of private businesses who were terminated for not complying with the city's Covid-19 vaccination mandate.
Earlier this year, lawyers working with Children's Health Defense (CHD) filed a lawsuit against the city of New York on behalf of New Yorkers for Religious Liberty, Inc. and all others who have been denied medical and religious exemptions for Covid vaccinations and were either terminated or placed on involuntary leave as a result.
They also filed a motion for a preliminary injunction and temporary restraining order asking a federal district court to intervene and prohibit the enforcement of the mandates.
According to New York City attorneys in the Kane v. de Blasio case, filed on behalf of teacher Michael Kane and eight other educators who lost their jobs after refusing to take a Covid vaccine, "several thousand" religious exemptions were initially filed for educators alone.
All were denied at first. Of those, 1,300 appealed their decisions and most have reportedly been denied.
There are currently nearly 5,000 religious exemptions still pending for NYPD Officers who are still working and testing weekly for Covid in lieu of vaccination.
Kane v. de Blasio seeks to bring New York City educators back to their jobs after being denied religious exemptions to vaccination. While representing only educators, if successful, the case could have a broad impact on all city workers who have lost their jobs for declining covid vaccination.
While some workers oppose the mandates for infringing their rights, many others have expressed concerns about the safety of the Covid vaccines.
According to the U.S. government-maintained Vaccine Adverse Events Reporting System (VAERS), there has been a total of 1,226,314 adverse events reported following COVID vaccination, including 26,976 deaths and 219,865 serious injuries from mid-December, 2020 through April 8, 2022.
Scientists say that reports to the database are typically underreported since most patients and doctors either don't know to report any illness following vaccination to the system, or fail to do so.