The following is an excerpt from Gallup.
Forty-one percent of Americans report worrying a great deal about the issue of illegal immigration, with another 19% worried a fair amount, according to a March 1-18 Gallup survey. The survey was conducted before the U.S. Centers for Disease Control and Prevention announced it will soon terminate the emergency powers given to border agents during the pandemic that have allowed them to turn migrants back without an opportunity to seek asylum.
The 41% currently worried a great deal roughly ties the percentage found a year ago but is otherwise on the high end of Gallup readings taken over the past decade. The only time significantly more Americans were this concerned was in 2007, when 45% worried a great deal as then-President George W. Bush and Congress debated comprehensive immigration reform.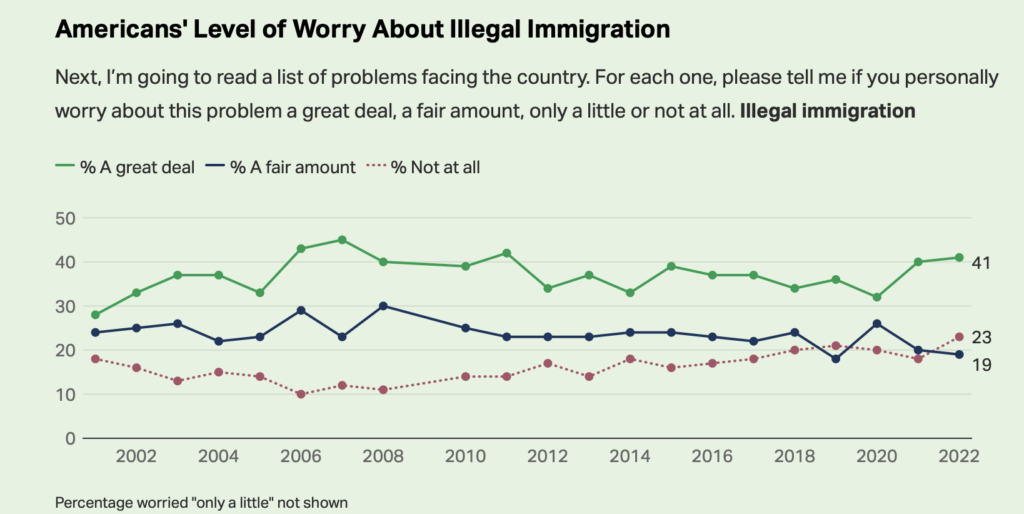 Gallup measures Americans' concern about illegal immigration along with numerous other issues facing the country each March.
As reported last month, illegal immigration ties with race relations as a public concern and ranks among the lower half of 14 issues rated this year.
The 41% saying they worry a great deal about these contrasts with 59% worried about their top concern, inflation. (Continued)