"The People's Convoy," a group of semi-truck drivers that rallied throughout the country to protest Covid-19 regulations and vaccine mandates, is set to roll into Los Angeles this weekend to attend the "Defeat The Mandates Coast-to-Coast" rally.
The convoy of close to 100 trucks originating from San Bernardino County, California in February drove cross-country to Washington, D.C., as a protest to vaccine mandates an other pandemic-related regulations.
Convoy co-organizer Brian Brase is slated to be one of the keynote speakers at the Los Angeles rally on Sunday. Brase will be joined by his co-organizer, Mike Landis, along with the rest of the truckers who will park several of their trucks at Grand Park.
Landis said that The Defeat the Mandates mission "directly aligns with what the People's Convoy stands for and is fighting against."
The Defeat the Mandates Coast-to-Coast rally will be the second of its kind following the January 23 Washington, D.C. march which was attended by tens of thousands.
The main goal of the Defeat the Mandates organization is to end Covid-19 mandates across the US.
Their objectives, as detailed on their website, are listed below.
No to vaccine mandates
No to vaccine passports
No to forcing Covid-19 vaccinations on children
No to censorship
Yes, to informed consent
Yes, to natural immunity
Yes, to doctors and patients making decisions without interference
While many Covid restrictions have been lifted over the last few months throughout the country, several Covid-19 vaccine mandates still remain in many US schools, colleges, businesses, hospitals, and corporations.
That's despite the fact that the vaccines have proven ineffective at preventing infection and spread of Covid, and they are associated with numerous potentially severe and/or deadly side effects.
California is one of the most restrictive states regarding Covid regulations. Currently, there are nearly a dozen pieces of restrictive legislation on the verge of passing in the state legislature.
Some of the bills include the following proposed regulations:
Mandating vaccines on ALL California employees, independent contractors and employers
Ending parental consent to vaccinate children ages 12-17
Mandating vaccines on ALL students preschool through grade 12
Below is a full list of all the California bills being opposed: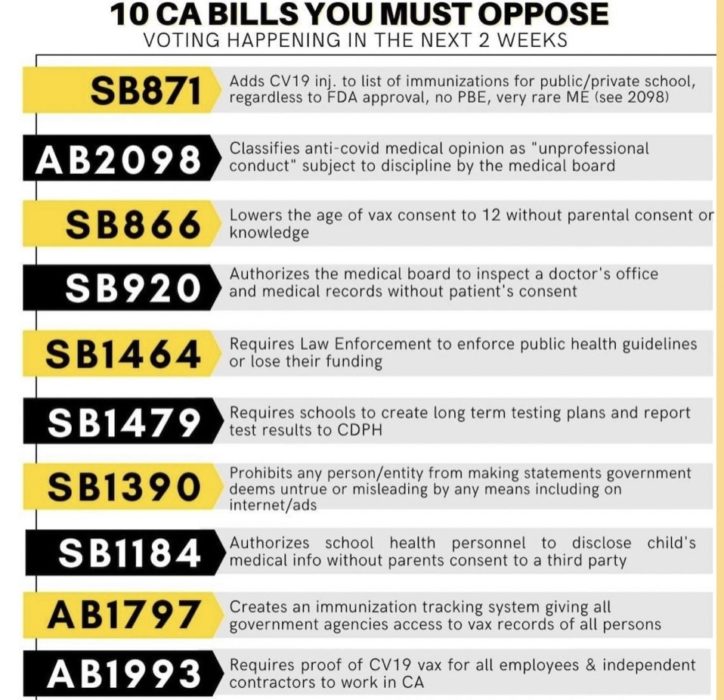 The day-long rally kick offs at 12 noon pacific time on Sunday April 10 in Grand Park and will feature speeches, comedy, community, food and live music.
Scheduled speakers and organizations include: Dr. Robert Malone, Dr. Ryan Cole, Dr. Peter McCullough, Dr. Pierre Kory, Dr. Paul Alexander, Steve Kirsch, Robert Kennedy, Jr., Mikki Willis of Plandemic, Del Bigtree, Firefighters4Freedom, Operation Freedom of Choice, and many others.
Sponsoring partners for this event include: California-based Unity Project, Children's Health Defense, Front-line Covid-19 Critical Care Alliance FLCCC, Vaccine Safety Research Foundation, ICAN, World Council for Health and PERK.
For more information visit: Defeat The Mandates website