Joe Biden's approval among likely voters is consistently lagging behind that of Donald Trump at similar points in their presidencies.
That's according to the daily presidential approval tracking poll by Rasmussen Reports.
On April 8, Biden's approval was at 41% compared to Trump at 47% on the same date in 2018.
At the same point in his presidency, Trump faced a ceaseless barrage of media and intel agency attacks, including false allegations that he and his associates were Russian spies.
And yet starting in late September, Trump's popularity has generally outpaced Biden's when comparing the same point in their terms.
The gap has been as large as ten points on Feb. 22 when Biden had a 40% approval and Trump had 50% at the same point in his presidency.
One of Biden's worst measurements compared to Trump was just six days after Biden took office: Biden had 48% approval. Trump had 59% approval at that point in his presidency.
Biden's best showing against Trump was on Aug. 2, 2021 when Biden measured 49% approval to Trump's 38% on Aug. 2, 2017.
The majority of the news media has typically given much gentler treatment to Biden than Trump, but analysts say Biden is suffering under many negative factors including questions about his mental capacity, rampant inflation, the border crisis, the botched Afghanistan withdrawal, Covid mandates, sky high gas prices, supply chain issues, and a national violent crime wave in many American cities.
Generally, the Biden administration has argued that there is little to nothing it can do to impact key issues of concern such as inflation and gas prices, telling the public to brace for worse days ahead.
The Biden administration has also insisted it could not have done anything differently when it comes to the pullout of US troops in Afghanistan and closure of a main air base prior to the safe removal of US citizens and Afghan allies. Numerous US soldiers and Afghan civilians were killed by Islamic extremists who have taken over the country as a result. Military leaders say they recommended other options to Biden but that he insisted upon what turned out to be a failed approach. Biden later told the media that his generals had not suggested a different strategy.
On the border crisis, the Biden administration has encouraged illegal immigration and taken no public steps to stem the flow. An all time record number of illegal border crossers have been allowed into the US including thousands of criminals, according to Customs and Border Protection. Biden's Homeland Security Secretary Alejandro Mayorkas has said the administration's border policies and actions are more line with US values than President Trump's security-focused approach.rump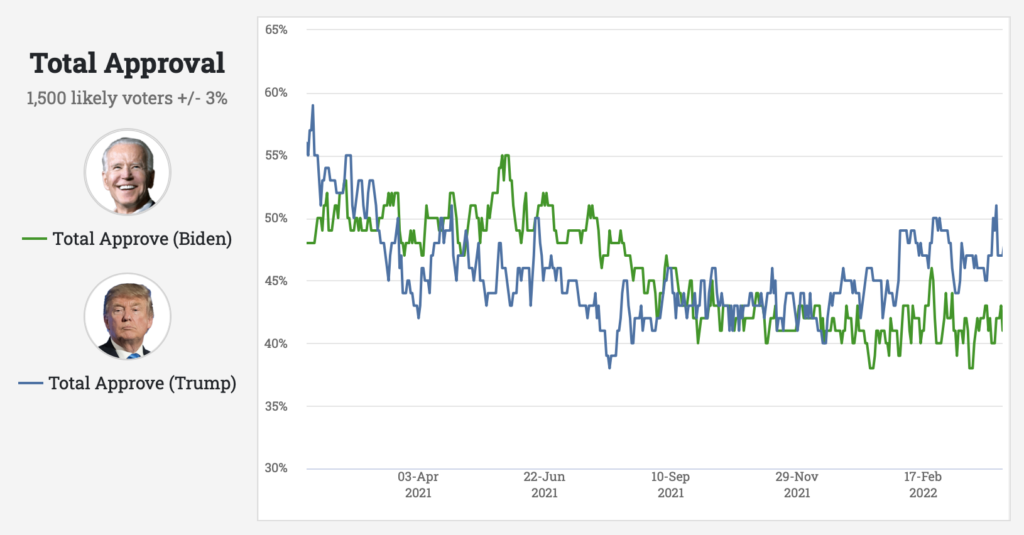 For more, click here: https://www.rasmussenreports.com/public_content/politics/biden_administration/prez_track_apr08