The following is an excerpt from Becker's Healthcare.
As retail pharmacy chains rely on automated technology to fill prescriptions, a group of physician leaders is waving a red flag, stating that this technology has serious consequences for patient safety and the future of pharmacy.
Becker's spoke to former pharmacist and current physician Matthew Sewell, MD, PharmD, and physician Purvi S. Parikh, MD, about what they call the dangers of automated technology.
Dr. Sewell and Dr. Parikh are both members of Physicians for Patient Protection, a nonprofit, patient advocacy group, and Dr. Parikh sits on its board. The group has more than 12,000 members who advocate for patient safety, physician-led care and truth and transparency in the industry.
Walgreens recently announced it has begun using robots to fill patient prescriptions. In centralized automated facilities, bright yellow robotic arms whizz away putting thousands of pills into packets for customers. Each robot can fill 300 prescriptions an hour.
To fill the same amount of prescriptions would take Walgreens pharmacy staff a whole day. By 2025, half of all customer prescriptions may be filled by such robots. CVS also uses robots to fill prescriptions in its highest volume stores.
Walgreens CEO Roz Brewer told CNBC that by using automated prescription-filling robots, the company aims to increase the amount of time pharmacists spend providing healthcare. "We're doing all of this work, so that the pharmacist has an easier job, so that they can get back to being front and center, building a relationship with that patient and interacting the way they were trained."
Dr. Sewell begs the question, "What is the end goal of Walgreens or CVS or whoever is using [the technology] and how does that play into patient care and patient safety?" While chain pharmacies have answered the first part of his question, the second goes unanswered and has rung alarm bells for the Physicians for Patient Protection.
Physicians for Patient Protection is also concerned with who will be double-checking the efficacy of the robots and how qualified they will have to be. Errors can be made with electronic pharmaceutical dispensers, and it is essential that well-trained individuals are operating and checking the machinery.
"Someone still needs to be verifying what the robot is doing and that needs to be someone that's trained appropriately with higher education, like a pharmacist in medications and medication interactions, and not a pharmacy technician that doesn't have to have a bachelor's degree," said Dr. Sewell. "Will a pharmacist still be the one verifying that what's being dispensed is appropriate and doesn't have any drug interactions?"
Ultimately, Dr. Sewell says that these pharmacy chains are implementing this technology to increase their bottom line instead of prioritizing patient safety and employee qualifications.
Read full article here.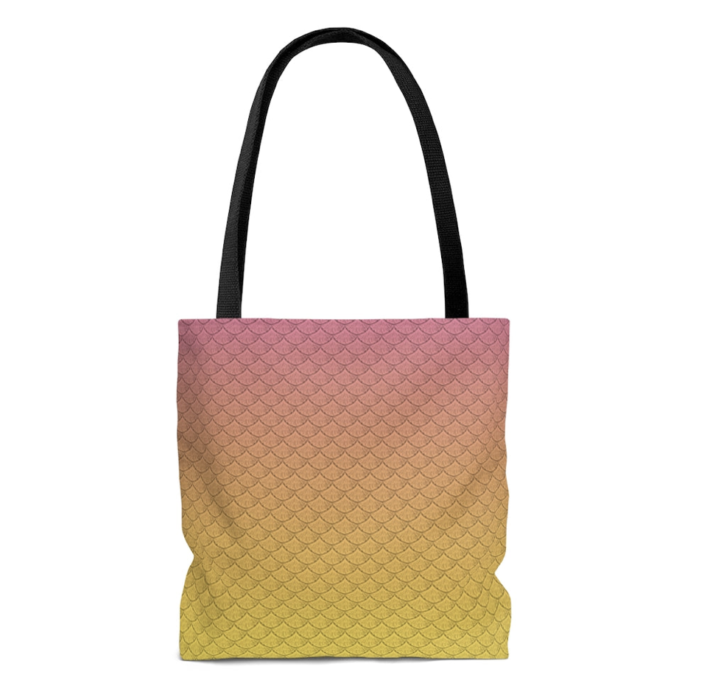 The Lemonade Mermaid Store
Unique gifts for Land or Sea Mermaids, Mer-pets and Little Mermaids!
Left: Our signature Fish Scales design tote bag in Citrus