The following is an excerpt from Gallup News.
As Americans are reeling from two mass shootings that have occurred within 10 days of each other in the U.S., an intense gun control debate has reignited across the country.
Gallup's most recent polling about guns was conducted in October 2021 and January 2022.
Both polls found a slight decrease in support for stricter gun laws compared with the prior year's measures.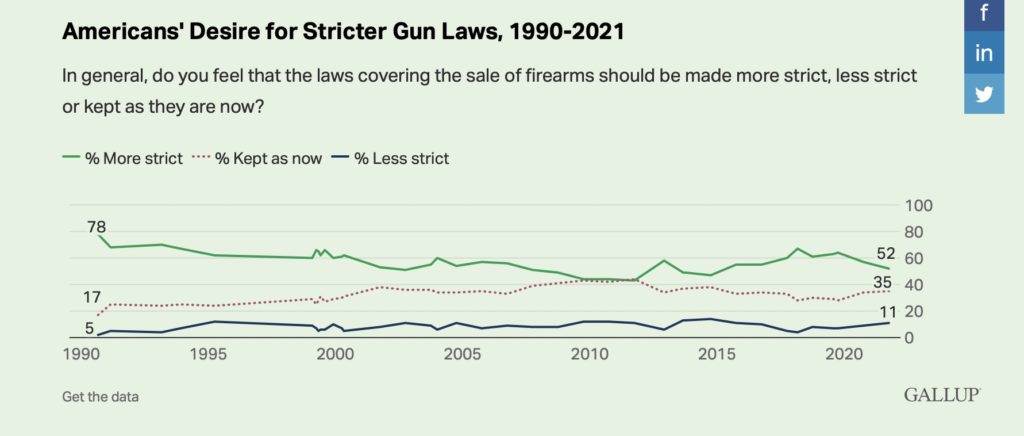 Typically, Americans' support for stricter gun laws has risen in the aftermath of high-profile mass shootings and fallen during periods without such events.
Additionally, changes in the party of the president may also influence preferences for gun laws.
Here are some key takeaways from recent polling:
In October 2021, Americans' support for stricter gun control fell five percentage points from October 2020 to 52%, the lowest since 2014.
In January of this year, the percentage of Americans very satisfied with the nation's laws or policies on guns dropped from 20% saying they were "very satisfied" to 13%. An additional 28% were "somewhat satisfied," while 19% were "somewhat dissatisfied" and 37% "very dissatisfied."
In October, a steady 44% of Americans said they had a gun in their household, including 31% who said they personally owned a gun.
Eighty-eight percent of gun owners cite crime protection as a reason they own a gun, compared with two-thirds giving this reason in 2000 and 2005 surveys.
Read full survey results here.