Now a story from our travels to Alaska. Scott Thuman reports on a unique Coast Guard ship with a fascinating namesake.
The following is a transcript of a report from "Full Measure with Sharyl Attkisson." Watch the video by clicking the link at the end of the page.
A picturesque, sunny day at Coast Guard Station Kodiak, Alaska, 250 miles south of Anchorage.
Today's weather is deceptive, as this base is here precisely because, for much of the year, icy storms lash Alaska and the rich fishing waters of the Bering Sea, and it's from here that help comes when ships are in distress.
The fleet of modern planes and helicopters deploy in even the worst conditions, but when it comes to ships, the biggest asset here is one of the oldest in their fleet.
Commander Brian Whisler is the cutter's commanding officer.
Scott: This cutter has seen a lot of action over the years, I'm guessing.
Brian Whisler: Oh absolutely. She is old and she definitely takes a lot of time and maintenance for the crew to keep her running, but an extremely capable platform. Excellent sea-keeping ability and endurance, which is perfect for the missions in the Bering.
Perfect for these conditions means pretty slow and heavy, but also strong; they call her the "Bulldog of the Bering.''
Whisler: I would say operating in the Bering Sea is probably some of the toughest duty a Coast Guardsman can get. The weather is harsh and unforgiving, and it can be taxing at times.
What also struck us about this particular cutter is the fact that she's named after one of America's most famous authors. An African American who wrote one of the most important books of the 20th Century.
Roots, the story of Africans enslaved and brought to America, spent 46 weeks on the New York Times bestseller list and spawned an ABC miniseries that was watched by 130 million people in 1977.
It earned Haley a Pulitzer Prize.
But what you might not know is that before all the literary acclaim, he was a proud member of the Coast Guard, enlisting in 1939 at age 17. he began as a lowly mess boy, but quickly gained a reputation for writing great articles and letters, even helping fellow crew members pen love notes home.
And at a time when opportunities for Black servicemen were still limited, the Coast Guard recognized his talent, putting him to work as a journalist and public affairs specialist.
Scott: You have the namesake after someone who not only kind of exposed a lot of the world to the injustices, to the African American community, to the Black community, but then rises to the level that a ship is named after him. What does that say to you?
Whisler: It impresses me that, a couple of things: one, that the Coast Guard recognized the talent in him at that time, and frankly created a rate of which he became one of the first enlisted leaders. I think that says a lot about the Coast Guard and its culture.
Scott: These days, when we're in such formative times, such sensitive and critical times in our social structure, do you feel like it's hard to ignore every time you get on here that there's something a little different, a little special, about this vessel?
Whisler: I think so. It's hard to miss that because, frankly, we wear it on our hats and our uniforms, and we are Alex Haley sailors.
A namesake who always treasured his time at sea in the service of his nation, a tradition this old cutter still honors today.
For Full Measure, I'm Scott Thuman in Alaska.
Watch story here.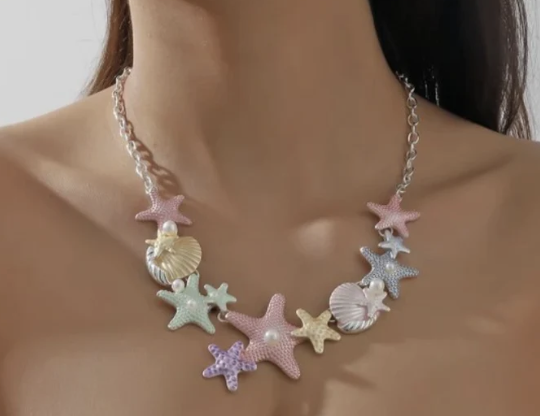 The Lemonade Mermaid Store
Unique gifts for Land or Sea Mermaids, Mer-pets and Little Mermaids!
Left: Pastel Beach Necklace $16