The following is an excerpt from Gallup News.
Story Highlights
Economic Confidence Index drops to -45 from -39
Confidence down because of poorer ratings of current conditions
Inflation ties government as most important problem facing the U.S.
Gallup's Economic Confidence Index measured -45 in May, down from -39 in each of the previous two months. It is the lowest reading in Gallup's trend during the coronavirus pandemic, and likely the lowest confidence has been since the tail end of the Great Recession in early 2009.
Gallup's Economic Confidence Index is a summary measure of Americans' perceptions of current economic conditions and their outlook for the economy. It has a theoretical range of +100 (if all respondents say the economy is excellent or good and that it is getting better) to -100 (if all say it is poor and getting worse).
The latest results are based on a May 2-22 Gallup poll, conducted at a time of record-high gas prices, elevated inflation, government reports of declining economic growth in the first quarter, and a slumping stock market.
Low unemployment is a rare bright spot, but employers are still struggling to find workers to fill needed jobs, which is contributing to ongoing supply chain problems.
Currently, 14% of U.S. adults rate economic conditions as either "excellent" or "good," while 46% say they are "poor," with another 39% rating them as "only fair."
The Confidence Index takes into account the net of excellent and good versus poor responses, which is -32 this month. In April, 20% of Americans rated the economy positively and 42% said it was poor, a net of -22.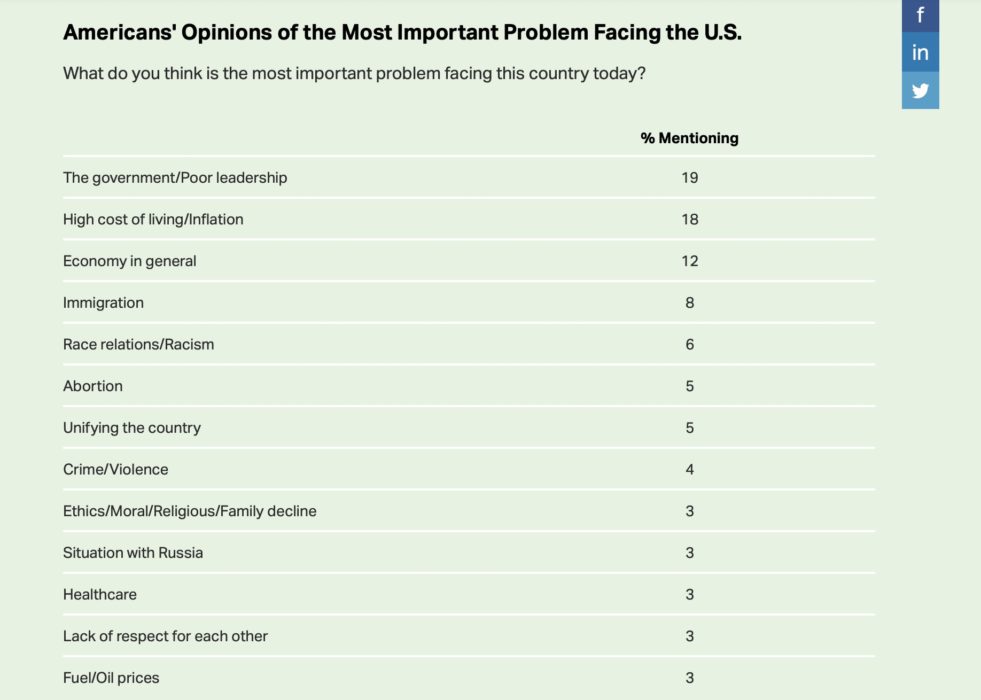 Although not nearly as common as during the 2007 to 2009 recession, economic concerns figure prominently when Americans are asked to name, without prompting, the most important problem facing the U.S.
Eighteen percent mention inflation specifically and 12% mention the economy in general terms. Inflation essentially ties the government as the top overall problem, with 19% naming the government.
Read full Gallup article here.