The following is an excerpt from Gallup
STORY HIGHLIGHTS
Average expected retirement age among nonretirees now 66, vs. 60 in 1995
Average retirement age among retirees up to 61, from 57 in the 1990s
Percentage of adults aged 55 to 74 who are retired is declining
WASHINGTON, D.C. -- American workers are retiring at later ages than those in the past three decades. In 1991, U.S. retirees, on average, reported that they retired at age 57. Now, the average reported retirement age is up to 61. Nonretirees' target retirement age has also increased, from 60 in 1995 to 66 today.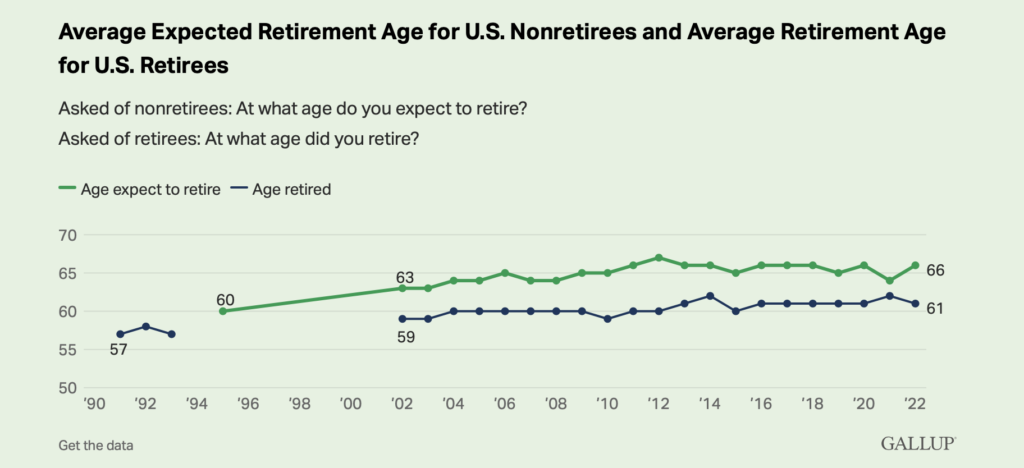 These data are based on Gallup's annual Economy and Personal Finance survey, conducted each April. Gallup has asked about retirement ages in this survey since 2002, updating trends asked periodically in other Gallup surveys in 1991, 1992, 1993 and 1995.
Later retirement ages are coming at a time when U.S. workers are not eligible for full Social Security retirement benefits until past age 65. In 1983, Congress increased the age at which people can receive full retirement benefits. Those born between 1937 and 1959 -- the youngest of whom are age 62 now -- are eligible for full benefits at a prespecified age older than 65 but younger than 67, depending on the year of their birth. All of those born after 1960 are not eligible for full benefits until age 67. Retirees are eligible for reduced benefits starting at age 62.
Read more below:
https://news.gallup.com/poll/394943/retiring-planning-retire-later.aspx