The following is an excerpt from Gallup News.
Nearly half of U.S. adults say they have given "quite a lot" of thought to this year's midterm elections. This compares with no more than 37% saying the same in the summer months before the 1998 through 2014 midterm elections.
Gallup did not measure this in the summer of 2018; however, today's 48% is already nearly as high as the 54% with the same degree of thought at the end of the 2018 election season. Given that, and the tendency for thought to increase over the course of an election year, it's likely that today's figure is higher than it would have been in the summer of 2018.
Public thought about midterm elections increases between the summer and fall of election years, swelling by seven to 27 percentage points in Gallup's election-year polls since 1998.
If that pattern holds, Americans' attention to the midterm elections this fall could exceed the previous high of 55% measured in October 2010.
Enthusiasm about voting is not so much an indicator of what the turnout rate will be as it is a potential clue to which party is likely to fare better in the election.
Gallup analysis has found that the more enthusiastic party is not necessarily the one with higher turnout but does tend to correspond with the party that ultimately wins the most seats -- indicating that partisans have an advanced sense of the direction in which a given election is headed.
Given this dynamic, enthusiasm doesn't normally increase throughout an election year the way thought given to the election does. Thus, to evaluate what current enthusiasm might portend for the election this fall, it can be compared to Gallup's final preelection enthusiasm trends for all prior midterm years.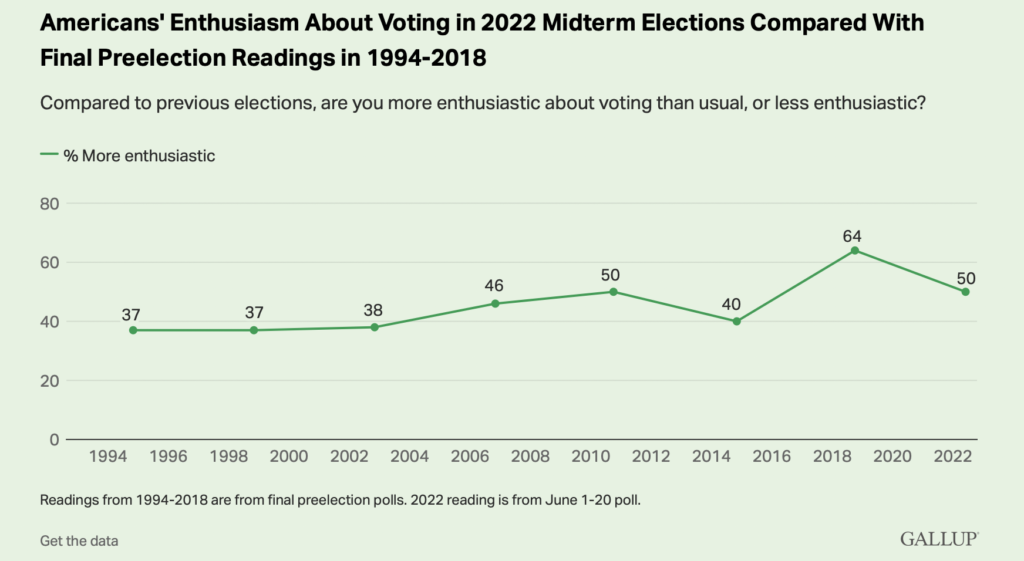 Economy, Gun Policy, Abortion More Important Voting Issues Than in Past
The importance of gun policy and abortion to vote choice are by far the highest on record and may now be even higher given the events that transpired after the poll was completed.
The economy was less important as a voting issue in 2018 when economic conditions were relatively good, but it has reemerged as a top voting issue this year, as it was in 2010 and 2014. The importance of immigration and taxes are each down from 2018.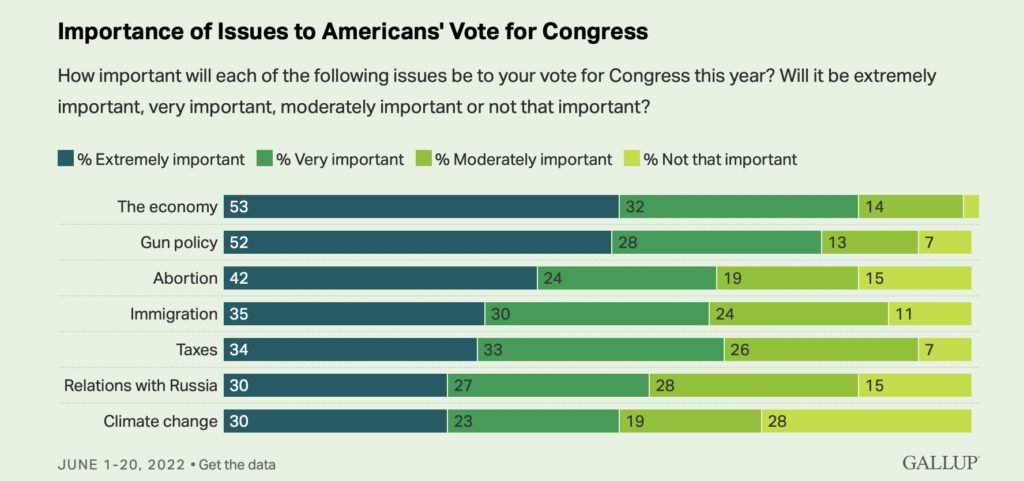 Even before the Supreme Court wrapped up its term with a number of high-profile decisions and before more mass shootings occurred in the country that spurred federal action on the matter, Americans were paying closer than usual attention to the elections, feeling more enthusiastic about voting and giving more weight to candidates' positions on key issues in determining their vote for Congress.
All of those dynamics are likely to continue or even be reinforced by recent events.
The question is whether these events, and others to come, are more motivating for one party than the other, resulting in Republicans either strengthening or losing the slight advantage they held in June on voter enthusiasm.
Read full survey results here.