American confidence in major US institutions has been lacking for most of the past 15 years, but trust in key institutions has hit a new low.
That's according to Gallup News, which found most of the institutions rank at historic lows, and that average confidence across all institutions is now four points below the prior low.
Polling showed significant declines for 11 of the 16 institutions, and no improvements noted for any.
The largest declines in confidence are 11 percentage points for the Supreme Court -- as reported in late June before the court issued controversial rulings on gun laws and abortion -- and 15 points for the presidency, matching the 15-point drop in President Joe Biden's job approval rating since the last confidence survey in June 2021.
Participants were asked the following question: Please tell me how much confidence you, yourself, have in each one of these major institutions-- a great deal, quite a lot, some or very little.
Change in Americans' Confidence in Major U.S. Institutions, 2021-2022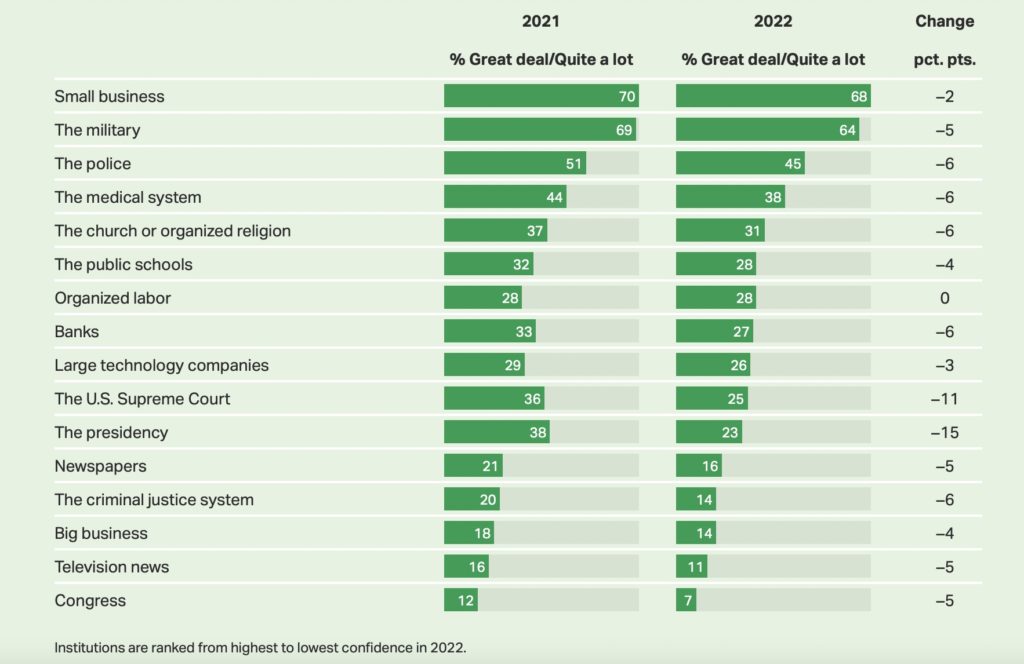 This year's poll marks new lows in confidence for all three branches of the federal government: the Supreme Court (25%), the presidency (23%) and Congress (7%).
Five other institutions are at their lowest points in at least three decades of measurement, including the church or organized religion (31%), newspapers (16%), the criminal justice system (14%), big business (14%) and the police.
Confidence in big tech companies is also at a low point (26%). That has only been measured the past three years.
The military is the only other institution besides small business for which a majority of Americans express confidence, with a 64% rating.
Newspapers, criminal justice system, big business, television news and Congress round out the five lowest rated institutions respectively.
Read full survey results here.