The following is an excerpt from Gallup News.
A slim majority of U.S. registered voters, 53%, say their representative in Congress deserves reelection, while 41% disagree.
It has not been uncommon for the party holding the majority of seats to change after recent midterm elections, and that has typically occurred when voters were less inclined to support their own representative.
The Democratic Party lost its majority after the 1994 and 2010 elections, while the Republican Party did so in 2006 and 2018.
Democrats currently hold a narrow majority in the U.S. House of Representatives. However, the political context this year appears to be much more favorable to the Republican Party than the Democratic Party, based on a number of key Gallup national mood indicators.
It is not possible to reliably determine whether respondents in the June 1-20 poll are currently represented by a Democrat or a Republican in the U.S. House. However, the poll does find that voters who identify politically as Democrats or are Democratic-leaning independents (60%) are much more likely than Republicans and Republican leaners (49%) to say their member deserves reelection.
U.S. voters can decide only whether their own representative, if seeking reelection, gets another term. But voters are much less inclined to believe that most members of Congress deserve reelection than to think their own member does.
In the latest poll, 21% of registered voters say most members of Congress are worthy of another term, while 77% disagree.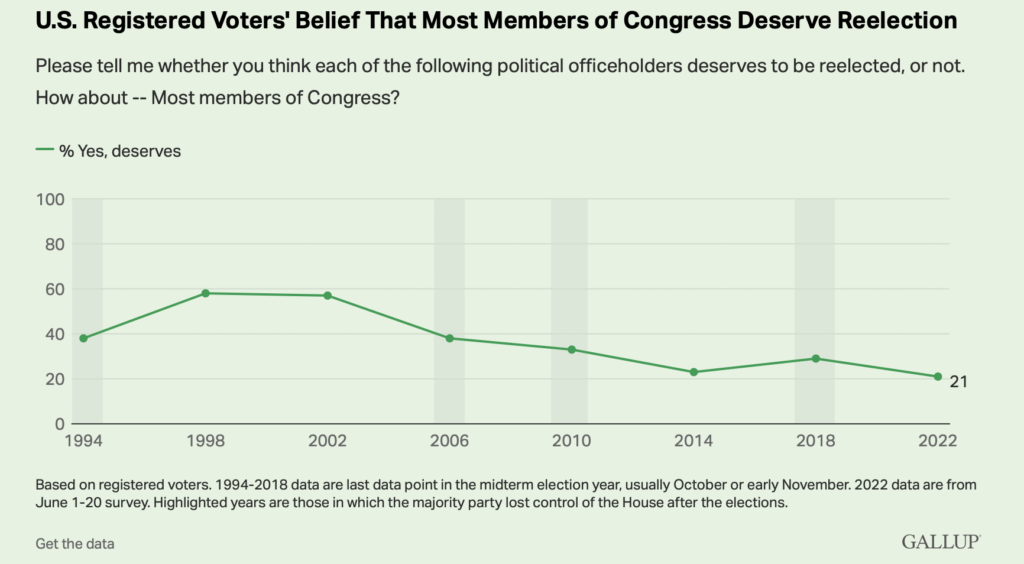 Voters Sour on a Biden Second Term
Although President Joe Biden is not on the ballot this year, he would have a hard time getting reelected if he were.
Currently, 33% of registered voters say Biden deserves reelection, while 67% say he does not. The 33% reelect figure is significantly lower than his 41% job approval rating.
Currently, 71% of Democratic registered voters, 27% of independents and 3% of Republicans think Biden deserves reelection.
Read entire Gallup survey results here.