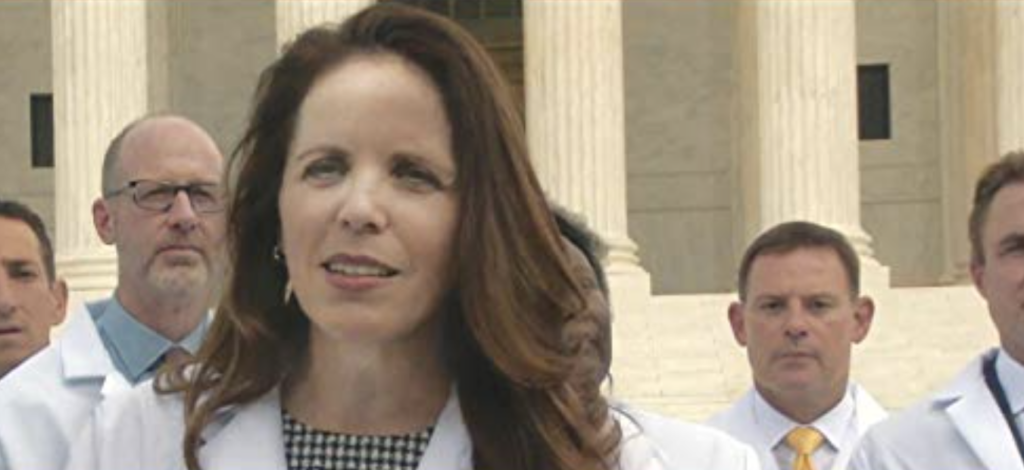 Dr. Simone Gold, who enjoyed a reputation as an esteemed and respected medical doctor before being targeted by the government and pharmaceutical interests, has reported to jail to serve a 60 day term of imprisonment.
It is believed to be the first time that a medical doctor targeted by the federal government amid the Covid controversy has been sent to jail. Gold also has a law degree.
Experts say it's extremely unusual, if not unprecedented, for a "first time offender" to be sentenced to jail for "misdemeanor trespassing." At the same time, critics note that across the US, violent and serious repeat offenders are being released from jails and prisons.
Gold founded the medical freedom group "America's Front Line Doctors" (AFLD) amid the government's disinformation about Covid and treatments. Gold and the group are supported by a large body of physicians and scientists who worked to pierce through the government's false narratives to try to provide rational medical advice and assistance to thousands of patients who were not satisfied with the government's actions, or who became suspicious of the government's advice and directives. However, the government, pharmaceutical industry, and their surrogates launched multi-pronged attacks to try to convince people that Gold and AFLD were the ones disseminating misinformation.
While US officials tried to smear and marginalize Gold and her group, her actual jail sentence was linked to her participation in the January 6, 2021 Trump rally in the US Capitol. According to Gold, she proceeded to the Capitol building on that date, where police let her into the building with a group that did not use force; and she spoke to the crowd inside about medical freedom.
As a result, she was charged with trespassing, and sentenced to jail time.
Below is a news release issued by Gold's group, including instructions on how to contact her while she is serving her sentence.
At the link below, you can watch the video that started America's Front Line Doctors.
https://americasfrontlinedoctors.org/about-us/
---
An Eagle Is Caged: AFLDS Founder Dr. Simone Gold Surrenders to Serve Sentence
Miami, FL
The fearless founder of AFLDS, Dr. Simone Gold, has been sentenced to 60 days in prison. It is shocking to learn that any Judge in the United States of America would sentence any person to any prison time for misdemeanor trespass. We've never heard of such a thing. That we live in a two-tiered system of justice: exonerating, acquitting, failing to charge, dropping charges, or giving trivial sentences to persons of one political class while locking up persons of another political class - is indisputable. Steve Colbert crew? Charges dropped. Ilhan Omar just arrested? Watch those charges get dropped. Night of Rage? Outside Brett Kavanaugh's home? Antifa? BLM? Not arrested, not charged, or charges dropped.
Today, Dr. Gold has surrendered herself to the government and will spend the next 60 days of her life locked inside of a cell for exercising her right to free speech inside of the Capitol building, which she was let into with open doors. Dr. Gold is valiantly standing in front of the medical freedom movement for We The People. While most of us cannot fathom what it would be like to be stripped of daily luxuries and jailed for a first-time, misdemeanor offense, this is Dr. Gold's reality due to selective prosecution. Dr. Gold has vowed to come out the other side of her imprisonment an even more fierce warrior for our freedom.
Since the start of Covid, and even before, media and politicians have villainized anyone that is not in line with the tyrannical narrative. They especially despise those able to garner attention for starting grassroots education movements that expose their evil agendas. From the very beginning, this is what Dr. Gold has done. She became a trusted freedom doctor for millions and saved countless lives doing so. Dr. Gold has made difficult decisions, though they were never difficult for her. She has chosen to boldly speak about what she knows to be true and stand up for medical freedom, despite the repercussions that have followed. We at AFLDS stand behind Dr. Gold and know she will come out of this stronger and ready to continue the fight.
Please keep Dr. Gold in your prayers over these next 60 days. If you would like to show her your support please consider the following.
1
Email: FreeDrGold@AFLDS.org
Mail: Must be written on plain white paper and mailed in a plain white envelopeDr. Simone Gold
Register Number: 26132-509 FDC Miami
Federal Detention Center
PO Box 019120
Miami, FL 33101
Text "AFLDS" to 80990 to receive 2-3 weekly text updates
Frequently visit freedrgold.org for updates.
About AFLDS
America's Frontline Doctors is the nation's premier Civil Liberties Organization. Our mission is to provide We The People with independent information from the world's top experts in medicine and law so you can be empowered with facts, protect your health, and exert your inalienable and Constitutionally guaranteed rights. AFLDS.org