The following is an excerpt from Gallup News.
When Americans are asked to name the most important problem facing the U.S., 8% of the resulting mentions focus on abortion.
While not high on an absolute basis, this is the highest such percentage since Gallup began tracking mentions of abortion in 1984.
Additionally, another 6% of Americans name a related issue -- problems with the nation's judicial system and courts.
Abortion ranks behind three other issues on the "most important" list in Gallup's July 5-26 update.
Inflation (17%) and dysfunctional government or bad leadership (17%) top the list, with another 12% of Americans making general complaints about the economy. In addition to specific mentions of inflation, 5% of respondents mention fuel and gas prices.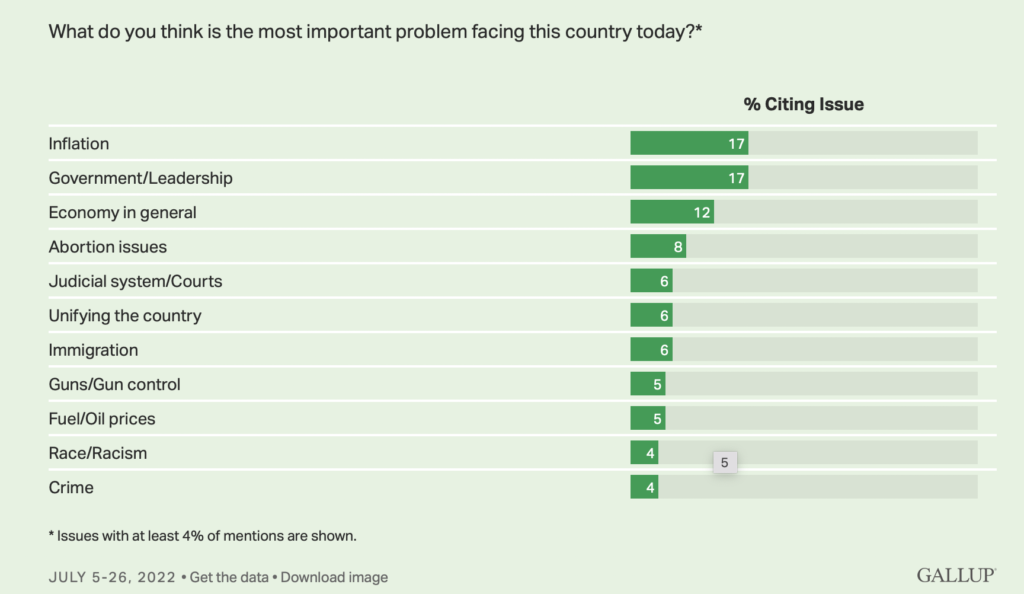 Concerns About the Economy and Government Continue at the Top of the List
Mentions of inflation as the top U.S. problem have been much higher than the current 17% at other times, including October 1981, when they reached 52%.
Overall, 35% of respondents mention some aspect of the economy, including inflation, general mentions of the economy, fuel prices and other issues like employment or taxes.
Americans' concerns about the U.S. government have been a staple of Gallup's monthly updates of the most important problem over the past decade, fluctuating from month to month but usually representing a substantial percentage of all mentions.
The types of concerns in this category are wide-ranging, including partisan criticisms of the "other side" -- with Republicans naming President Joe Biden as the top problem, and Democrats naming former President Donald Trump or Republicans in general.
Another 6% of Americans mention the need to unify the country as the nation's top problem, which fits into this general theme of dissatisfaction with the country's political divisions
Read more about survey results here.