The following is an excerpt from MedPage Today.
Across an American gay male community worried about catching monkeypox, one message suggests this is all temporary: A few months of sexual caution plus vaccination will usher in a care-free autumn.
Men who have sex with men are considered most vulnerable -- they made up 98% of 528 worldwide cases in a recent analysis.
Yet no one knows how well the Jynneos vaccine will serve as a get-out-of-infection-free card.
One number that's been unquestionably quoted by various media organizations -- "85% effective" or "at least 85% effective" -- is based entirely on a small study done in Africa in the 1980s that has major limitations.
One data expert calls its findings "pretty weak." Other studies have only been conducted in animals.
The lack of accurate information about the vaccine is "a big problem," Jay Varma, MD, director of the Cornell Center for Pandemic Prevention and Response in New York, said in an interview. "It is absolutely critical that public health officials work on messaging this uncertainty to people being vaccinated."
Hundreds of thousands of Jynneos smallpox/monkeypox vaccines are now available in the U.S., and the CDC recommends vaccination for those who have been exposed to monkeypox or are at higher risk.
As the CDC notes, "no data are available yet on the effectiveness of these vaccines in the current outbreak."
As for previous outbreaks, only one study -- a retrospective analysis published in 1988 -- has examined whether a smallpox vaccine could prevent monkeypox.
In that study, researchers tracked the household contacts of 209 people infected with monkeypox in Zaire in the early 1980s. Those with scars from previous smallpox vaccination (70%) were 85% less likely to be infected. The vaccine seemed to be 89% effective at protecting contacts outside the household from infection.
The statistical analysis is limited since it has no confidence interval or adjustment for factors such as age, Ira Longini, PhD, a biostatistician at the University of Florida, told MedPage Today. Also, he said, the data are purely based on physical signs of vaccination.
The study "is the only shred of evidence we have [in regard to vaccine effectiveness], which is pretty weak. In principle it should work, but we don't know."
Jynneos and ACAM2000 are newer generations of vaccines such as Dryvax that were used in the 1980s. "These vaccines have not been tested directly against smallpox or monkeypox," said Richard Kennedy, PhD, co-director of the Mayo Vaccine Research Group in Rochester, Minnesota, in an interview with MedPage Today.
"The immune responses they create are very close to first- or second-generation vaccines: A little weaker, but not much."
Kennedy added that the vaccines also have been tested against monkeypox in five to 10 different animal studies. "These data are also clear and consistent with very good protection against disease with animals showing very few or no symptoms of illness after challenge," Kennedy said. "The animal data was strong enough that the FDA approved Jynneos to be licensed for prevention of monkeypox."
This time, the virus appears to largely be transmitted through sexual rather than other kinds of contact, with an overwhelming majority of cases among men who have sex with men.
"The vaccine was evaluated on the assumption that most or all exposures would be from skin-to-skin contact," Varma told MedPage Today.
It's possible that the level of protection may be the same, but we should not assume it's the same without evaluating it."
Read full article here.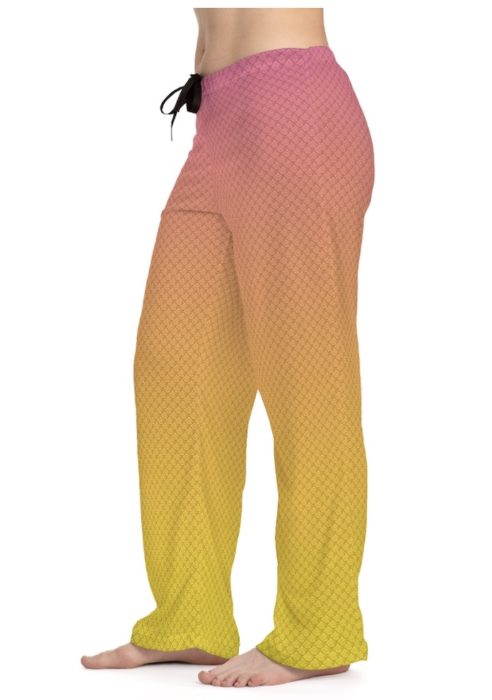 The Lemonade Mermaid Store
Unique gifts for Land or Sea Mermaids, Mer-pets and Little Mermaids!
Left: Our signature Fish Scales design PJ Pants in Citrus