(Original airdate May 8, 2022)
There's been an upheaval in education during the past two years of the Covid pandemic. Part of the change has pressed parents into increased involvement, even activism. Lisa Fletcher reports on one movement.
The following is a transcript of a report from "Full Measure with Sharyl Attkisson." Watch the video by clicking the link at the end of the page.
From protests to disrupted school board meetings, many parents angry and increasingly willing to speak out.
Across racial, social, and economic lines, a common thread unites these parents. Though spread across the nation, they are part of an organization called Moms for Liberty that's taking the lead in parent activism over what, if anything, children should be taught in schools beyond reading, writing, and arithmetic.
Tina Descovitch and Tiffany Justice lead the movement that, in just under a year and a half, has grown to 80,000 members in 34 states.
Lisa: What triggered Moms for Liberty?
Tiffany Justice: We both served as school board members, and we saw behind the education curtain, and then Covid happened, and all of America saw behind the education curtain. We're about parental rights. Every parent has the fundamental right to direct the upbringing of their children: their medical care, their healthcare, their education. We do not co-parent with the government. And we have seen over the past two years that the government is trying to raise our kids for us.
Tina Descovitch: We saw the imbalance of power that was happening in education, even here in Florida: teachers unions, bureaucrats, all taking control of decisions, multiple decisions, not just teachers' salary like most people think, but things like when school starts and stops, when school's going to be opened and closed.
Lisa: You guys had a Facebook post, I believe, that said, "When we said we wanted you to teach our kids division, we meant math."
Justice: Yeah, a hundred percent! Absolutely. We are seeing our children divided in America's public school classrooms. We want our children to be united together. We want to unfold the full potential of every child in that classroom. And it's going to take every parent and concerned community member to make sure that happens.
Descovitch: We saw parent groups and mom groups popping up around the country, all in different issues. And what we saw is they didn't know how to advocate. They didn't even understand the structure of who has power within the school district. And so when we stepped up and filled the role of just helping them understand — they're doing the work, we're just providing the structure.
But their critics — there are plenty — say groups like Moms for Liberty are pushing a specific conservative agenda, pointing to recent confrontations over critical race theory and remote learning.
Lisa: When you see the name Moms for Liberty, I think people think of a conservative Republican organization, and probably immediately connect that to something like critical race theory.
Justice: I never knew that liberty was a partisan issue, or parental rights for that matter. I mean, I don't have to agree with someone to understand and respect their right, their fundamental right, to direct the upbringing of their children.
Descovitch: We are a nonpartisan organization. We don't screen their political party to be part of our organization. If they care about liberty, if they care about being a parent and their parental rights and their ability to guide the upbringing of their children, we welcome them.
Though the group calls itself nonpartisan, many of its members traveled to the Florida state capital recently to show their support for Republican governor Ron DeSantis over a new law that bans classroom instruction about sexual orientation or gender identity in kindergarten through grade three. What critics call the 'Don't Say Gay' bill has been attacked by LGBTQ groups, the White House, and some large employers in the state, including Disney.
Moms for Liberty says voices for parental rights in education need to be just as big.
Lisa: Have parents dropped the ball a bit...
Descovitch: Oh, absolutely.
Lisa: ...in terms of their engagement?
Descovitch: And it's not to point fingers, because we all are those parents, right? My kids lived in an A district. They brought A's home, and everything looked fine. My son that's now in college brought home state test scores where he was in the top — the top you can get in Florida in his civics class. And I was beaming with pride. Someone told me to look a little deeper into those scores, and it turned out he got about a 50% on that test.
Justice: Well and I always like to say that the only thing that school systems do better than defend and protect themselves is celebrate themselves. So the truth of the matter is that there's a lot of celebration oftentimes in public education. But when you look at the heart of the matter to see if children are really learning in school and getting what they need to unfold their full potential, what we saw oftentimes is that it's not happening.
Lisa: Are the school boards stacked against parents in some ways?
Descovitch: Absolutely. What's happened all across the country is teachers unions have gotten involved in these school board races for a long time now, and they work to get their candidates on the school board.
Justice: I would oftentimes sit in these bargaining sessions and say, "The teachers' union is bargaining for the teachers. The district is bargaining for the district. The school board is now bargaining with the teachers union. Who is bargaining for the parents? Where is the parents' voice being heard?"
Descovitch: We say all the time, parents need to pull up a seat at the table, because at that negotiating table, there's nobody representing parents and children at this time.
Justice: And we are going to turn this ship around. We are going to reclaim education in America.
Sharyl (on-camera): So do the Moms for Liberty — those moms — set the agenda for all the chapters that they have elsewhere?
Lisa: No. Each district sets its own agenda based on what is most pressing there. Now, Descovitch and Justice do spend a considerable amount of time teaching moms how to understand how school boards work — how to read budgets, how to identify red flags. But basically their position is, teachers, administrators, unions — they're all looking out for their interests — and they want parents to step up and advocate for their kids.
Watch story here.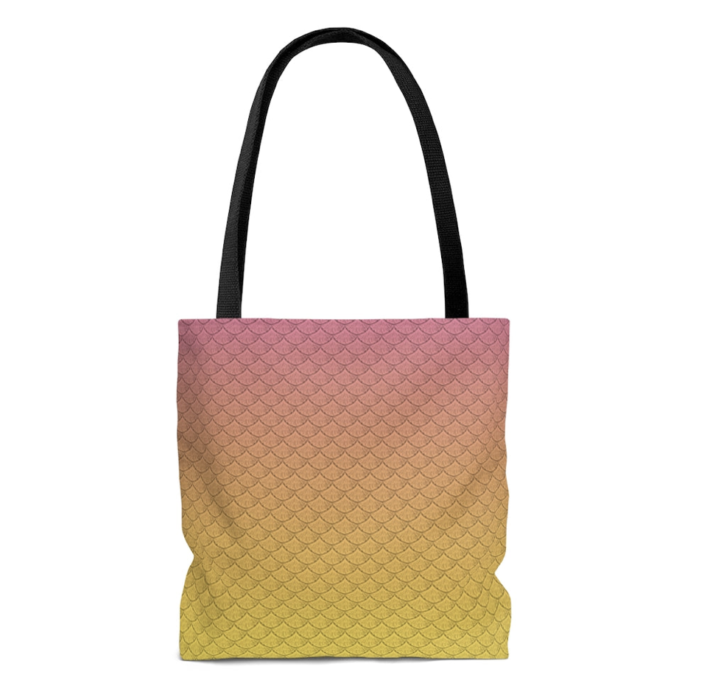 The Lemonade Mermaid Store
Unique gifts for Land or Sea Mermaids, Mer-pets and Little Mermaids!
Left: Our signature Fish Scales design tote bag in Citrus