The following is an excerpt from NPR news.
By this point in the pandemic, most Americans have had at least one bout of Covid. For children under age 18, more than 80% of them have been infected, the Centers for Disease Control and Prevention estimates.
But just as with HIV, some people have been exposed multiple times but never had symptoms and never tested positive.
"We've heard countless anecdotes about nurses and health-care workers, being exposed without any protection and remaining negative over and over again," says pediatrician Jean-Laurent Casanova, who studies the genetics of viral resistance at Rockefeller University. "Or people share a household with someone who's been coughing for a couple of weeks, and one person stays negative."
So why haven't these people caught Covid?
After two years of hunting, a team at the University of California, San Francisco has come pretty close to answering the question.
"These findings are like hot off the presses," says immunogeneticist Jill Hollenbach, who led this research. "We haven't published them yet. It's all stuff that's been happening this summer."
Hollenbach and her team have found a genetic mutation doesn't prevent the virus from infecting cells – that's what Landau was searching for– but still does something remarkable: It prevents a person from having Covid symptoms.
Are there really Covid superdodgers?
Since the pandemic began, Jill Hollenbach and her colleagues at UCSF have been studying people who test positive Covid but show no symptoms. "Not even a sniffle or a scratchy throat," she says. "So they are entirely asymptomatic."
After analyzing DNA from more than 1,400 people, they identified a mutation that helps a person clear out a SARS-CoV-2 so fast that their body doesn't have a chance to develop symptoms.
The mutation occurs in a gene called HLA, which is critical during the earliest stages of infection. Hollenbach and her colleagues found that having a particular mutation in that gene increases a person's chance of being asymptomatic by almost 10 times.
They reported those preliminary findings online last September.
Since then, they've gone on to show how this mutation works. And it has to do with your immune system preparing for SARS-CoV-2 before the pandemic even began back in 2019.
When viruses first enter cells, HLA signals to the immune system that cells are invaded and need help. That signal triggers a cascade of events that ultimately leads your body to make potent weapons specifically designed to fight SARS-CoV-2.
These weapons include antibodies and T cells that uniquely recognize pieces of this virus. Once these targeted weapons are available, your immune system has a much easier time clearing up the infection. But these weapons take time to manufacture.
And that delay allows the infection to spread and symptoms to develop. (Continued...)
Read entire article here.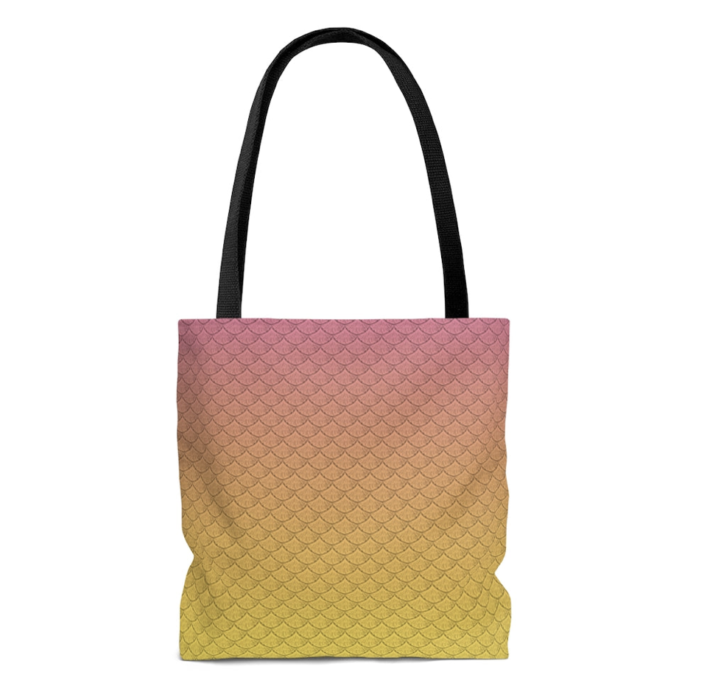 The Lemonade Mermaid Store
Unique gifts for Land or Sea Mermaids, Mer-pets and Little Mermaids!
Left: Our signature Fish Scales design tote bag in Citrus