The following is an excerpt from Gallup News.
U.S. parents' concern for their children's physical safety at school has risen to its highest point in more than two decades, as 44% of U.S. adults with a child in kindergarten through 12th grade say they fear for their oldest child's personal safety at school.
This marks a 10-percentage-point increase in concern since 2019, the last time the question was asked, and is among the highest readings in the 24-year trend.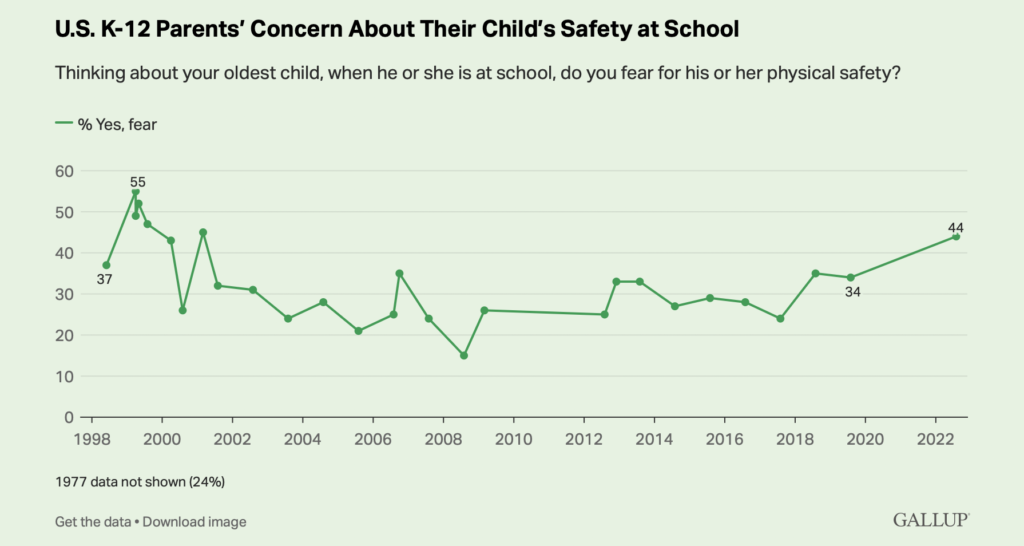 The latest findings are from Gallup's Aug. 1-23 poll, which was conducted roughly three months after 19 children and two adults were fatally shot at Robb Elementary School in Uvalde, Texas.
Several other high-profile mass shootings have occurred in 2022, including the murders of 10 people in a Buffalo, New York, grocery store and seven people at a July Fourth parade in Highland Park, Illinois.
Gallup's question about school safety does not specifically reference gun violence; however, parents' fear has spiked in the past after high-profile mass shootings and receded at times when recent school shootings weren't major news stories.
Another question in the poll finds one in five K-12 parents saying their children have expressed worry about feeling unsafe when they return to school, an eight-point increase since 2019.
While more parents say they fear for their children's safety than say their children have expressed fear to them, both readings are elevated and on the high end of Gallup's prior findings.
Read full survey results here.